Which Brand Has the Better Used Pickup: Ford or Chevy?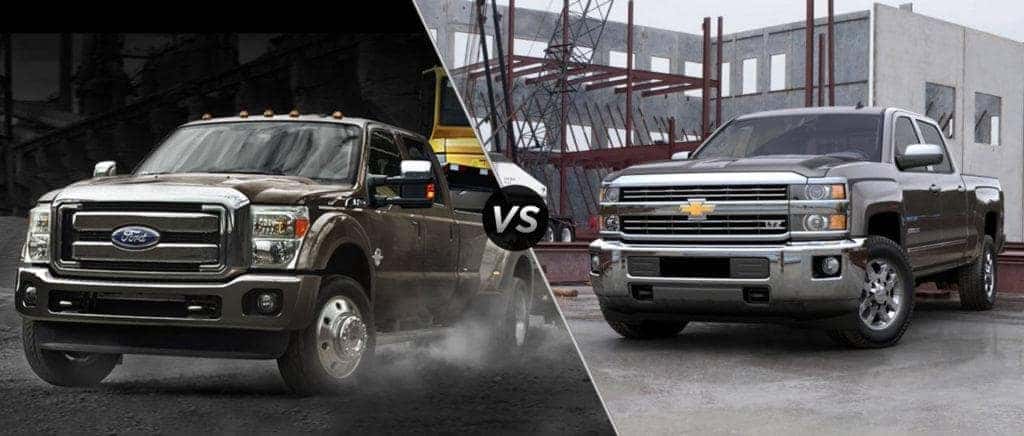 Buying a used car can be like skating on thin ice, especially if you don't know what you are doing, or anything about the vehicle you are wanting to buy. As tricky as buying a used car can be, finding a high-quality pre-owned pickup can be even more of a gamble. With so many trucks that have spent their lifetime as dirt haulers, furniture movers, and tow machines – it's any wonder that used pickups are even offered up for sale. While the vast majority of people may be wary of buying a pre-owned pickup, there are plenty of high quality and dependable models out there. Finding used trucks for sale is the easy part, finding a reliable and dependable used pickup, on the other hand, is another matter entirely.
Before you throw in the towel, it is important to realize that buying used trucks can save you a ton of money, and be a good investment if you do your due diligence ahead of time. That said, the age-old question still remains – which is the better-used pickup truck: a Ford or a Chevy?
Ford vs Chevy: Which Brand Has the Better Used Pickup?
The age-old debate of whether Ford or Chevrolet is the better brand is a rivalry that has been in existence for nearly as long as the automotive industry itself. These two American-made truck manufacturers have battled it out over the years, only to have the same conclusion drawn time and time again – both brands are the best. As confusing as it is, depending on who you ask, Chevrolet and Ford are equally as impressive. Both are domestically manufactured and deliver a quality product to the American driver. While this may be true, it is still worth asking which brand offers the better pre-owned pickup truck. There are a ton of important factors to consider when pitting these two pickup truck brands against one another, and each one deserves careful and thoughtful consideration.
Battle of the Brawn: Chevy Silverado or Ford F-150
In an effort to help better compare these two brands specifically for their used pickup trucks, we picked out two recent model years from each automotive manufacturer. In one corner sits the 2014 Chevrolet Silverado, and in the other – the 2014 Ford F-150. Each brought their own level of intrigue to the new truck market, and each delivers its own set of redeeming qualities to the consumer. Take a look at a few categories used to judge pickup trucks, and see how each 2014 model fares when it is put to the ultimate test.
Price: While not the most important truck quality, price and affordability do play an important role in buying a pre-owned pickup. The 2014 Silverado 1500 featured a starting MSRP of $25,575, while the Ford F-150 wasn't too far below that, with a similar starting price of $25,325. These initial truck prices translate to even greater savings when purchased used, so buyers can expect to pay around the same amount for a used version of either truck.
Performance and Power: For the F-150's 2014 model year, Ford offered drivers the option of four engines to choose from. The ultimate in power and performance came in the form of a 3.5-liter EcoBoost V6 engine, capable of producing 365 horsepower. Chevrolet also gave the 2014 Silverado multiple engine options, including its most powerful 5.3-liter V8, capable of putting out 355 horsepower. Just as the F-150 beat out the Silverado in price by only a hair, it seems to have claimed another victory in the performance department by adding ten extra horsepower more than the Chevy.
Towing: Just as important as what's under the hood of a pickup, is what it is capable of pulling behind its rear bumper. The 2014 Silverado offers a maximum tow rating of 7,200 pounds, while the F-150 maxed out at 6,400. For having more horsepower than the Chevy, Ford didn't seem to get things right in the towing department with the F-150. If you are deciding between the Ford F-150 and the Chevy Silverado and need a strong hauler, then the bowtie brand just might win you over.
Awards and Accolades: 2014 represented a complete redesign and overhaul for the Silverado, which ended up earning the coveted title of North American Truck of the Year. As much as Ford tried to keep up with Chevy in 2014, the generation-ending model did not undergo any major changes or revisions that would qualify it for such distinction. When it came to other industry accolades, the 2014 Chevrolet Silverado took home nearly every possible honor – making it the most awarded new pickup truck of 2014. For used truck buyers, the 2014 Silverado's list of dependability and quality awards are most promising for long-term reliability when purchased used. Earning everything from the title of Highest Ranked Large Heavy Duty Pickup in Initial Quality by J.D. Power, to the winner of KBB.com's 2014 Best Resale Value award, to recognition for having the lowest total cost of ownership of any full-size pickup by Vincentric – 2014 was a good year for new truck buyers, and an even better one for used pickup drivers.
The Choice is Yours
Both the 2014 Chevrolet Silverado and the 2014 Ford F-150 trucks made exceptional new pickups, and both make used truck buyers happy today. Whether you opt for a bowtie or a blue oval emblem on the hood of your used truck, you can't go wrong with either one of these pickups. Before you finalize your used truck purchase, be sure to research the model year of the pickup you are considering and find out whether it was a favorable year for that particular model.
Once you are ready to make your leap into used pickup truck ownership, be sure to come down to visit the experts at DePaula Used Cars. Our knowledgeable team can help you make a solid decision between these two highly capable pickups, and will work with you through every step of your used truck purchase. Rather than spend the next year debating between these two truck brands, come down and take each one for a test drive, and decide for yourself.