Car Dealerships Albany NY
Targeting the right dealership to buy your next new or used car from can be as important as deciding which make and model you will end up driving home. There are hundreds of car dealerships in upstate New York, which makes the decision that much more difficult. Should you go where the best deals are? Where your neighbor bought his car? Where an online ad directs you? The answer to all of these questions is not definitive because, at the end of the day, you are the only person who can decide which of the many car dealerships Albany, NY offers is the right one for you.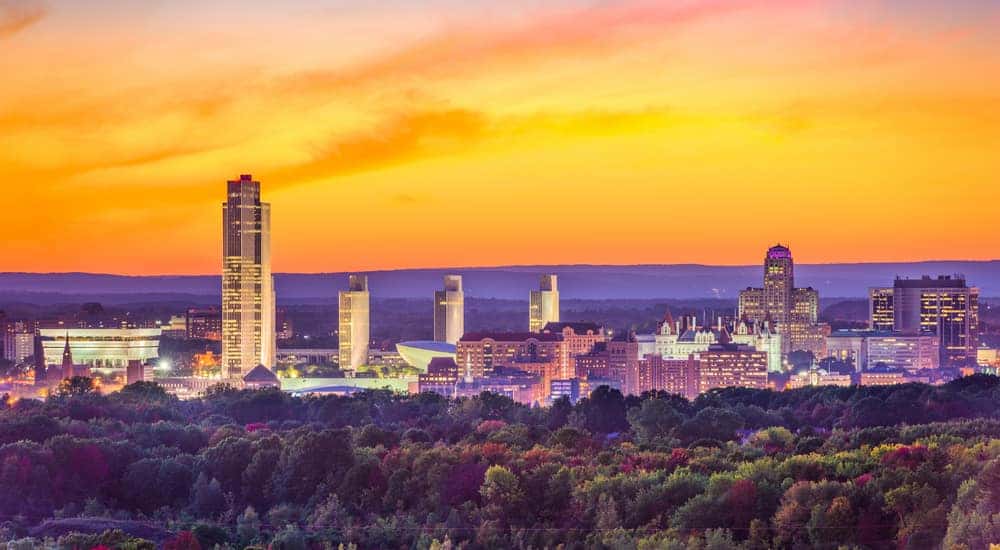 Decide What is Most Important
Here at DePaula Chevrolet, we believe that when it comes time for Albany residents to find a reputable dealership, there is only one clear choice. We aren't saying that simply because we have a vested interested in the success of our dealership, but because we have a vested interest in you. The residents of this community and its surrounding towns are what make this area so unique. With so many exceptional people who call Albany home, it is no wonder why it is one of the best communities in the entire state of New York.
DePaula Chevrolet believes in the community that we have called home for the past several decades, just as strongly as we believe in providing local residents a one-of-a-kind car buying experience. The team at DePaula Chevrolet is made up of people just like you, who are genuinely interested in helping consumers make smarter buying decisions. The first step to making a smart car buying decision involves finding out what matters most to you, as a car shopper. Let's take a quick look at some common areas of importance, and see how DePaula Chevrolet is helping fulfill each and every one of those needs.
Transparency: The team at DePaula Chevrolet is not interested in making a quick buck via shady deals. The sales team is trained to meet the needs of buyers, in a way that is straightforward and transparent. The price that is listed on the many new and used cars we have in stock is the price you can expect to pay for the vehicle. Every window sticker clearly outlines where every one of your pennies is going, from amenity upgrades, to performance specifications. Other dealerships add confusing line items that essentially pad their pockets, while needlessly confusing shoppers. But not DePaula Chevrolet, where up front pricing through transparency is our goal.
Customer Focused Approach: How often have you been to a car dealership, only to feel belittled and demeaned by the salesman you were working with? Unfortunately, the car buying industry is littered with unsavory people who aren't always easy to spot. To avoid these people and their sales tactics altogether, come down to DePaula Chevrolet. Our family run dealership has always put customers first, no matter what. Rather than attempt to mold your car purchase around our needs, we focus on what is important to you as a driver. Our award winning team will work with any budget, and will find exceptional options that you are able to choose from. Don't ever settle for a car that you aren't sure you want, come to DePaula Chevrolet and work with a team of people who actually listen to your concerns, needs, and desires. When it comes to customer service, DePaula Chevrolet is a breath of fresh air in an otherwise polluted marketplace.
Customer Loyalty Program: Too many car dealers take for granted the customers that come through their doors, and don't treat them with the respect their loyalty deserves. At DePaula Chevrolet, customers are able to join our exclusive VIP Program that rewards loyalty and celebrates commitment to the dealership Albany residents trust the most. With offers that no one else has access to, exclusive discounts, and cumulative rewards that add up over the years, DePaula Chevrolet is committed to buyers who are most committed to us.
Versatile Inventory: There is nothing worse than finding a dealership you feel comfortable with, and realizing that their inventory is sorely lacking. DePaula Chevrolet offers a vast inventory of both new and used vehicles, ranging in price and amenities. Whether you are looking for a brand new Chevy Cruze, a Certified Pre-Owned Chevrolet Silverado, or a used vehicle from another manufacturer, chances are you will find it at DePaula Chevrolet. We are so committed to fulfilling your needs, that our team will go to great lengths to find you the car of your dreams. If you don't see it on our lot, or on our website, please give us a call. DePaula Chevrolet prides itself on our commitment to customer satisfaction, and we will work hard until we find the car you want, at a price that works. Skip the other dealerships in Albany, and choose the location that is best able to meet (and exceed) all of your new and used vehicle needs.
Reputable: When other dealerships make claims of reputability, it doesn't mean the same thing that it does with DePaula Chevrolet. Car dealers can say what they want about their own credibility, but when we say that DePaula Chevrolet is the very best in Albany, we aren't just full of hot air. Named the GM Dealer of the Year, five years in a row, our location is also the seven-time recipient of the General Motors Standards of Excellence Award, the seven-time recipient of the General Motors Mark of Excellence Award, proving that DePaula Chevrolet is more than able to back up words with real action. Aside from the outstanding accolades from General Motors, our dealership also took home the Chevrolet Genuine Leader Award six times, and was voted the #1 Chevrolet Certified Pre-Owned Dealer in the entire Northeast. To say that DePaula Chevrolet is reputable is an understatement. No other dealership in Albany, New York, or the rest of the northeast can deliver the premium level of service that DePaula has been able to consistently provide since we first opened our doors.
Check Out the Latest Chevy Models
We mentioned our versatile inventory, but to fully appreciate just what that means, you need to take a moment to check out the latest 2020 models from Chevrolet. While Chevy has always been a leader in the industry, they have truly stepped up their game in 2020 and offer some of the best vehicles you find at any car dealership in Albany, NY. It does not matter if you want a car, truck, or SUV, Chevy has you covered with something special this year.
Here are a few of the vehicles you should check out:
2020 Chevy Bolt EV
If you are interested in an electric vehicle, then the updated 2020 Chevy Bolt EV is a fantastic choice. Improvements to the battery mean this year's model can get an estimated 259 miles on a full charge, more than 20 miles better than last year's Bolt EV. In addition, both the rear vision camera and the surround vision camera have been upgraded to HD for better visibility and safer driving.
2020 Chevy Impala
For a sophisticated and stylish sedan, the 2020 Chevy Impala continues to be a perfect choice that defies expectations and sets the bar for other brands. The standard 3.6L V6 engine offers up to 305 hp for truly impressive performance that makes it an absolute joy to drive around upstate New York.
2020 Chevy Silverado
If you are looking for a pickup truck that can get a lot of work done while still being a great choice for the weekend, then you should consider the 2020 Silverado. Fully updated in 2019, the Silverado continues to shine and offer excellent power and performance thanks to up to 460 lb-ft of available torque, giving the Silverado 1500 maximum towing of up to 13,400 lbs.
All-New 2020 Chevy Silverado HD
Of course, if you need to get a lot more work done, then the Silverado HD pickups are the way to go. Both the 2500HD and the 3500HD have been fully updated for 2020 and offer fantastic power and performance. You can get up to 910 lb-ft of torque in both trucks thanks to an available 6.6L Duramax Turbo-Diesel V8 engine. The 2020 Silverado 3500HD offers an astounding 35,500 lbs of towing capacity when properly configured and used with a gooseneck setup.
All-New 2021 Trailblazer
Although this is set for the model year 2021, it will be hitting our showroom in early 2020, so there is no better time to get excited for it than right now. The 2021 Trailblazer will feature sleek styling and fantastic active safety features that come standard, including automatic emergency braking and a lane departure warning. Plus, it will be positioned between the established Chevy Trax and Equinox, offering a fantastic new option for a small Chevrolet SUV.
2020 Chevy Tahoe
If you are looking for something larger, on the other hand, then the 2020 Chevy Tahoe is a fantastic choice for driving around Albany, NY, and the surrounding area. Among the best-selling full-size SUVs in America, the Tahoe offers nearly 100 cu.ft. of interior cargo space and an available 6.2L V8 engine that provides up to 420 hp for an exhilarating and powerful driving experience.
All-New 2020 Chevy Corvette
Finally, Chevrolet has something truly special ready for 2020, the all-new fully redesigned Corvette. The 2020 model is the first mid-engine model ever released for the Corvette and offers power, performance, and handling like you have never seen. Its V8 engine offers up to 495 hp and 470 lb-ft of torque, providing a top track speed of 194 mph – it is a driving experience unlike anything else on the road.
DePaula Quality Used Vehicles
Although new Chevy vehicles are a great choice, you might be more interested in car dealerships in Albany, NY with a fantastic selection of used models available. Choosing a used car is a great way to save yourself some money, skip the initial depreciation of a new vehicle, and also help out the environment by keeping a car on the road longer and offsetting the resources used to make it. Here at DePaula Chevy, we are proud to offer an impressive selection of used vehicles for you to choose from, including the highest quality pre-owned Chevys available anywhere.
Every day, we have more than 100 used vehicles here at our dealership for you to look over and choose from. All of our used vehicles have been carefully inspected inside and out to ensure they are in the highest quality possible, and if we find any issues that we do not simply fix, we will let you know about them in clear documentation. A free CARFAX vehicle history report on our used vehicles takes that a step further, so you can shop with confidence and know everything we do about each vehicle you find on our lot.
Here at DePaula Chevy, we also have an exciting selection of Certified Pre-Owned (CPO) vehicles for you to choose from. These are not simply used models with a flashy name attached to them – every vehicle that is certified by Chevrolet has been through an extensive 172-point inspection overseen by Chevrolet. Any mechanical or technical issues that are discovered during this inspection must be promptly and accurately repaired before the vehicle can be offered for sale; if there are any safety recalls in effect for a model, repairs or replacements must also be performed on those items before the vehicle can be sold.
Chevy CPO vehicles are all less than six years old and have fewer than 75,000 miles on them – anything older than that or with more mileage is not even considered for certification. Buying a CPO vehicle also comes with its own benefits in the form of a 6-year or 100,000-mile limited powertrain warranty and a 12-month or 12,000-mile limited bumper-to-bumper warranty. The 6-year warranty also includes Roadside Assistance provided by Allstate for the duration of its coverage, so you have peace of mind wherever you go.
Reach Us Easily from Around Albany, NY
Here at DePaula Chevy, we know you have your pick of car dealerships around Albany, NY, which is why we work hard every day to demonstrate why we should be your first choice. Not only do we provide fantastic new and used vehicles, but we will also be here for you for years to come with high-quality factory parts and our certified service center. We are conveniently located for our customers from all over the area, and we can be easily reached from many locations, including:
Albany
Since we are located here in Albany, NY, we are quite easy to get to if you also live here. We are located on the corner of Central Ave and Everett Rd, just south of I-90.
Troy
If you are coming to us from up in Troy, then start off on the west side of the Hudson River and simply take I-787 south until you reach I-90. Take I-90 west and get off on the Everett Rd exit, make a left turn to go south and you will find us in a few minutes at the corner of Central Ave.
Saratoga Springs
The easiest way to reach us from Saratoga Springs is to hop onto the I-87 and head south (use the 9 or the 29 to reach the I-87, whichever is easiest for you). Take I-87 south until you reach I-90, get onto I-90 heading east and take that until you reach the Everett Rd exit. Turn right onto Everett Rd, going south, and in a few minutes, you will come to the corner with Central Ave and find us on your right.
Schenectady
If you are coming from Schenectady, then you have two simple ways to reach us. You can hop on the 5, which is also Central Ave, and take that all the way until you find us at the corner of Central Ave and Everett Rd. If you prefer the highway, then hop on the 890 and head east until you meet with the I-90, then get on the I-90 going east. Stay on that until you reach the Everett Rd exit, get off and turn right onto Everett Rd, then just take Everett Rd a couple of minutes until you reach Central Ave, and we will be on your right.

The Choice Has Never Been Easier
If you are searching for a reputable, customer-focused Chevy dealership in the Albany area, look no further than DePaula Chevrolet. Save yourself from the hours it takes to search through pages of Google results, and come down to DePaula Chevrolet. Meet the outstanding team that has made our dealership what it is, and explore the large in-stock inventory of new and used cars, trucks, and SUVs. Whether you are ready to buy today, or are simply exploring your options for a later purchase date, come in to DePaula Chevrolet and introduce yourself to our award winning team. We are open Monday through Saturday, and are kid-friendly. Our state of the art service center has great deals going on now, and every time you bring your vehicle in for maintenance, we will wash it free of charge!
Come down to DePaula Chevrolet in Albany, NY, and see for yourself what an exceptional car dealership looks like. No games, no gimmicks, no kidding. No other car dealer in the northeast delivers the level of service available at DePaula Chevrolet.