Chevy Certified Service – Albany, NY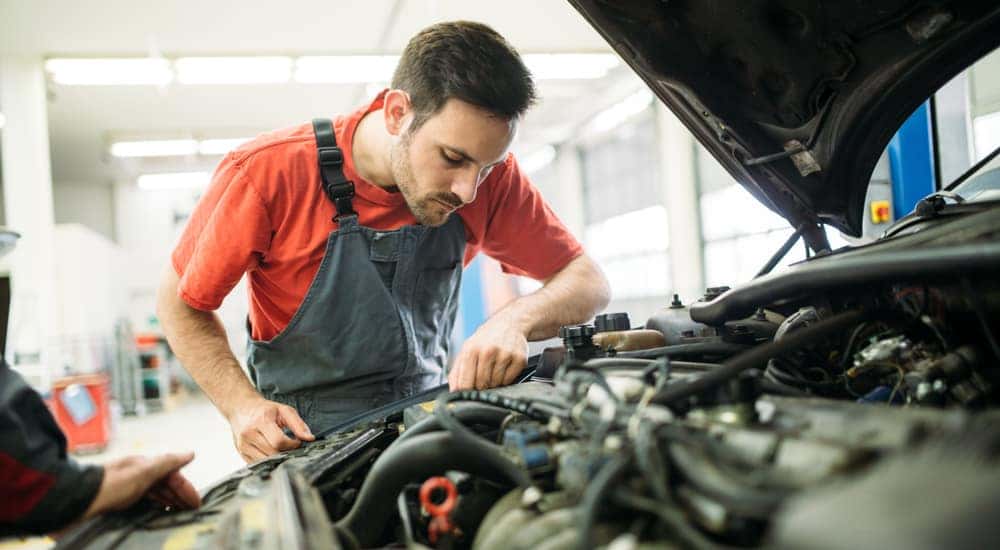 Maintaining a vehicle can sometimes feel overwhelming. Oil changes, tire rotations, brake service, fluid checks, and more are tough for anyone to remember, let alone find time to fit into a busy schedule last-minute. That's why visiting DePaula Chevrolet for Chevy Certified Service is so important.
At DePaula, your service technician can provide you with a multi-point vehicle inspection that breaks details about your vehicle's condition that you might have overlooked. And because we're a Chevy dealer, we always have information about regularly scheduled maintenance handy to help you create a time table for future visits or schedule them well ahead of time.
Here are a few of key reasons you should choose DePaula Chevrolet for Chevy service in Albany, NY:
You Can Trust the Chevy and GM Experts
When it comes to getting your vehicle serviced, it's easy to cut corners. Independent shops in the area try to convince you that their prices are lower than the dealership, but even if they are lower you're sacrificing quality by choosing the independent shop.
By having your service done at DePaula Chevrolet's Chevy service department, you can trust us to use genuine fluids, parts, and techniques that GM approves for its vehicles. In addition, our service team works with Chevrolet and other GM vehicles all day, so they know how to do their jobs quickly and efficiently.
A key benefit of choosing a certified Chevy service department is also the ability to catch issues early. Like doctors, DePaula's technicians perform check-ups and are able to let you know areas in which your vehicle may have issues in the future. This saves you the hassle of dealing with an issue after it causes serious problems, which may not be covered by your warranty.
Take Advantage of Chevrolet Complete Care
When you buy a new Chevrolet from DePaula, you'll receive access to Chevrolet Complete Care for no extra charge. This service provides extra benefits to make owning your new vehicle easier and stress-free.
This starts with a 2-year/24,000-mile scheduled maintenance plan, which means you won't extra for basic maintenance during that time. The service includes oil change and filter, tire rotation, an a 27-point vehicle inspection by a certified Chevrolet service technician. These services are extremely affordable once the scheduled maintenance plan expires, but Chevy knows that saving money after making a purchase like a new car makes a lot of difference to its customers.
In addition to scheduled maintenance, new Chevy buyers also receive a 5-year/100,000-mile Roadside Assistance and Courtesy Transportation plan. And this is no ordinary roadside assistance plan, as it covers a lot of charges you might otherwise be responsible for should your car experience performance issues.
This service includes emergency towing, flat tire changes, fuel delivery, lockout support, and even alternative transportation. That means Chevy will fit the bill so you can stay on the road in case your car needs to undergo warranty-covered repairs.
How DePaula Keeps Your Tires Safe
In New York, one of the most important things you can do to stay safe on the road in any type of weather is to properly maintain your tires. One of the benefits of choosing DePaula Chevrolet for your service and maintenance needs is a tire inspection included with each multi-point inspection by a Chevy certified technician.
Using guidelines handed down directly from GM, DePaula's technicians give your tires an in-depth look–something most independent shops would charge to perform. Once complete, you'll be handed a vehicle inspection sheet that rates each individual tire tread level and informs you of a need for a tire rotation, alignment, or balancing. Without this valuable service, you might not ever find out that there's an issue with your tires until its too late.
The reason tires are so important is because they connect your vehicle to the road. During rainy, snowy, or icy conditions, your tires make the biggest difference in performance. If your tread is starting to wear, it's extremely likely you'll face issues during any type of inclement weather, especially snow or ice.
Knowing what type of tires your car is equipped with is also an extremely important part of tire maintenance. Most new Chevrolet vehicles come equipped with all-season tires, which are meant to have balanced performance all year round. Due to the winter conditions in the Albany, NY area, you might want to consider switching out all-season tires for winter/snow tires from December through March. Not only do these tires improve traction and braking during snowy and icy conditions, the rubber compound used is meant to hold up better throughout winter.
Owning two sets of tires for each vehicle in your family might seem expensive, but the cost is worth it. By driving all-season tires during winter, it's very likely going to add more stress to the tread and could shorten their lifespan, leaving you to buy new tires more often. Using snow tires during winter months, you'll stay safe, enjoy the performance benefits, and allow both sets to see the longest lifespan possible.
Manage Your Chevy Online with the Owner Center
One of the coolest parts of owning a Chevy is all of the awesome technology that comes along with it, including OnStar and built-in 4G LTE service. But from a maintenance and vehicle service standpoint, the Owner Center is one of Chevy's most useful features.
This online portal allows Chevy owners to access a ton of information about their vehicle. You can find out a complete history of vehicle service, see detailed information about your warranty, check recall data, receive reports from OnStar, and convenient access to owner's manuals.
Chevy not only wants to ensure your car is serviced by the right people with the right tools and training, but help you be more informed throughout the process.
Schedule Your Next Chevy Service with DePaula Chevrolet
Now that you know the full details about Chevy's certified service program, there's simply no reason to not visit DePaula Chevrolet for your next service appointment. Our dealership has some of the most experienced technicians and best quality customer service in Albany and remains one of the most modern dealerships in the Albany area.
Located at 785 Central Ave, we're also one of the most conveniently-located dealerships in the area. So stop relying on independent shops to service your car and get the most reliable Chevy service!