Chevy Trucks Albany NY
In a lot of ways, Chevy trucks speak for themselves – the power, reliability, and performance they bring to the table have paved the way for other brands to try to keep up for more than 100 years. The latest models just keep that tradition rolling forward with some of the most sophisticated and powerful pickups available, including 2020's all-new heavy-duty
Chevy trucks. Albany, NY
, is the perfect place to own a Chevy pickup, with the power and features to get you anywhere you want to go.
Whether you work in a trade and need a truck that will keep working as hard as you do, or you want something fun to explore and get away on the weekend, a Chevy truck in Albany, NY, is the perfect option. The beauty of the modern Chevy lineup is that there truly is a pickup for anyone: from the midsize Colorado that is the perfect machine for having fun, to the surprisingly powerful standard Silverado 1500, and the heavy-duty 2500HD and 3500HD models that can handle anything you throw at them. No matter what you are looking for, Chevy has you covered.

Why DePaula?New Chevy TrucksUsed Chevy Trucks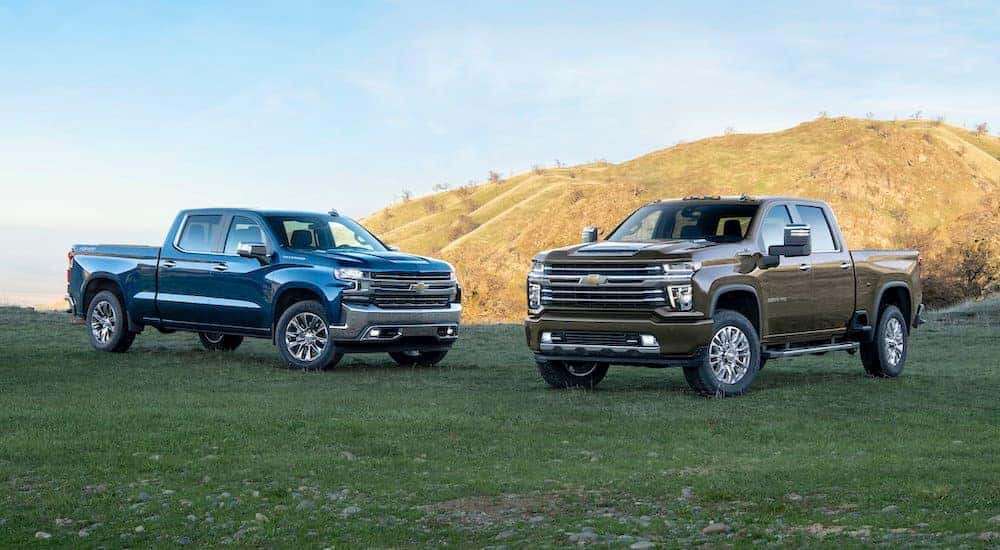 Here at DePaula Chevy, we live, dream, and talk about Chevy trucks all day long. Whether you know what model you want, or you are still trying to figure out which one is perfect for you, we are here to help. Our friendly and knowledgeable salespeople are always happy to answer all of your questions, show you the full lineup of Chevy trucks, and work with you to make sure you find the perfect vehicle. Come visit us today and see how much fun it can be to shop for a pickup.
Our Huge Inventory is Here for You
One of the most important things when it comes to shopping for Chevy trucks is the number of options you have, which all comes down to one thing: inventory. Here at DePaula Chevy, we have a huge selection of brand-new Chevy pickups for you to choose from. This gives you a tremendous amount of freedom, not only in terms of aesthetics like color, but also in different models, trims levels, and other options.
We also have a great selection of pre-owned Chevy trucks for you to check out. A pre-owned pickup lets you save money, avoid depreciation on the initial purchase of a new model, and help out the environment by keeping a truck on the road longer. Although more limited in number, we also have a carefully curated selection of certified pre-owned Chevy trucks available here in Albany, NY. These are the pre-owned models that are in the best condition, with low mileage on them, and have been thoroughly inspected by the manufacturer to ensure they are as close to a new model as you can get with a pre-owned option.
The Modern Chevy Truck Lineup
Choosing the right Chevy truck comes down to more than just options; it comes down to knowing what you need. Whether you have put in the time to do some research and know exactly what you want, or you are still figuring things out, we are here to help. We have the full lineup of 2020 Chevy trucks for you to choose from, and each offers benefits for different drivers. Consider the following four options:
2020 Chevy Colorado


This could be considered the "starter model" in the modern Chevy pickup truck line and is a midsize model. It is a perfect choice if you want something a little smaller than a full-size truck and do not need to do a massive amount of towing. You can still have a lot of fun with the Colorado, however, so it is no less worthwhile than the Silverado models. When properly configured, a 2020 Colorado can have a maximum towing capacity of up to 7,700 lbs or a maximum payload of up to 1,578 lbs.
2020 Chevy Silverado (1500)
If you want a full-size model, rather than midsize, then the first one you should look at is the Silverado, also called the Silverado 1500. This is a light-duty, full-size pickup that is the perfect choice if you need to get a lot of work done but do not need something like a heavy-duty truck. The standard Silverado is one of the most popular Chevy trucks in Albany, NY, and is a great choice for both work and play. When properly equipped, the 2020 Silverado has a maximum towing capacity of up to 13,400 lbs or a maximum payload of up to 2,250 lbs.
2020 Chevy Silverado 2500HD
Now, if you want a full-size truck that can get some serious work done, then check out the Silverado 2500HD. This is the first of two heavy-duty pickups designed for the consumer market. These are often preferred by people that work in trades where they need to be able to haul massive amounts of weight to or from a job site. The 2020 Chevy Silverado 2500HD can have a maximum towing capacity of up to 18,500 lbs or a maximum payload of up to 3,979 lbs.
2020 Chevy Silverado 3500HD
Finally, we come to the king of the modern Chevy lineup, the Silverado 3500HD. If you need a truck that can laugh in the face of even the most loaded trailer, then this is the one for you. The Silverado 3500HD is designed to handle a massive amount of weight, especially when using a gooseneck or 5th wheel trailering setup. With the 3500HD you can get a maximum towing capacity of up to 20,000 lbs or a maximum payload of up to 7,442 lbs – with an available maximum gooseneck towing capacity of up to 35,500 lbs.


How the Chevy Pickup Has Evolved
The history of Chevy trucks goes back more than 100 years, starting with the 1918 Chevy Model 490, the first truck produced by Chevrolet. It was sold as a chassis only, so customers had to purchase it and then install a cab and body themselves afterward. It was a light-duty truck with a half-ton rating released alongside the Chevrolet Model T, a more powerful one-ton pickup.
Chevrolet helped revolutionize the pickup industry in 1929 when they released the Chevy International Series AC Light Delivery truck, which featured the world's first overhead 6-cylinder engine. It produced up to 46 hp and 125 lb-ft of torque for the truck and was a huge success, earning the nickname "Stovebolt" due to its resemblance to woodstoves at the time. This was also the first Chevy truck to feature a closed cab and was offered in different styles and colors.
In 1947, Chevy introduced their Advance Design pickup, which featured an iconic five-bar horizontal grille and a larger cab that made room for a third person in the front. It was powered by a 6-cylinder engine that provided up to 78 hp and 170 lb-ft of torque. Then, in 1955, Chevy released their Task-Force trucks with an available V8 engine – later called the "Small Block," which produced up to 238 lb-ft of torque.
The Chevy S10 was released in 1982 and established itself as the light-duty precursor to the modern Colorado. The Silverado began as a trim level for the popular 1988 Chevy C/K 1500 and eventually went on to become its own model name in 1999, replacing the C/K as the full-size model of choice for Chevy drivers. Today, the Colorado and Silverado models offer one of the most impressive and diverse lineups of Chevy trucks ever seen.

DePaula Chevy is Your Chevy Dealer in Albany
There are many great reasons to own Chevy trucks in Albany, NY, not least of all is the incredible models available. No matter which Chevy pickup you are interested in, we are here to help you find exactly the right one for what you need. Call us or come visit us today at DePaula Chevy and discover the Chevy truck that is perfect for you.