Performance

Of its many amazing and enviable qualities, one key element has driven the Camaro into the annals of history as one of the world's greatest sports cars – its unbeatable performance. Built to take on the track as well as it conquers the highway, the Camaro is designed to be a driver's car – packing in plenty of power under the hood while precisely-crafted underpinnings offer premium handling to bring one serious ride totally under your control.
Race-Ready Performance
How does a team of craft engineers boost the road-conquering performance of a model already built to be the best racer it can be? For the 2016 Camaro, this meant more lightweight materials and a more efficient design, resulting in a Camaro that's 390 pounds lighter and 28 percent stiffer than its immediate predecessor, meaning your 2016 Camaro will be more nimble and agile than any that came before it.
Lightweight aluminum wheels help reduce mass overall, while lightweight aluminum suspension improves handling by reducing unsprung mass to make your Camaro more flexible without adding extra weight. Up to four selectable driving modes – Sport, Tour, Snow/Ice, and Track (on the SS trim only) – help you meet the demands of the road as they happen, while the available dual-port exhaust will audibly let you know when you've shifted into each mode with a different sound. The choice between the standard 6-speed manual or available 8-speed automatic let you choose between total control and easy accessibility when it comes to roaring your Camaro down the track, and the automatic even features a remote starting system for easy access to your Camaro anytime.
A Trio Of Engine Options
The 2016 Camaro starts off strong with the standard 2.0-liter Turbo 4-cylinder, a fierce and feisty machine that utilizes the model's decreased weight to pump out up to 275 horsepower and 295 lb.-ft. of torque, all while offering an exceptional 31 miles per gallon highway and 22 miles per gallon city. This impressive standard option boasts a 0-60 mph time of just 5.4 seconds with the manual transmission, and surprisingly adept cornering and braking to make sure you can stop just as quickly as you rev into gear.
Those looking for a little more power under the hood without sacrificing efficiency should pick the 3.6-liter V6, a mighty option that can reliably push out up to 335 horsepower and 284 lb.-ft. of torque, seamlessly balanced with Direct Injection and Variable Valve Timing for efficient power at your fingertips. Best of all, drivers who mate this engine to the 8-speed automatic transmission will get Chevy's Active Fuel Management and be able to clock 0 to 60 mph in just 5.1 seconds. Built with an impressive fuel economy offering up to 28 miles per gallon highway and 19 miles per gallon city, this engine option offers superior performance without sacrificing all that easy handling and efficiency.
Of course, when it comes to truly enjoying your powerful sports car, few can match the raw power of the 6.2-liter V8, a monster of a machine that can pump out unmatched power whenever called upon. Able to power up from 0 to 60 miles per hour in just 4 seconds flat, this impressive option packs up to 455 horsepower and 455 lb.-ft of torque under the hood. And thanks to tech like Direct Injection, Variable Valve Timing and Active Fuel Management with the automatic transmission, the 6.2-liter still manages an impressive fuel economy of 28 miles per gallon highway and 17 miles per gallon city. So whatever your engine preference might be – from raw power to efficient operation – there's something for everyone in these amazing Camaro engine options.
Design

A Striking Refresh On Classic Camaro Design
Now entering its sixth generation, the Camaro has always led the way when it comes to offering a striking and desirable design to match its renowned performance power. Always the poster model for the muscle car era, the Camaro now sports one seriously stylish redesign for the 2016 model year - ushering a new era of the sleek, modern look to match the precise engineering found under the hood.
Observe the flowing, aerodynamic lines running from bumper to bumper, front to back, and you'll see just how finely crafted the new Camaro is to slice through the air and minimize drag to keep you running at top speed and optimal efficiency out on the track. The wider opening and precise draft angle of the grille, the "reverse-mohawk" channel on the roof, and the lift-reducing stanchion spoiler all prove just how much work went into making this Camaro as functional as it is attractive - and when matched with features like 20-inch aluminum wheels and signature LED lighting front and back, it's easy to see why this new Camaro is the pride and joy of the 2016 Chevy lineup.
Interior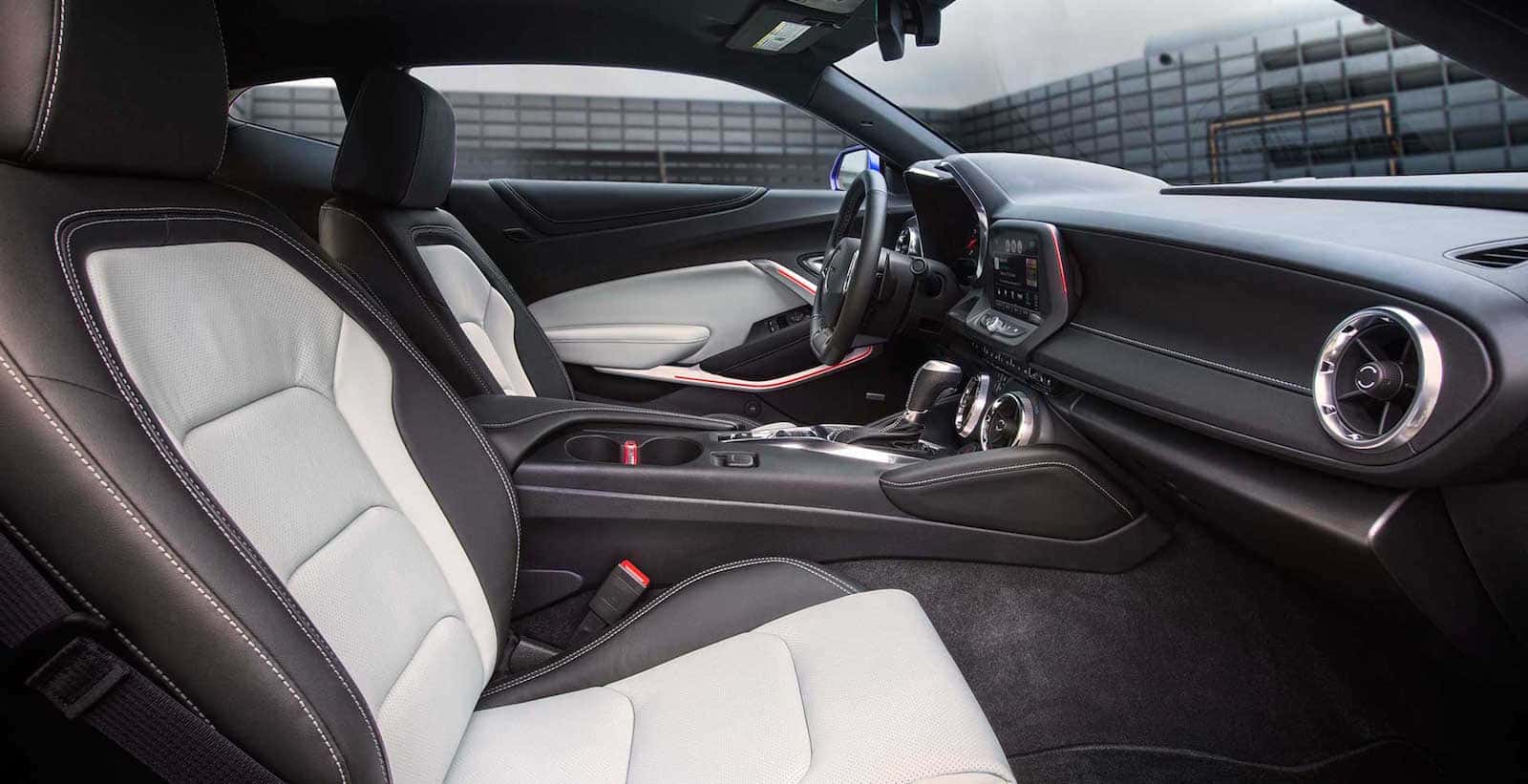 Top-Quality Comfort For Today's Riders
While "sports car" and "comfort" may not necessarily be synonymous in the minds of many drivers, the 2016 Camaro is poised to change all that completely - and thanks to the uniquely driver-centered cockpit, you may just find yourself realizing reasons other than the roar of the engine to take the scenic route home.
Outfitted with top-quality cloth or premium leather upholstery, available 24-color interior spectrum lighting, an available reconfigurable instrument cluster, and available heated and ventilated power seating with an available leather-wrapped steering wheel, the 2016 Camaro comes fully outfitted with everything you'll need to both stay comfortable and impress any guests as you zip through the city streets, or whip around the track at top speed. And when you're off adventuring on those weekend getaways, you can turn to the standard 7-inch or available 8-inch radio touchscreen for your favorite streaming music from SiriusXM Satellite Radio, Apple CarPlay, or your connected device, hands-free phone connectivity to stay in touch out on the road, and the concert-quality acoustics of an available 9-speaker premium Bose sound system. Point being: you're not likely to be bored while riding in the 2016 Camaro, if for some reason the intensity of the engine isn't enough to satisfy you.