Performance

Versatile Engines
If you're looking for a killer engine lineup, you'll find it in the 2017 Chevrolet Camaro. With three engines to choose from: a turbocharged 2.0-liter, 3.6-liter V6, and 6.2-liter V8 engine, the Camaro is a versatile and powerful machine.
Turbocharged 2.0-liter Engine
The standard engine choice for the 2017 Chevy Camaro is a 2.0-liter turbocharged engine that produces 275 horsepower and 295 lb.-ft. of torque. This setup allows the vehicle to return 22 mpg city and 31 mpg highway. Just for reference, that's the same amount of fuel-efficiency as a 2017 Chevy Impala. But, on a more performance oriented vehicle, and that's pretty impressive.
For more power, kick it up to the 3.6-liter V6 engine.
3.6-liter V6 Engine
The first optional engine is a 3.6-liter V6 engine that generates 335 horsepower and 284 lb.-ft. of torque. This will get you around a 0-60 mph time of 5.1 seconds, which is cooking. But, that's only if you pair this engine to the optional eight-speed automatic transmission. If you stick with the standard manual, the 0-60 mph time will be around 5.2 seconds.
Fuel economy stands at 19 mpg city and 28 mpg highway. Not bad, if you consider this is a V6-powered, automatic transmission-equipped Camaro. For the manual transmission, the fuel-efficiency stands at 18 mpg city and 27 mpg highway.
6.2-liter V8 Engine
For the final engine option, you have the opportunity to command a 6.2-liter V8 engine. This V8 is probably the best way you're going to get that nostalgia, and is only available on the 1SS and 2SS models. It produces a massive 455 horsepower and 455 lb.-ft. of torque, is paired to either a manual or automatic transmission. The automatic transmission — again — being the optional choice in this scenario. The 0-60 mph time of this juiced-up machine? 4-seconds flat with the automatic transmission on board, and 4.3-seconds with the manual.
While you probably aren't too worried about the fuel economy of a 2017 Camaro equipped with a large V8 engine, it's still important to know the efficiency figures of the vehicle, rated at 17 mpg city and 28 mpg highway with the automatic transmission, and 16 mpg city and 25 mpg highway with the manual transmission.
Bottomline
Clearly, the 2.0-liter turbocharged engine is going to provide you with the most fuel-efficient and modern type of muscle car performance. Whereas the V6 and V8 engine will end up giving you the old-school and throaty roar that many who buy a modern muscle car are looking for.
Either way, you won't be disappointed. Not to mention, there's still a host of other performance technology that gets thrown onto the 2017 Camaro.
Design

Meticulously Engineered Design
The 2017 Chevrolet Camaro has a meticulously engineered design. When the initial shock of the Camaro's drop-dead gorgeous looks wears off, you might notice upon closer inspection that it has plenty of fine-tuned design aspects about it. All of which are there to help promote a more powerful and efficient performance.
The design itself remains relatively unchanged from last year, which is fine, given that Chevy decided to start taking tremendous leaps in the aerodynamic segment for their Camaro sometime ago. However, there are some notable differences between the fifth generation (most recent) and sixth generation (current) Camaro on the market. This is important to know, simply because the differences are astronomical.
This Camaro has been designed around a smaller and lighter architecture, comparatively. We all know that a loss in weight and length means more fuel-efficiency and faster speeds. Which is exactly what the sixth generation Camaro offers drivers in 2017.
The aerodynamics were also fine-tuned on the vehicle, with extensive wind-tunnel testing. Many hours went into testing the design, and every single design choice was scrutinized. If anything was determined to be holding the Camaro's performance back in the design, it was either eliminated or reworked. This extensive testing is clear in the wider opening and precise draft angle of the grille, the roof's "reverse Mohawk" channel, and the available lift-reducing stanchion spoiler.
Technology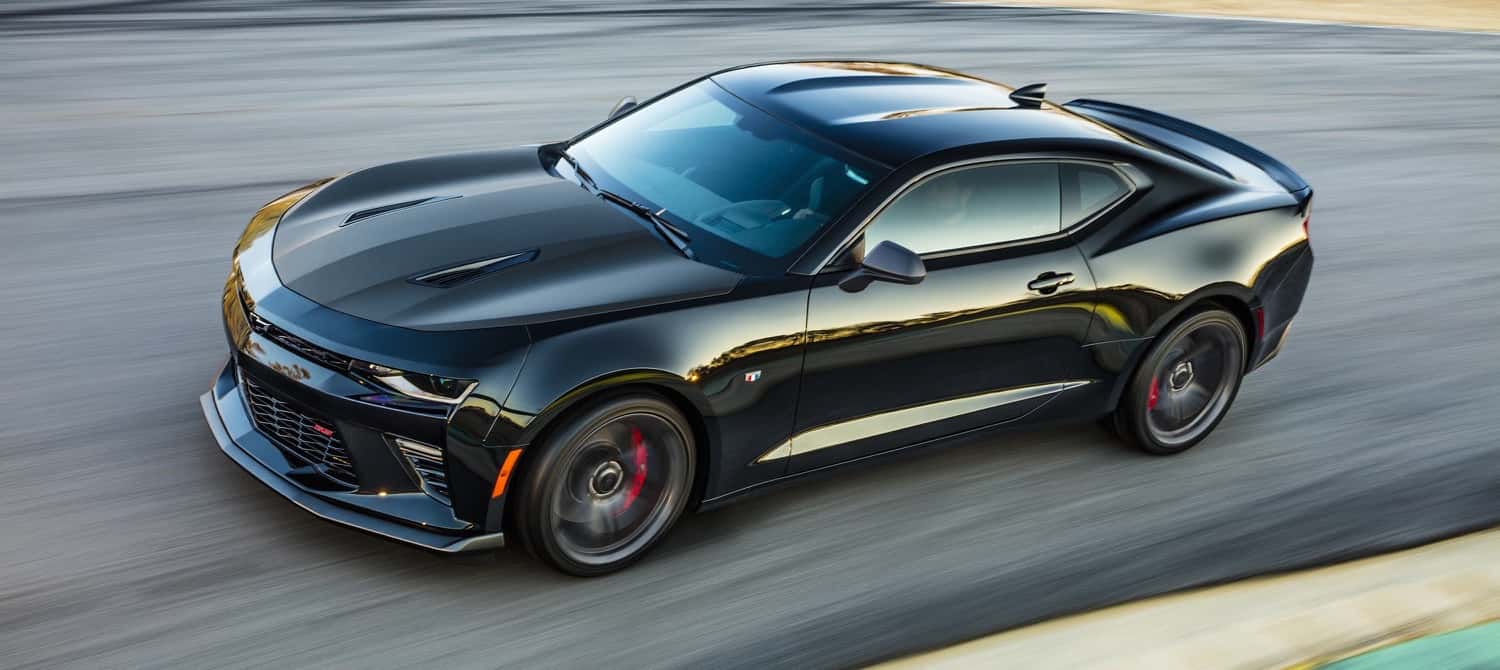 Performance Technology
It's no longer just about the engines in the muscle car world. I know, that might make some of you sad. But, it's just a fact of the matter. Now, a lot of your modern sports cars are actually more computer than they are machine. While that might be a slight exaggeration, you get my point. If not, then the performance technology found on the Camaro should help reinforce that fact.
Drive Modes
There are four different drive modes to choose from: Tour, Sport, Snow/Ice, and Track (on SS models). All it takes to transition between them, as road conditions change, is the push of a button.
What's the point? Well, the purpose of these drive modes is to optimize the performance depending on the type of environment you're in. Things like shift/throttle response, traction, steering wheel sensitivity and even ride stiffness will all be adjusted according to which mode you've selected. That way, you know for a fact you're getting the best performance for whatever environment you're in.
Magnetic Ride Control
Magnetic Ride Control is found exclusively on the Camaro SS, and is a new form of suspension-adjusting technology. Simply put, it's able to read the road every millisecond using radar sensors. Then, the suspension's stiffness will be calibrated accordingly. The result is that regardless of where you go, you'll have a smooth ride.
Combine this with one of the various Drive Modes mentioned, and you'll experience a whole different type of ride quality that you never thought existed.
Dual-Mode Exhaust
While not the most advanced, it does still have a modern twist to it. Instead of bumping up the horsepower and torque slightly like other performance exhaust systems, this one is out to help bump-up (or bump-down) the sound level. You can select a unique sound for each of the four modes it provides, with sounds that could range from a low rumble to a louder roar.