Performance

The 2017 Chevy Suburban has one engine option, regardless of model or trim level. That engine is a 5.3-liter V8 engine that produces 355 horsepower and 388 lb.-ft. of torque. That solitary engine is also paired to a single transmission choice, which is a six-speed automatic.
It's a rear-wheel drive vehicle, with a standard locking rear differential. If you upgrade to four-wheel drive, you get a single-speed transfer case as an option. For the Max Trailering and Z71 Off-Road packages, you'll get a two-speed transfer case to help with towing and off-roading.
Capability
The Chevy Suburban is a large vehicle, able to effortlessly carry a lot of passengers, cargo, or both. All of that weight adds up, but it doesn't stop the Suburban from towing 6,300 pounds (rear-drive) or 6,000 pounds (four-wheel-drive) when properly equipped. That's less than a Silverado, but it's an SUV, not a truck. Its utility lies in the amount of natural carrying capacity it has for cargo and passengers. Throwing a 6,000 pound trailer on it is just a bonus.
Nor does it stop the V8 engine from careening the Suburban from 0-60 mph in 7.2 seconds. If you couldn't tell by the usage of the selected verb, that's quite fast for a full-size SUV.
Fuel-Efficiency
While it's not necessarily a drawback (more of an expected, though unfortunate reality), the Suburban's fuel-efficiency is quite miserable compared to other, smaller vehicles, which encompasses most cars in the automotive world. But, when compared to other full-size SUVs of a similar caliber, the Suburban's 16 mpg city/23 mpg highway (19 mpg combined) is quite exceptional. For four-wheel drive versions, you're looking at 15 mpg city/22 mpg highway (18 mpg combined), not a significant loss at all, especially for the extra capability four-wheel drive provides.
Interior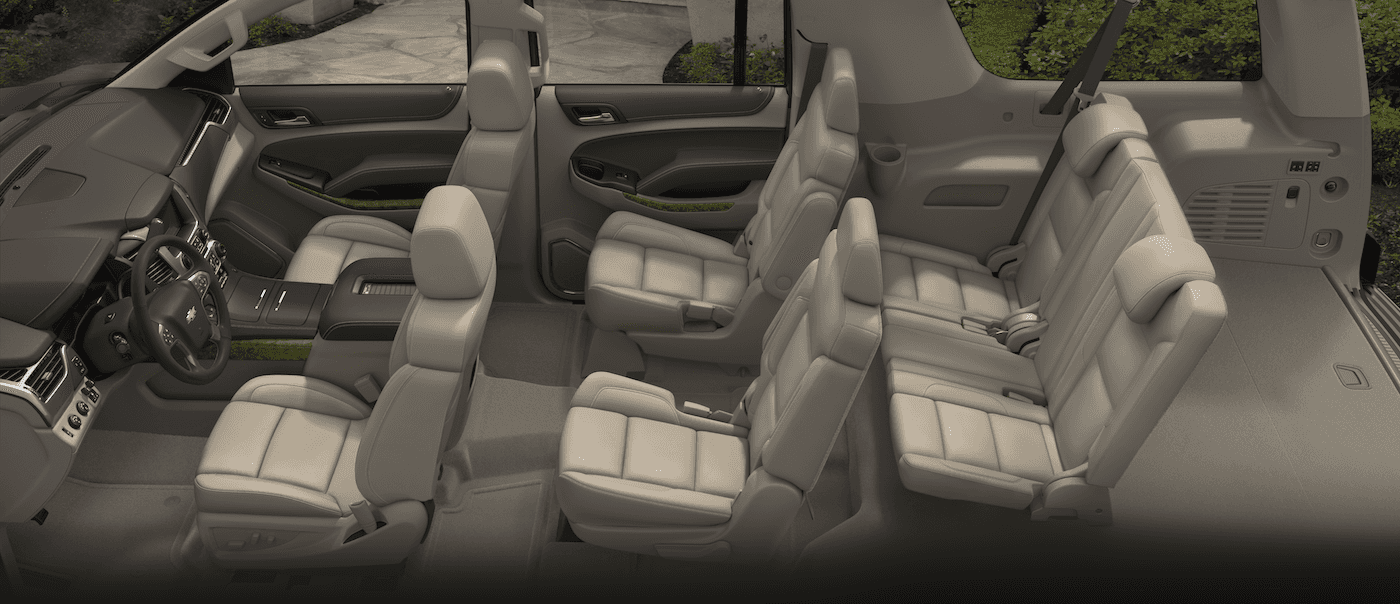 Passenger Space and Storage
The large and heavy design doesn't just help with safety, structural integrity, ride quality, and capability; it also gives the 2017 Suburban owner a large amount of passenger and storage space.
On the LS and LT trim, the Suburban can hold up to eight people (with a second-row bench). On the Premier trim, seating for seven is available with two bucket seats in the second row in lieu of a three-seater bench. Front leg room comes in at 45.30 inches, second-row leg room comes in at 39.70 inches, and third-row leg room (surprisingly) only comes in at about 5-inches shorter than the second row, which is 34.50 inches. I say surprisingly because typically in SUVs, the third row suffers when it comes to leg room. But, if you fit in the second row chances are you'll fit in the third row just fine.
Head room hovers just below and just above 40 inches for the first through third-row seating, which is plenty of breathing room for taller passengers. This comfortable amount of head room is indicative of the Suburban's tall stature, which measures 74.4 inches (just over 6 feet) in overall height. Shoulder room for all three rows also measures 64.80 inches, 65.10 inches, and 62.60 inches, respectively. Also worthy to note is that even with a bench seat, three passengers can experience 60.30 inches of hip room in the second row. For perspective on how spacious that is, these figures translate to just over 1.5-feet split between each passenger.
Roomy, right?
Storage
Storage space is looking just as good, and comes in at cavernous 121.7 cu. ft. of cargo volume when second and third row seating is taken out of the equation. Looking to transport a family of five with the first and second rows? You'll still get 76.7 cu. ft. of storage space, which is a lot of grocery bags. Even with all three rows in place, you're getting 39.3 cu. ft. of cargo volume. Plenty of space to carry road trip supplies for your entire family of eight (or seven, depending on trim).
It's also important to note that while the Suburban is a tall vehicle at over six feet, the measurement from ground to the top of the load floor is only 35.43 inches. In other words, just under three feet, meaning you won't have to get a gym membership to load heavier objects into a trunk that's sitting at over half of your height.
Design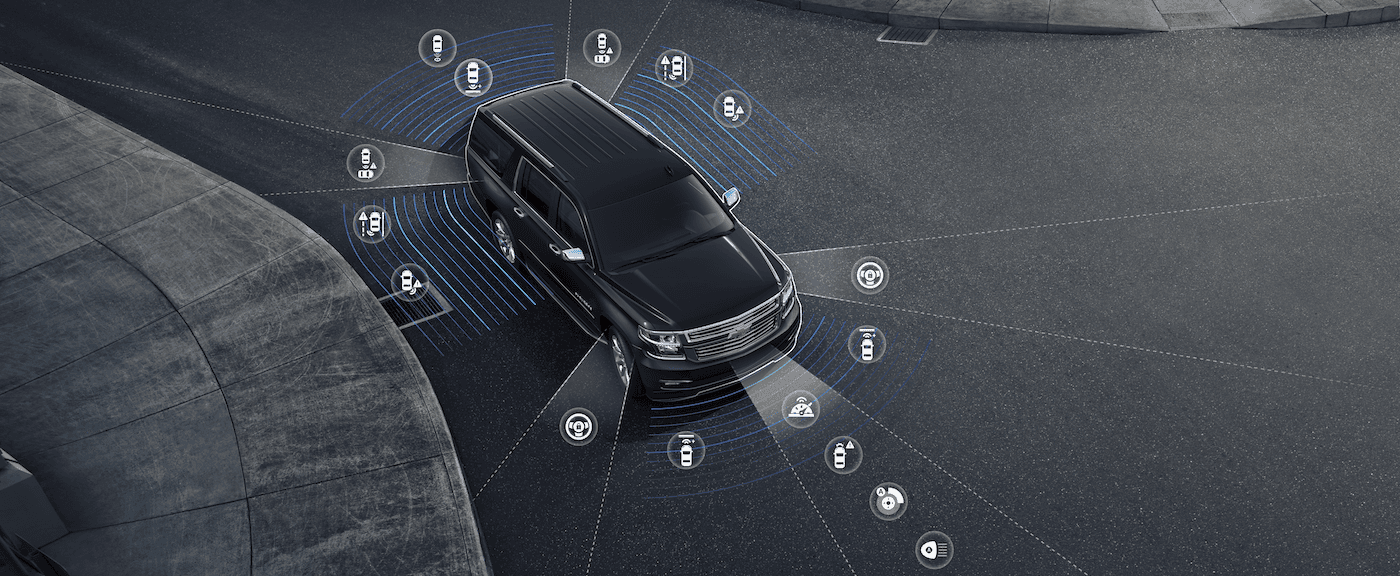 Unfortunately, full-size SUVs are somewhat of a dying breed in the industry. It seems like there are less and less each year as automakers scramble to meet EPA demands. Of course, automakers aren't going to sacrifice their trucks. Instead, they just don't make any new full-size SUVs. Most of what they do manufacture are actually car-based crossovers (Equinox, Explorer, etc.).
But, the Suburban (and its little brother, the Tahoe) persist as good-old fashioned truck-based SUVs with timeless and classic designs that are sure to put a smile on anyone's face who was born before the year 2000; back when full-sized SUVs were still relevant.
Therefore, you could say the classic and stalwart look of the 2017 Suburban in a sea of crossover SUVs — or SUVs that have lost that classic look and feel — is a strong selling point. Off the top of my head, the only other full-size SUVs that have a look like this are the Tahoe and (surprisingly) the Dodge Durango. The Durango only got its act together later in life by breaking a chain of awkward designs.
As soon as you see the headlights and wide front-end of the Suburban, you just feel nostalgic. Chevy's classic split-grille design with its bowtie-logo sitting proudly in the center is iconic enough. But as soon as you see the beefy, square, stacked-split headlights in the front (even if they have a modern twist on it) you could compare it to the front-end of a Suburban from two or three generations back. Another modern twist is the low-hanging front bumper with the LED lights in it.
The rest of the design is very blunt, which is good. The Suburban is a full-size SUV that says "it is what it is," and focuses on more important things like utility and performance rather than over-the-top styling. That's not to say it looks bad, I think it looks quite good. Plus, the higher in trim level you go the more chrome you can throw on it. Chrome makes everything look better.
I'd like to talk about the design of the back-end, especially the windows. The third-set of windows mimic the tall and rectangular shape of the suburban, and are cut off squarely in the back thanks to the back-end being (practically) a straight-drop down from the roofline, with the taillights bulging ever so slightly.
Chevy's Suburban is sturdy and aggressive looking; exactly what a full-size SUV owner is looking for.