Design

If you're in the market for a midsize crossover SUV that looks more like an SUV, then the 2018 Traverse is for you. That's right - the new, boldly redefined look of the Traverse is inspired by Chevrolet's other full-size SUVs. Signature cues, such as a more rectangular shape, a jacked-up and more aggressive stance, and LED headlights with a wide, flat, sweeping hood on top of a bold grille makes it feel more like a larger SUV than a midsize crossover. Something that's sorely needed in the crossover world.
Most crossovers are plagued with awkward proportions and cartoonish designs. The new Traverse is looking to change that and, apart from the badging on the outside, you'd think this was a whole new vehicle offered by Chevrolet.
New Trims, New Looks
Two new trim levels will also be available: the RS and High Country, both of which will come with their own unique features and design cues. For example, the sporty RS package will include a unique, blacked-out exterior, with design cues like a black chrome grille, black bowtie, 20-inch wheels, and more. The High Country focuses more on luxury, so a lot of the changes will be found on the inside in the form of suede accents and Loft Brown leather. But, the outside will feature High Country badging, D-Optic headlamps (also new for the Traverse) and power-folding third row seats.
In a nutshell, the new Traverse is a vehicle that takes the capability and design cues of an SUV, and successfully blends them with the characteristics of a crossover.
Performance
The new 3.6-liter V6 engine is paired to a nine-speed automatic transmission. Together, these will form the core of the new powertrain system. It's expected the new V6 will offer nearly 10 percent more horsepower than the current model's engine. With the current engine producing 281 horsepower and 266 lb.-ft. of torque without the dual exhaust. With the dual exhaust, the power output increases to 288 horsepower and 270 lb.-ft. of torque. Whether the new Traverse will offer a dual exhaust system is still unknown, but it's a safe bet to assume it will. 5,000 pound trailering capacity when properly equipped can be expected, and all we know about fuel-efficiency currently from GM's estimate of 25 mpg highway.
RS Trim Exclusive Engine
Another engine is available exclusively on the RS trim, which is already a one-up for Traverse fans, considering that the current model only has one engine option. This trim will have a 2.0-liter turbocharged engine, which has more torque than the standard V6 engine. This is how Chevy provided that sportier experience with the RS package.
Other Performance Technology
Regardless of engine choice, each one will have new intelligent stop-start technology to help save fuel during down time. All we know right now is that this more advanced system is based on a variety of driving factors. It also sounds like it's going to be even more effective than Chevy's current stop-start technology.
Traction Mode Select is standard on all models, and allows the driver to make real-time adjustments to the vehicle's driving, creating a type of checks and balance system for varying road conditions. On AWD models, it will also allow the system to be completely disconnected from the rear axle, saving fuel and enhancing the Traverse' overall refinement.
The Advanced AWD system found on the High Country model is going to employ twin-clutch technology that will optimize traction for every type of road hazard imaginable. Whether that's snow, ice, sand, or wet roads, the Advanced AWD system will let you combat any type of condition.
Interior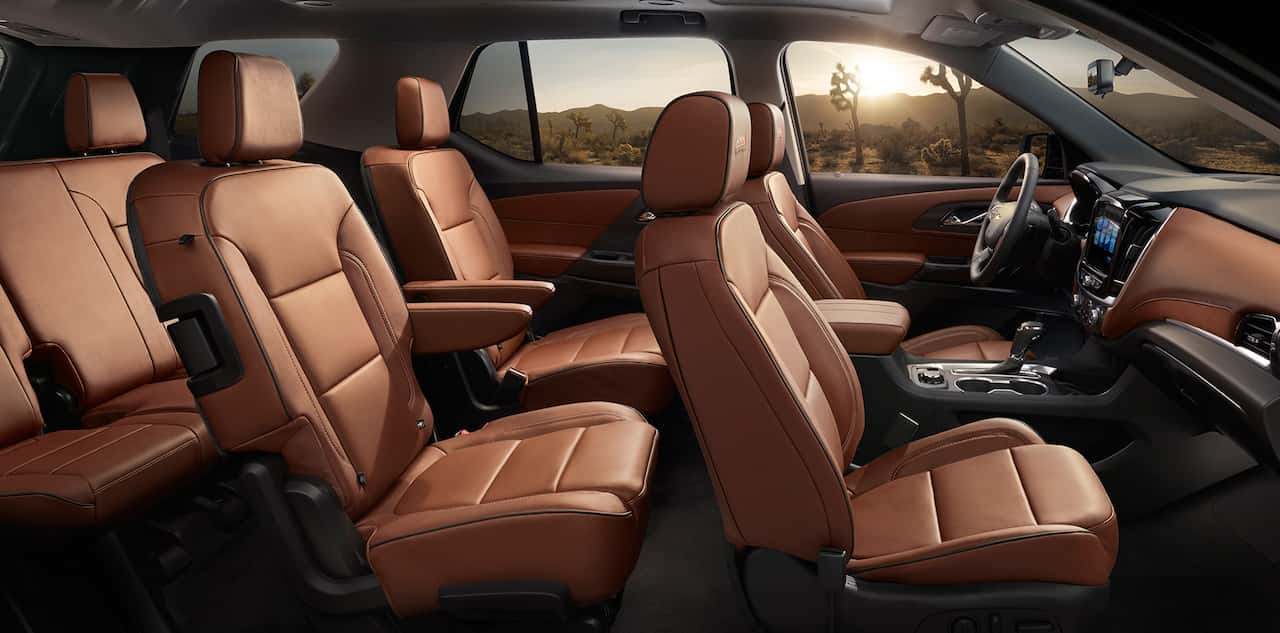 When it comes to capacity and roominess, the all-new Traverse is expected to reign supreme. With seating for up to eight passengers and a longer wheelbase than the current model (which is where all the extra interior space came from), the Traverse will prove itself a tough contender.
Cargo Space
The Traverse is expected to also offer a vast amount of cargo room, with cargo space sitting at a whopping 98.5 cu. ft. Topping it all off, you're also looking at extra storage options spread throughout the cabin, such as larger bins, and an ergonomically optimized cabin designed to enhance passenger and cargo space versatility, just as much as it is supposed to help drivers stay comfortable.
<h3 ">Passenger Space
For passengers who need to get into the third row, you won't have to worry about cramming between a seat and the door. The current model Traverse has a Smart Slide feature, which makes moving the second-row seats easier than ever. The new Traverse makes the Smart Slide feature even easier to operate, by making the second-row seat a split-folding one. The curbside seat (passenger) in the second row is able to tip up and slide forward, even if a forward-facing child seat is in place, crating ample access to the third-row seating. Passengers can expect a spacious 33.7 inches of leg room, which is predicted to be best-in-class.
If it's passenger space you need in a midsize crossover SUV, holding out for the 2018 Traverse might be your best bet.
Technology and Safety
When it comes to safety, Chevrolet is a brand that's always looking for new ways to advance its features year after year. Not surprisingly, the Traverse has a whole new host of safety features available. Keep in mind, these are only a few of the new safety features we know of currently. Based on current Chevrolet models, we can expect many more to be revealed beforehand.
Advanced Features
Surround vision, lane keep assist (with lane departure warning), front pedestrian braking, forward collision alert, and low/high-speed forward automatic braking make up the suite of features expected on new vehicles, with respect to advanced technology.
Immediately, you'll notice a few new features on that list that aren't found on the current model. Lane departure warning is present, but not lane keep assist, which is a feature that will actually help keep the vehicle in your lane on the highway. Pedestrian braking works well with forward collision alert (found on the current model), by providing automatic braking if a pedestrian or other object is detected in front of the vehicle. Low/high speed automatic braking works the same way, but is designed to detect larger objects like cars.
D-Optic LED headlamps are also standard on the Premier and High Country trim, and are supposed to utilize multiple high power 1x1 LEDs paired with injection molded precise lens optics to provide strong forward lighting performance, barely impacting energy levels. In a nutshell, it provides more light (keeping you and others safer at night) while using less energy.
Teen Driver Technology was recently made standard across all 2017 Chevrolet models, and it looks like that trend will continue into 2018, given that the new Traverse will have this suite of technology. All of which is based around keeping your teenager safe on the road by promoting good driving habits, along with providing warnings for parameters or limits that you've set (with a pin), and holding the teenager accountable by letting you view a comprehensive report card of his or her driving. It's a way for you to keep an eye on them even when you're not there.
Standard on all trim levels of the new Traverse is Chevrolet's Rear Seat Reminder feature, which provides an alert to the driver if an animal or child is in the rear seat.
Other Technology
It's not just advanced safety technology that's going to be found in abundance on the 2018 Traverse, but convenience and entertainment technology as well.
The star of the show is situated in the center stack, and that's the available 7 and 8-inch-diagonal MyLink infotainment systems, designed to support both Apple CarPlay and Android Auto. An available OnStar 4G LTE Wi-Fi hotspot is also available, and will still provide speedy internet connections for up to seven devices at a time. USB charging ports will also be available for passengers in all three rows of seats (finally), as well as available wireless charging. Steering-wheel mounted controls will allow you to operate most of the touchscreen features directly from the steering wheel.
This isn't all that the 2018 Traverse has to offer for technology, and as the release date gets closer, I'm sure we'll see more.