2020 Chevy Silverado 2500HD: Engine Options and More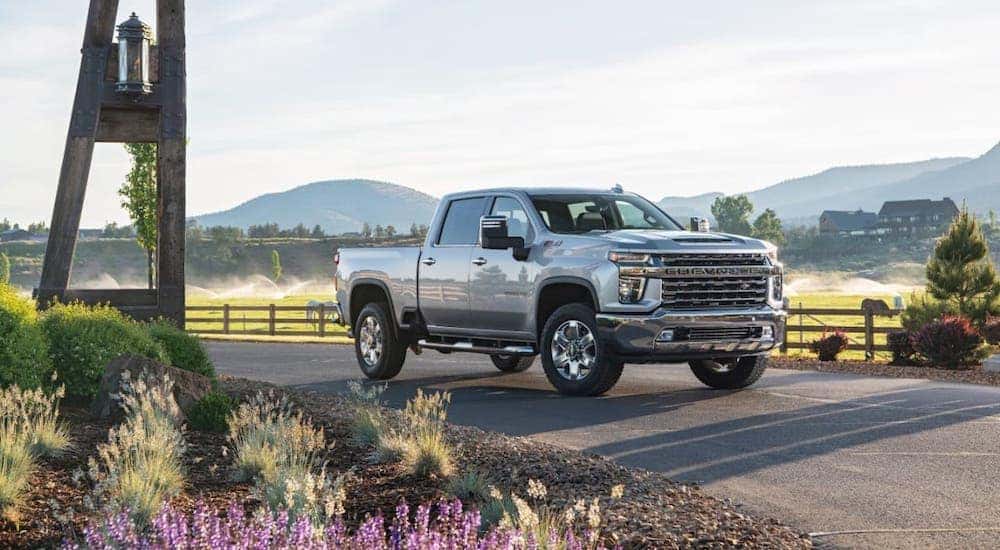 In the pickup world, you have your mid-size options and your full-size options. Mid-size trucks are known to be smaller and can tow and haul decent loads but are more seen as adventure vehicles for the off-road enthusiast or recreation-minded individual. They'll still be able to function as work vehicles, but they aren't really meant for any extreme work conditions. This is where full-size pickups come in, as they can tow and haul much heavier loads. And within the full-size truck category, you have even more specific classes, consisting of either light-duty or heavy-duty pickups. Of course, the heavy-duty trucks are what you're going to want for any massive towing jobs or constant and rough work environments. For all of your pickup needs, DePaula Chevy is your go-to Chevy dealership near Clifton Park, NY.
At DePaula Chevy, we carry a wide variety of Chevy cars and trucks, including the new 2020 Chevy Silverado 2500HD. We know how essential it is to have a reliable work vehicle at your disposal for those long days in intense working conditions, which is why we back Chevy pickups like the Silverado 2500HD so strongly. It's a powerful machine that can be customized to fit your wants and needs to the smallest detail, but most importantly, it's a well-known truck that you know will get the job done. Without further ado, let's jump into some of the features and details, including the Chevy Silverado 2500HD engine options.
Engine Options and Capabilities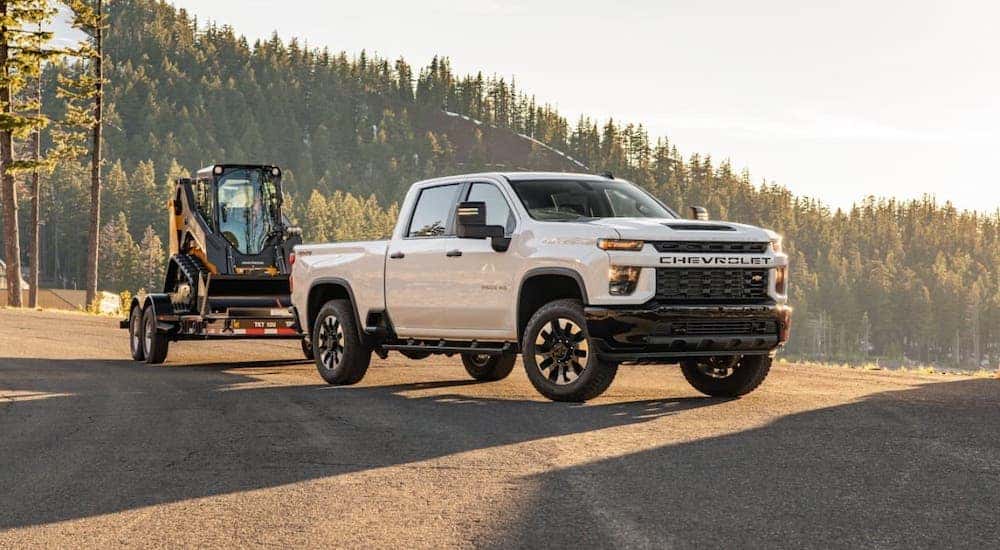 When it comes to heavy-duty trucks like the 2020 Silverado 2500HD, the capabilities are going to be some of the most important aspects you'll want to look at. Big, heavy-duty trucks are meant to be able to handle whatever it is you throw at them, whether it's a long drive towing a huge trailer or piling up the bed with stacks of lumber to bring back to the worksite. Fortunately, this is one pickup that's more than up to the task.
The 2020 Silverado 2500 HD comes with two available engine options that you'll find across the majority of the different trim levels. Your standard fare is a 6.6L V8 direct injection with variable valve timing gas engine. This engine is a real workhorse, especially with an output of up to 401 hp and 464 lb-ft of torque. It's paired with a 6-speed automatic transmission. With this engine, your Silverado 2500HD will be more than capable enough to tackle a tough job. In fact, in the right configuration and with this engine equipped, you can expect a maximum conventional trailering capacity of 17,370 lbs and a maximum payload rating of 3,979 lbs.
For something extraordinary, though, you'll want to check out the second engine option, which is available across all trim levels except the Custom models. This available engine option comes in the form of a 6.6L Duramax Turbo-Diesel V8 engine. Diesel engines aren't exactly a new thing, but they've become increasingly popular in North America as their capabilities are able to outweigh their gas-powered counterparts by far. With up to 445 hp and a whopping 910 lb-ft of torque, it's easy to see why we think this engine is something else. It's also paired with an Allison 10-speed automatic transmission.
The benefits of diesel engines will generally come in two forms. The first will be the superior torque rating, which will allow for a pickup to pull more weight. A properly configured 2020 Chevy Silverado 2500HD equipped with the 6.6L Duramax Turbo-Diesel V8 engine will have a maximum conventional trailering capacity of 35,500 lbs. That's a lot more than the 6.6L V8 gas engine is capable of, and it's no small feat. A second benefit is you can typically expect better gas mileage with a diesel engine.
Pricing, Trims, Features, and Configurations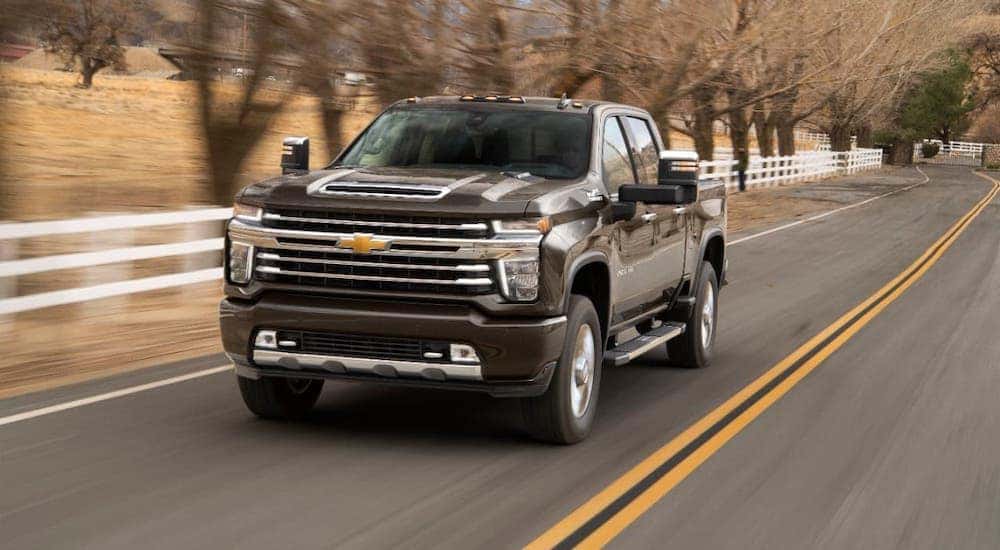 The 2020 Chevy Silverado 2500HD comes in five different trim levels, including the WT, LT, Custom, LTZ, and High Country. You can also customize your Silverado 2500HD with five different configurations, from Regular Cab and Long Bed to Crew Cab and Long Bed. Starting with the least expensive option, you'll have the Silverado 2500HD WT, starting at $35,695. Then the LT ($39,595), Custom ($40,595), LTZ ($50,295), and High Country ($62,695).
The significant differences in price, other than the trim level itself, and the additional features that come with it, are the options for the available 6.6L Duramax Turbo-Diesel V8 engine, 4WD, and configuration. For example, a Regular Cab and Long Bed configuration WT will start at $35,695 while the same WT in Crew Cab and Long Bed configuration will run $40,095. Adding 4WD would be over $2,000, and the diesel engine would be over $10,000. A trim like the High Country is only available with 4WD, which is part of the reason its price is already increased. The other part being all of the extra features, like 20" wheels and all-terrain tires, 6" chrome assist steps, power tailgate, Bose premium sound system, and much more.
While the price point may seem high for trucks like the Silverado 2500HD, it's because it comes packed with everything you need to make your job a lot easier. Plus, if you want to add on convenience and luxury features, you're more than welcome to. While they may be built for tough jobs, it's also crucial that these truck models can keep their passengers safe and comfortable as well.
Each trim level will come with standard safety features like hitch guidance, six airbags, and rear vision camera. Still, the benefits of choosing a trim level like the LTZ or High Country can be seen in some of their additional features. The Advanced Trailering System is standard on both the LTZ and High Country, which will give you a lot more information about everything going on with the trailer, including maintenance reminders, security alerts, mileage, and tire pressure monitoring alert. In addition, these trims also have the availability of advanced safety features like forward-collision alert, lane departure warning, and following distance indicator.
See How the 2500HD Can Help You Today
As was mentioned, the Silverado 2500HD is a heavy-duty vehicle that's built for heavy-duty work. This isn't your mid-size pickup that's ready for a camping trip and not much more. No, this full-size truck is prepared to tackle the toughest jobs you can throw at it and still come back for more, although it'll be just fine camping, too.
For a personalized experience in a new or used Chevy Silverado 2500HD, give us a call today at DePaula Chevy in Albany, NY, to schedule a test drive in one of these fine machines. You can check all of our available stock with ease through browsing the selection on our website or just coming down to the dealership and perusing the vehicles yourself and without hassle. We are a family-owned and operated dealership with a passion for everything Chevy, and we hope to share our love for these reliable vehicles with you. If you have any questions at all about new or used cars, specials, financing, or anything else, one of our friendly dealer representatives would be happy to assist you. We'll help you find exactly what you're looking for, and we look forward to seeing you soon!