2022 Chevy Equinox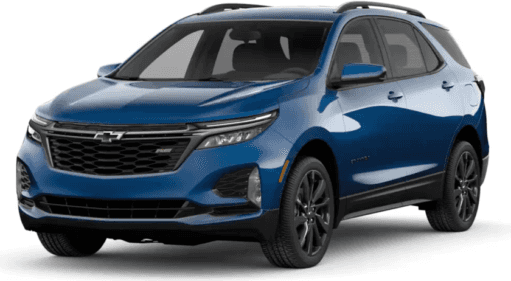 Starting at
$25,800[a]
2022 Mazda CX-5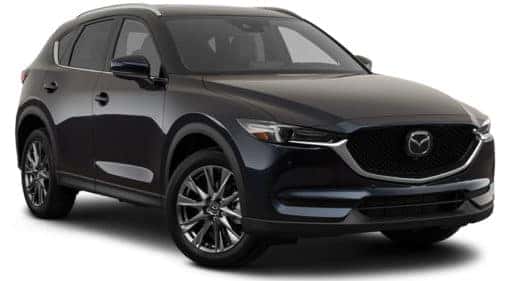 Starting at
$25,900
| | | |
| --- | --- | --- |
| 59.6 | Cargo Space (cu.ft.) | 63.9 |
| 28 | Fuel Economy (mpg) | 26 |
| Yes | Wireless Apple CarPlay/Android Auto | No |
Let's be real. When you're buying a car, practicality is one of the most important things. Fun is great, but if you're investing in a vehicle, you need something that will serve your needs and those of your family. When it comes to practicality, a crossover SUV is an excellent way to go, as it lands somewhere between a compact car and a full-size SUV, having some of the best elements of each in a middle of the road vehicle. When it comes to practicality, performance, space, and technology are three of the most important criteria to examine. Today we are going to take a look at two highly-rated compact SUVs to see which one comes out on top: the 2022 Chevy Equinox vs 2022 Mazda CX-5. These are both nice vehicles, but one is more practical than the other. Let's see why!
Performance

Chevy's Capable Engine Design
You need not be a performance driver nor even a car enthusiast for performance to be an important element of discerning what kind of vehicle to buy. If you are going to be commuting, carpooling, dropping kids off, picking kids up, or anything in-between, you need something that is reliable, nimble, maneuverable, and easy to handle. All of this begins under the hood with the engine.
The 2022 Chevy Equinox is equipped with a 1.5-liter turbocharged four-cylinder engine. General Motors engineers are always refining Chevrolet's engines to be the absolute best they can be, and this turbocharged design strikes a fantastic balance for the Equinox. Variable Valve Timing makes sure that this engine is performing just right to give you the best driving experience possible. And it succeeds, seeing as it provides drivers with 170 horsepower and 203 pound-feet of torque.
Efficient and Stable
This is a highly-capable amount of strength for a compact SUV; if you're looking for practical driving, you don't need the absolute best performance specs on the market, but you certainly want a healthy amount of power to make the drive easy and enjoyable. On top of being fun to drive, the engine provides the 2022 Equinox with an EPA-estimated fuel economy of up to 26 MPG in the city and 31 MPG in the city. These are fantastic efficiency numbers, and they will pay off since you'll be saving more money per mile.
What's more, the 2022 Equinox provides StabiliTrak. This electronic stability control system will make sure that your drive is well-handled, balanced, and stable. Road conditions can change quickly, and if you find yourself in a difficult driving situation, you don't want it to be your efforts alone keeping the vehicle stable. StabiliTrak's traction control helps make sure that the vehicle always has a firm grip on the road and that you and your drivers have a smooth and safe ride.
Older Tech In the Mazda
The 2022 Mazda CX-5, on the other hand, is equipped with a SKYACTIV-G 2.5-liter engine standard. This engine provides the vehicle with a maximum of 186 pound-feet of torque, which is not a bad number, but it is significantly less than the Equinox. The CX-5 is only available with i-ACTIV all-wheel-drive, while the Equinox offers standard front-wheel drive and available all-wheel-drive, providing drivers with a choice between the two. While the CX-5 does have acceptable efficiency with an EPA-estimated economy of 24 MPG in the city and 30 MPG on the highway, it does not quite reach the level of the Equinox. The CX-5 is a good vehicle, but its focus is more on design than on practicality.
If you are looking for a highly-practical compact SUV with strong performance features, then the 2022 Equinox takes the cake. Chevy is one of the finest brands in the market, just as it has been for the duration of the brand's life. Always innovating and progressing, Chevy continues to be a leader and a role model for other brands, and as such the Equinox is a leader in the SUV market. While the two vehicles are competitively close in price, the Equinox comes in at the lower starting MSRP, so you might as well get more bang for your buck with the Equinox!
Space

The Equinox Was Designed for Your Daily Life
You need space. Whether you are loading passengers, cargo, or both, you need the space to fit everyone and everything. Chevy knows this, which is why the 2022 Chevy Equinox is well-equipped with generous passenger and cargo space. The vehicle provides a total passenger volume of 103.5 cubic feet, giving passengers plenty of space and comfort. The Equinox seats five, meaning that this space is not rationed out among three rows of seats but is generously shared between the front and rear passengers for maximum comfort.
The driver will really feel the comfort with an 8-way power-adjustable seat that includes 2-way lumbar control available on all trims and standard on most. The Premier trim even makes this seat available to the front passenger, for those drivers who want to make sure that the passenger shares the same comfort. Speaking of seats, the rear bench is a 60/40-split folding seat making way for the vehicle's competitive cargo space. That competitive cargo space lands at 63.9 cubic feet, which is quite spacious for a compact model; it makes sense, seeing as the vehicle provides 103.5 cubic feet of passenger space! With dimensions like this, you'll have plenty of room for passengers, cargo, and several combinations between the two.
A More Crowded Design From Mazda
The 2022 Mazda CX-5 provides a decent amount of cargo space with its 59.3 cubic feet, but it does not quite reach the Equinox's level. You may think this is a negligible difference, and depending on your needs, it may be, but think about the significance of nearly five feet. Now think about the significance of five cubic feet. That's a lot of additional space in the Equinox, and it will likely end up being put to very good use! It certainly won't hurt to have it, and seeing as the Equinox comes in with a lower MSRP, you might as well pay less for more space.
Technology

The Two Faces of Technology
Technology affects the way we drive. There are two components to in-vehicle technology: entertainment and safety. Safety is, of course, objectively more important, but entertainment technology very much shapes one's in-vehicle experience. Chevrolet is a true leader in both entertainment and safety technology, and the 2022 Chevy Equinox is an example of this leadership.
Chevy excels as a brand, and the 2022 Equinox represents the brand by excelling above other SUVs. With its advanced entertainment and safety technology, drivers will be able to remain connected and focused on the road while behind the wheel of the Equinox.
Entertainment Features Compared
The lowest your entertainment will possibly go in the 2022 Equinox is the Chevrolet Infotainment 3 system, meaning that the Equinox's low is extremely high. From there, you can step up to Chevrolet Infotainment 3 Plus, with or without navigation. The Infotainment 3 Plus system features an 8-inch color touchscreen with all of the features drivers seek, including Bluetooth, Wireless Apple CarPlay, Wireless Android Auto, and much more. With available in-vehicle Wi-Fi, Chevrolet Connected Access, and a whole host of other fantastic connectivity features, the Equinox will provide you with more than you could ever ask.
While the CX-5 provides a very nicely-designed interior and a slightly larger screen, its entertainment features simply aren't up to par. It lacks wireless connectivity for Apple CarPlay and Android Auto, and Mazda doesn't even use a touchscreen, relying on a dated and clunky rotary controller.
Safety Features Compared
Nobody does safety technology like Chevrolet. Chevy Safety Assist is the brand's brilliant safety technology package, which comes standard on the 2022 Equinox. This package's M.O. is prevention, whatever prevention may mean given the circumstances. With features such as Automatic Emergency Braking, Forward Collision Alert, Front Pedestrian Braking, Following Distance Indicator, Lane Keep Assist, and Lane Departure Warning, the Equinox will make sure that it catches anything you may miss and even react for you if the situation requires it. Emergency braking is a huge asset. While it could prevent an accident from happening in the first place, it can also prevent a bad situation from becoming worse by stopping things immediately. While we all hope that emergency braking is never needed, it will pay off when it becomes needed.
What's more, the 2022 Equinox is equipped with Chevy Teen Driver. If Chevy Safety Assist was not brilliant already, Teen Driver takes things to a new level. This safety package allows parents and teens to work together to form safe driving habits. It provides a key specially designated for your teen driver; this key is programmed with parent-selected settings that can put a cap on speed, acceleration, audio volume, and more. Additionally, Chevy Teen Driver provides a driving report card that allows both parents and teens to monitor driving habits to cultivate safety-oriented driving.
Mazda's safety technology is closely related to the Chevy Safety Assist package, and the CX-5 is, of course, the beneficiary of this. The big benefit of the Equinox over the CX-5, however, really is Chevy Teen Driver. The Equinox is an ideal vehicle for teens to utilize as a first vehicle, and the opportunity for parents and teens to collaborate on safety is a huge benefit.