2022 Chevy Silverado 1500

Starting at
Est. $31,000*
2022 Ram 1500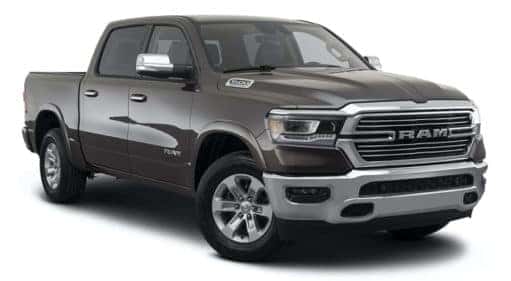 Starting at
$33,975
| | | |
| --- | --- | --- |
| 277-420 | Horsepower (hp) | 260-395 |
| 13,300 | Towing Capacity (lbs) | 12,750 |
| 89.1 | Cargo Space (cu.ft.) | 61.5 |
Chevy and Ram continue to up the ante in their fierce competition against Ford, with each of the manufacturers making efforts to improve performance, capability, and interior features every year. Chevy gave the Silverado 1500 a recent redesign in 2019, and now it receives a mid-cycle refresh that truly modernizes its style inside and out. Ram chooses to focus on special editions and packages as updates for its 2022 models and seems to be resting on its laurels as the producer of one of the industry's most luxurious trucks. Even so, comparing 2022 Chevy Silverado 1500 vs 2022 Ram 1500 trucks reveals a number of features that are likely to affect more buyers than just those who can afford the most expensive models.
For instance, buyers seeking a work truck at the entry-level pricing will find that the 2022 Ram 1500 may come standard with its well-regarded 3.6-liter V6, but its tow rating is only 7,730 pounds. With the 2022 Silverado 1500, the entry-level engine is turbocharged and can tow up to 9,500 pounds. The 2022 Silverado also comes standard with 12 cargo tie-downs, corner steps at the front and rear of the bed, and proximity entry. Ram not only doesn't have any standard tie-downs for cargo in the Tradesman, but it also only gives buyers a small standard rear step over the hitch assembly.
Whether you look at the standard safety features from the new 2022 Silverado or the technology that comes in every trim, many of the conveniences Chevy incorporates into the Silverado 1500 make it far more attractive for buyers who want to pay less and get more. Packed with trailering tech and power, the Silverado now tows more than the Ram 1500 and does it with an engine that doesn't need to trumpet its high horsepower and torque ratings. Whether you love the idea of driving hands-free in the luxurious Silverado High Country trimmed in open-pore wood, or you want the assurance of stopping power from the standard automatic emergency braking, the 2022 Chevy Silverado 1500 has a lot more to offer buyers in every trim.
Standard Features

Even though most cars and SUVs on the road today come standard with driver-assist safety and smartphone connectivity, many trucks are still behind the mark. Chevy now delivers standard features on the 2022 Silverado 1500 that rival what you find in commuter vehicles, including a larger standard touchscreen for infotainment and a suite of driver-assist features. Though Ram may have one of the most luxurious interiors in the market, most buyers are not purchasing the most luxurious models. Most buyers will purchase entry-level and mid-level trims, and this is where Chevy deserves credit for giving buyers the features they need for safety and connectivity.
Standard Work Features
In terms of entry-level engines, Chevy manages to out-perform Ram for 2022 light-duty models thanks to the Silverado's updated engine lineup. The starting Chevy trim now has 310 hp and an impressive 420 lb-ft of torque, compared to Ram's 305 hp and 269 lb-ft of torque. Even more impressively, Chevy beats Ram's V6 entry-level engine with a turbocharged four-cylinder.
In addition, Chevy throws in the Multi-Flex tailgate, which is rapidly becoming a favorite in the industry due to its convenient options for being configured. Ram's split-fold tailgate can't compete with the Multi-Flex, as it lacks helpful jobsite features, like Chevy's fold-out bed step and two different load stops.
Standard Infotainment and Safety Features
In terms of the infotainment system, Chevy gives the entry-level trim wireless Apple CarPlay and Android Auto, accessed through the standard seven-inch touchscreen in the center stack. OnStar and ChevyConnect are both available for buyers at this trim level, offering the advantage of both safety and convenience features not found on Ram trucks until breaking past the entry-level work truck trims.
Safety tech included for all 2022 Silverado 1500 trims is impressive with features like lane keep assist with lane departure warning, automatic high beams, and auto emergency braking with front pedestrian braking. Six features are incorporated into the standard driver-assist suite for the 2022 Silverado, but there are no driver-assist features included with the Ram 1500 until you get past the Big Horn trim unless you pay extra.
Once you reach a Ram trim level with standard safety technology, buyers still only get forward collision warning and auto emergency braking. Available features like adaptive cruise control, lane keep assist, and trailer sway control are found in optional packages, but they can't compare to the additional features from Chevy when you consider the numerous trailering features and Super Cruise tech, plus available features that match Ram's offerings.
Available Options

In our ever-increasing technological age, every aspect of our lives gets gradually easier with tech that simplifies work. Modern trucks are becoming tech-studded marvels of capability, with more horsepower and torque than ever before and tech that turns tasks that once required a great deal of practice into child's play. Both Ram and Chevy deliver powerful light-duty trucks with incredible features like multiple exterior camera views for trailering and connectivity for smartphones. However, only the 2022 Silverado can lay claim to hands-free driving with its new Super Cruise feature for the High Country trim, a feature that lets you set your driving controls while you relax in your seat with your eyes on the road ahead. Super Cruise can even automatically change lanes on the highways and be used when towing a trailer.
Infotainment Comparison
Chevy now offers a large 13.4-inch touchscreen in its mid-level trims as standard, and the screen fits attractively into the dash rather than looking tacked into place as an afterthought. A new 12.3-inch fully digital instrument cluster is new for 2022 in the Silverado, as well as the inclusion of a suite of Google products like Google Assistant and Maps features.
Features like Apple CarPlay and Android Auto are standard for the Silverado, while Ram holds out until buyers opt to purchase beyond the Tradesman models. Even then, the largest screen available in any 2022 Ram model only stretches to 12 inches, and those screens are reserved for the upper trims. Mid-level Ram trims get an 8.4-inch screen, while even the affordable Silverado LT comes standard with the 13.4-inch screen.
Powertrain Comparison
With improved powertrains, Chevy has amplified its towing capability for the Silverado 1500 for 2022 as well. Right out of the gate, the entry-level 2.7-liter turbocharged four-cylinder engine can tow up to 9,500 pounds and has 20 percent more torque than before. The improved 3.0-liter turbo diesel Duramax engine can now tow up to 13,300 pounds, which is a 4,000-pound increase from the previous year.
Despite Ram's engines being able to claim impressive horsepower and torque, the 2022 Ram 1500 can't tow as much as the 2022 Silverado 1500. The maximum towing power of the Ram for 2022 tops out at 12,750 pounds with its most powerful engine, a mild-hybrid V8. Ram's Ecodiesel only comes in at up to 12,560 pounds, surrendering its best-in-class title to the Chevy Duramax.
Trailering Tech
Even though Ram now offers a lot of technology for trailering, including a new 360-degree camera system, much of the tech still trails what Chevy offers on the Silverado. Some new trailering tech in the 2022 Ram models includes great features like an available trailer hitch light, a Trailer Reverse Steering Control system, and the Surround View Camera, all of which will make hitching and driving with a trailer easier.
Still, Chevy has offered its own unique set of trailer views with its available "invisible" trailer technology, which utilizes a class-leading set of multiple cameras to see "through" your trailer. The 2022 Silverado can also be equipped with a cargo bed view and hitch guidance camera that makes hitching safer and allows the driver to keep an eye on the trailer while driving. Chevy even offers a jack-knife alert, a blind-spot monitoring system for trailering, and numerous other tech features to keep your trailer safe from theft or tampering. Ram trailering features simply fall short of what Chevy has to offer, no matter what trim you buy.
Special Editions

Special editions are part of the infinitely customizable nature of light-duty trucks, and every year manufacturers offer several choices for buyers to make their trucks stand out in a crowd. With the 2022 Silverado 1500 models, Chevy updated the front fascia for all trims and then updated the LED daytime running lights for mid-level and upper trims to incorporate animation for more flair. Ram chose to update new editions for the trim levels with the new Big Horn Back Country Edition and a Limited 10th Anniversary Edition. Meanwhile, Chevy takes its off-road prowess into new territory with the all-new ZR2 model, perhaps in answer to the off-road orientation of Ram's Back Country option.
The Ram Back Country
If we look first at the 2022 Ram 1500, the Back Country package can be added to the Big Horn trim as a sort of nostalgic trip back to the Outdoorsman models it once offered. The Back Country package gets its own unique appearance with a black mesh grille, black wheels, and a two-tone paint job to distinguish it from the rest of the lineup. Extra performance features like heavy-duty shocks, skid plates, and hill descent control are part of the off-road allure, and the Back Country also comes with a side access step off the rear bumper. While the Back Country has its perks, Chevy answers with a serious off-road special edition.
The Silverado ZR2
With the 2022 Silverado ZR2 model, buyers can rule the trail with DSSV spool-valve shocks, locking front and rear differentials, and skid plates delivering the capability needed for off-road adventures. Large 33-inch all-terrain tires can conquer the rough backcountry, and the one-pedal terrain mode is made for handling uneven, rocky, and muddy conditions as easily as it manages sand or snow. The exhaust system of the ZR2 is tucked up above the line of the bumper so it won't be damaged by terrain, and the standard 6.2-liter V8 engine offers plenty of torque for low-speed rock crawling.