5 Cool Facts About the 2022 Chevy Colorado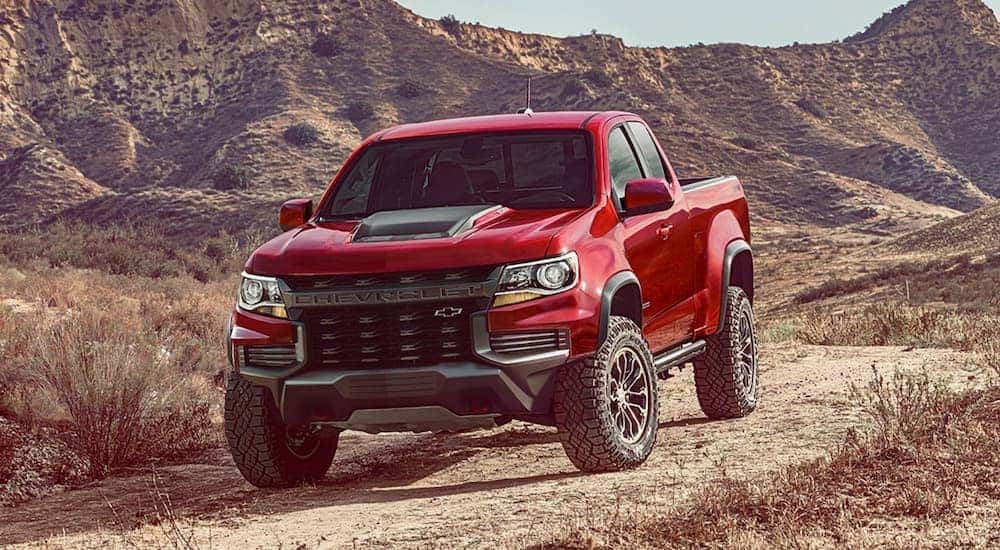 When most people think of Chevy trucks, their mind instantly goes to the Silverado. But there's an even more "practical" Chevy truck option on the market: the 2022 Chevy Colorado. When you visit DePaula Chevy, your local auto dealer in Clifton Park, you'll want to be on the lookout for this midsize machine. Whether you're bringing home a truckload of veggies from DeVoe's Rainbow Orchards or you're heading to Clifton Park Golf, the new Colorado offers all the space and capability you need. If you opt for the ZR2 trim, you can even join the Wranglers and Broncos on popular off-roading trails. Let's take a closer look at the top 5 reasons we think you should buy the new Colorado.
5. It's Off-Road Capable!
Sure, you can off-road in a larger truck like the Silverado; that said, your experience won't be nearly as exciting due to the truck's heavier weight range. The reason why people love off-roading SUVs is largely because of how lightweight they are. That's why we recommend the 2022 Colorado for those who like hitting the trails. By comparison, the Colorado weighs under 100 pounds less than a Wrangler. It also includes a few off-roading trim levels that make it even more trail-capable.
First off, you've got the Colorado Z71 one which includes the standard Z71 Off-Road Suspension Package. This trim level comes with everything you'll need for casual off-roading––recovery tow hooks, an underbody skid plate, all-terrain wheels/tires, off-roading suspension, and a rear locking differential. This trim/package also includes Hill Descent Control to help you ease down rocky, steep declines.
Need to kick it up a notch? Check out the hardcore off-roader's dream, the 2022 Colorado ZR2. This trim includes rock sliders and more skid plates, plus multimatic shocks for heightened off-road performance and a 48mm factory-installed lift kit that adds additional ground clearance. Kick it up one final notch by choosing the ZR2 Bison, which is a collaboration between Chevy and American Expedition Vehicles (AEV). The Bison offers built-in winch provisions, custom AEV bumpers, and five additional, strong, boron skid plates.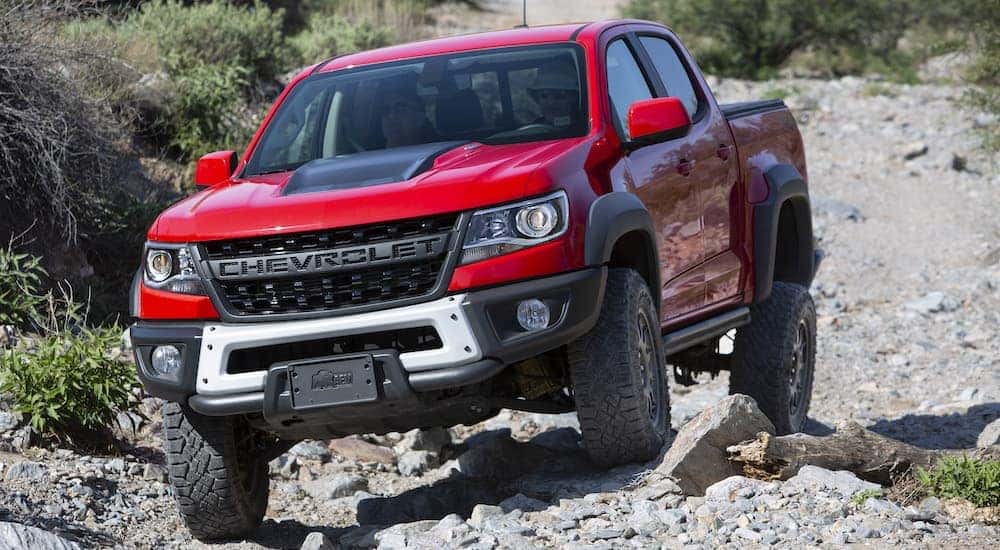 4. It Comes With a Diesel Engine Option!
Some truck drivers are strict on their engine options. We see many customers who are diesel-or-die. While the Colorado once lacked diesel compatibility, it now comes with a 2.8-liter turbocharged diesel engine option. This allows the Colorado's tow capacity to increase as well. It can now tow up to 7,700 pounds instead of maxing out at 7,000 flat. The 2.8-liter diesel engine also allows for optimal fuel efficiency with a combined 23 MPG and up to 30 MPG on the highway. You can also haul up to 1,510 pounds in the truck bed with the diesel engine.
Not entirely sold on the whole "diesel engine option" thing? Well, you don't have to be. The 2022 Colorado also comes with two gasoline engine options, the 2.5-liter I-4 and the 3.6-liter V6. Keep in mind, though, that there are many benefits to choosing a diesel truck engine. While diesel fuel prices are higher, diesel is also more fuel-efficient. It's better for towing and hauling as well since it provides more torque with fewer rpms. This helps add more pull when you're towing uphill. Lastly, diesel engines are known to last much longer than gasoline engines do, increasing your truck's overall resale value.
3. It's Tech-Friendly
Who said trucks have to be boring? While in the past, most truck models have been designed solely with capability in mind, modern trucks like the 2022 Colorado are offering more technology features. You'll get standard Apple CarPlay and Android Auto streaming technologies that are accessible via the Colorado's 7-inch Chevrolet Infotainment 3 System. This 2022 model also includes two standard USB charging ports.
As you make your way up the trim train, you can access even more tech features. You'll get two additional USB charging parts when you upgrade to the second-tier LT trim. This trim also has keyless entry and includes an 8-inch rather than 7-inch touchscreen infotainment system. The Z71 adds on an HD rear vision camera, plus a heated steering wheel, remote start, and automatic climate control. The ZR2 includes the same aforementioned tech features as the Z71.
Another perk to the new Colorado is that it includes optional driver-assist functionalities. You can add Forward Collision Alert and Lane Departure Warning for more protection. Forward Collision Alert will notify you of potential accidents so that you can quickly prepare, and Lane Departure Warning notifies you when you begin to unintentionally lane drift. Of course, like most modern vehicles, the Colorado includes a standard rear vision camera as well. The HD version is available on the Z71 and ZR2 trims.
2. Teen Driver Technology Is Standard
When it comes to safety technologies, most brands offer the same or similar features across the board. This is untrue for GM, though. Chevy and GMC models include Teen Driver Mode, a GM-exclusive safety suite designed entirely for teenage drivers. In the 2022 Colorado's case, Teen Driver Mode comes standard, meaning it's present on all available trims at no additional cost.
Teen Driver Mode is designed to help guardians keep an eye on their teen's driving habits. It includes a "report card" that monitors several factors – how often the teen has triggered each driver assist feature, how far they've driven, if they've surpassed the recommended speed, and so on. Guardians can set limits on audio volume, speed, and curfew, as well as monitor the Colorado's location.
GM's Teen Driver technology also adds in some handy buckle security features that will encourage your teen to always default to wearing their seatbelt. One feature is called "Buckle to Drive," which keeps drivers from shifting into drive or reverse for up to 20 seconds if their seatbelt isn't on. Even after this, Buckle to Drive will keep hounding your teen with alerts and warnings to buckle their seatbelt. Teen Driver Mode also mutes vehicle audio until both the driver and the front passenger both buckle their seatbelts.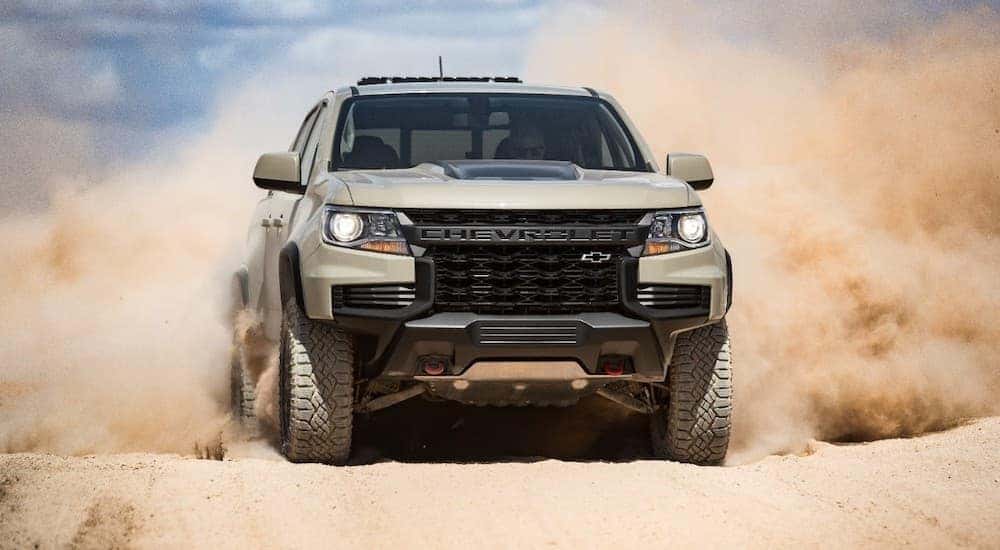 1. It's Great for Hauling!
If you'd love a truck but you simply can't justify buying a full-size model, then the 2022 Chevy Colorado is definitely worth your time. This is a great truck for anyone who likes a truck's practicality without its bulky size and large price tag. The new Colorado comes in two different bed options, a short bed (41.3 cubic feet in bed volume) and a long bed (49.9 cubic feet in bed volume). This is enough space to carry your UTV, ATV, camping items, and more. You'll get much more efficient cargo capacity out of the Colorado than you would a midsize SUV, thanks to its open truck bed design. The Colorado's bed also includes a black spray-on bedliner to protect it from scratches, scrapes, and dents when you're loading and unloading your cargo.
All trims also include standard (or optional with the WT trim) EZ-Lift Tailgate functionality. This keeps the heavy tailgate from suddenly dropping on you. Simply hit the release button, either in the cab, on your key fob, or within the truck bed, to release and lower the gate. Whether you're hauling bicycles to Vischer Ferry Nature & Historic Preserve or taking kayaks to Tenandaho Creek, the Colorado can haul all your basic needs.