Chevy Equinox: Built for the Modern, Adventurous Family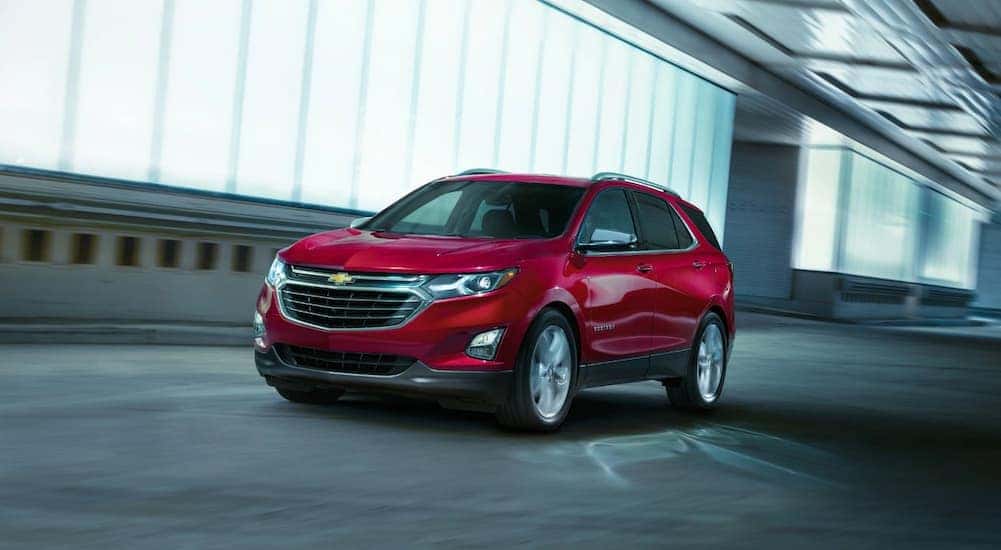 There is no better place to start your search for used cars in Albany, NY, than at the number one Chevrolet Certified Pre-Owned dealer in all of the Northeast. At DePaula Chevy, we have the expertise to find the perfect vehicle for you and your family. We have our finger on the pulse of the automotive industry and can answer any questions you may have. For instance, let's say you are interested in finding a reliable compact SUV with storage capacity among the best in its class, good gas mileage, and enough power to tow your boat.
This is a common search as it is one of the most popular segments in the country right now. Really, it has been for some time. You might be surprised by this, but the sports utility vehicle you'll want to become familiar with is a descendant of the iconic Blazer and debuted with the 2004 model year—we're talking about the Chevy Equinox. So you know the Equinox has a storied history, and there are many model years to look at if you want to find a deal on a proven sports utility vehicle you can trust for your family. Brought back into production for the 2020 model year, the Chevy Blazer has settled into the midsize SUV segment while the Equinox has taken over Chevy's compact crossover SUV slot.
Through the Generations
The first generation of the Equinox debuted in 2004 and took the place of the Blazer. It had a standard V6 engine and featured an option for all-wheel drive. It was one of the only compact SUVs to have a standard V6 and 5-speed transmission and an option for all-wheel-drive, unlike its rear-drive-based Blazer predecessors. It was also significantly larger than most other SUVs in its segment and featured creative stylings with unexpected refinement.
The combination of style, comfort, and sport-utility capability, in a perfectly balanced package, was a game-changer for the compact SUV segment. And the second generation kept the tradition alive with new powertrain options and a new interior and exterior design. Debuting for the 2010 model year, the second generation is one to pay attention to in your search. In 2013, the optional 3.0-liter V6 was upgraded to a 3.6-liter V6, which resulted in quicker acceleration. And in 2016, the Equinox received a refresh that included a redesigned grille, headlights, front fascia, revised taillights, and newly available connectivity features.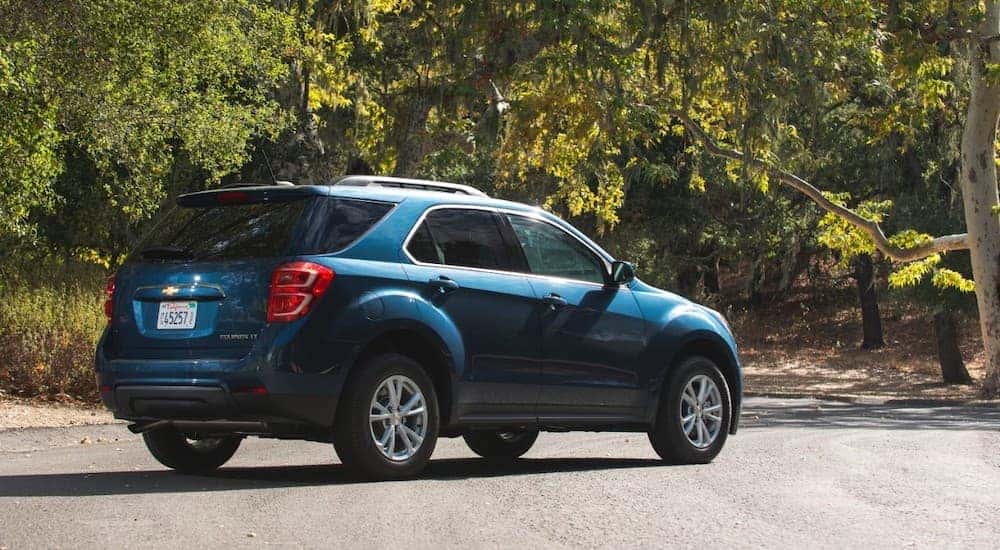 The latest generation began in 2018 and featured a full redesign though it is smaller than previous generations and 400 lbs lighter, it still offers an abundance of interior space. The powertrain options have changed too. In the most recent generation, you have three good options to choose from, the first is a 1.5-liter turbocharged inline-4 that got up to 170 hp and 203 lb-ft of torque (26/32 mpg). The second engine offering is a 1.6-liter turbocharged diesel inline-4 that got up to 137 hp and 240 lb-ft of torque (28/39 mpg). Finally, your third choice is a 2.0-liter turbocharged inline-4 with 252 horsepower and 260 lb-ft of torque (22/29 mpg).
Hopefully, this gives you an idea of what to look for in your search. Knowing which model years to target, based on your needs and the available options, is important when shopping for a used vehicle. It is always good to be informed of which engine option best suits your needs and which features you hope to find, while also being prepared to be pleasantly surprised by what you end up finding—often with more features than you expected in your price range.
Trim Levels
Now let's take a look at the trim levels of the current generation. We'll be looking at trims that include one of the most powerful engines in the segment and some exciting high-end features, as well as many standard features you can expect to find. Starting with the base L model, you can expect a 7-inch touch screen with Android Auto/Apple CarPlay, 4G LTE Wi-Fi, and 17-inch alloy wheels. Not bad options to start with.
The LS trim brings available all-wheel drive, a power driver's seat, dark-tinted rear glass, 19-inch wheels, and a rear-seat entertainment system. Even with all-wheel drive, you can expect 25/30 mpg, and the kids will love the entertainment system. In the next trim level, the LT trim, you'll find even more enticing options: available blind-spot-warning system and rear cross-traffic alert, leather-trimmed interior, and a 2.0-liter turbocharged engine. The 2.0-liter turbocharged engine is rated to tow up to 3,500 pounds, which is rare for the compact segment and a number you'll find on par with most midsize SUVs.
The Premier trim brings a long list of standard features. You'll appreciate a higher-resolution rearview camera and driver assists, such as a blind-spot-warning system, rear cross-traffic alert, and an audible rear parking aid. Add leather seats, an 8-inch touch screen, remote start, and wireless device charging, and you have just about everything your family could need.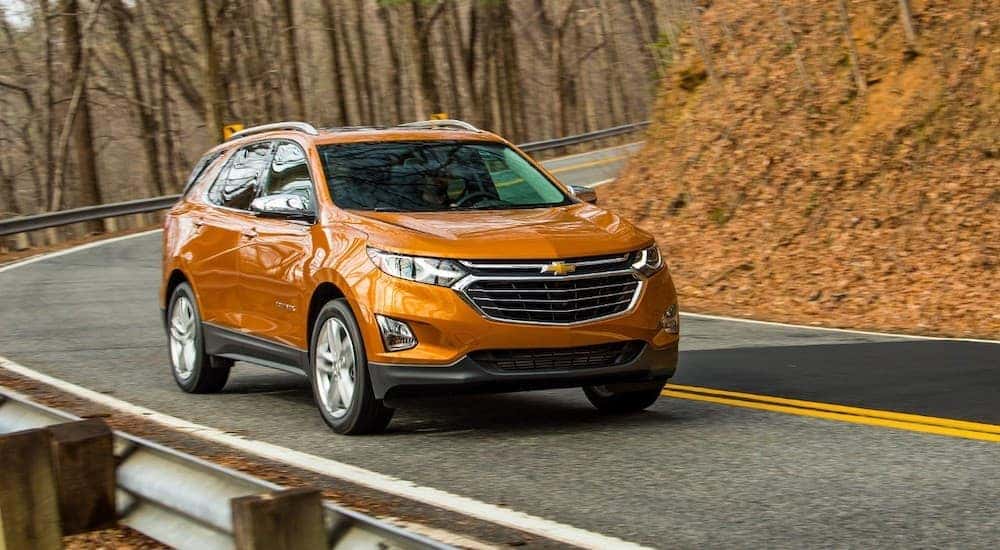 Fun Features
We thought we would highlight a couple of fun features you can find for the Chevy Equinox. From towing to family-specific safety features, the Equinox has a lot to offer. But we've already talked about those features—let's talk about some of the special edition packages you might come across in your search.
The Equinox Midnight Edition transforms the Equinox completely black. The exterior is coated in Mosaic Black Metallic paint and comes with 19-inch Gloss Black aluminum wheels and Jet Black perforated leather seats, among other added features. This is a fun option that instantly sets this SUV apart from other compact SUVs. You will be turning heads everywhere you go, and you might just find yourself having to explain what happens when the sun crosses the celestial equator.
Those looking for something lighter and brighter should check out the Redline Edition. You'll find 19-inch wheels here as well, along with black features and red accents that offer a bolder and sportier look. Both are sharp and distinctive editions that will effortlessly stand out in traffic on any road.
Take the Next Step
Clearly, "Equinox" was a good choice as the name for this compact SUV, as it underlies its all-around versatility and balance, and readiness for the change in seasons—for anything, really. Each March and September, the sun crosses the celestial equator in an event called the equinox, where day and night are of equal length, and you don't need to be driving a Midnight Edition or Redline Edition to appreciate the fall colors or spring rains. The Chevy Equinox is truly an SUV built for the modern, adventurous family, one that will carry you through all seasons.
At DePaula Chevy, we are here to guide you through the process and get you on the road without any of the hassle and confusion you might find at other dealerships. Our expert staff is here to help. We know how difficult buying a used car can be. Come chat with us and check out our extensive inventory of used vehicles—you will not be disappointed. We are located in Albany, NY, not far from Clifton Park. So come on out and see what all the excitement is about. We can get you financed and on the road today!