Hey, Saratoga Springs Drivers–Here Are Our Favorite Chevys for Your Busy Lifestyle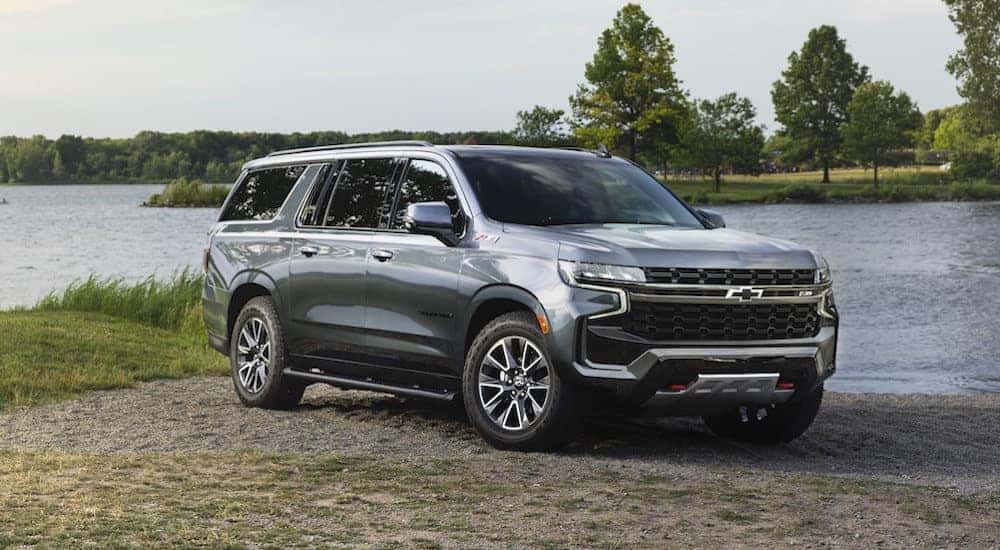 As Americans, it's our birthright to love what we drive. Tell that to a busy mom or dad piloting an underpowered minivan with all the style of a wet noodle, and they might roll their eyes, but Saratoga Springs drivers know that unlocking driving enjoyment is as close as our Chevy dealer in Saratoga Springs. Forget slogging around town in a car that doesn't match your needs and try one of our favorite Chevy models instead.
Chevy builds some of the most exciting and sought-after cars, SUVs, and trucks on the market today, making it easy to dial in all the performance and amenities you desire. Whether you're seeking a large SUV for your growing family or a sports car to tear up the track, you'll find your dream vehicle proudly wearing the Chevy bowtie. As the iconic American automotive nameplate, Chevy is the gold standard for quality and style.
Each and every Chevrolet vehicle is backed by over a century of automotive innovation. Steeped in history, these vehicles also embrace the latest infotainment and driver-assist safety technologies, so you're entertained and protected every time you slide behind the wheel. Isn't it time to ditch your boring car and replace it with a vehicle you can't wait to drive? Here are our favorite Chevys, tailor-picked for Saratoga Springs drivers.
The Family-Focused Suburban Hauls People and Cargo
Looking for the biggest, baddest SUV on the road? Cast your eyes upon the Chevy Suburban. For decades, this people mover has set the standard for large SUV opulence and capability. Today, the 2022 Suburban is full of family-friendly features and advanced technologies designed for safety, convenience, and entertainment. Many vehicles have tried to copy the Suburban's many attributes, but none come close.
The Suburban comes in multiple trims for 2022, and buyers can dial in the powertrain and features they need to accomplish all sorts of tasks, including towing and off-roading. If it's luxury you want, you'll find it in the elegant High Country Trim. The High Country includes 22-inch wheels, a powerful 6.2-liter V8 engine, a massive 10.2-inch infotainment touchscreen, and a 10-speaker Bose premium audio system. Style mavens will love the customized RST, with its black accenting and glossy wheels.
As for seating, there's plenty of it for your entire brood. The Suburban seats up to 8 passengers comfortably with room left over for all your cargo and gear. If you're hauling a boat to the lake house every weekend, you'll do so effortlessly with the Suburban. With a max tow rating of 8,300 pounds, it can handle boats, RVs, and trailers when properly equipped. Add the available 13 camera views, and trailer hook-up becomes a simple one-person job. Chevy even throws in parking sensors to help you dock your land yacht without breaking a sweat.
The Suburban is available in six exciting trims for the 2022 model year: the LS, the LT, the RST, the Z71, the Premier, and of course, the top-of-the-line High Country. You may not immediately think of a Suburban when you picture yourself off-roading, but the capable Z71 trim is equipped with the features you'll need to capably tackle backcountry trails. With so much versatility in the Suburban lineup, you'll have no trouble finding the ideal trim and configuration for your individual needs.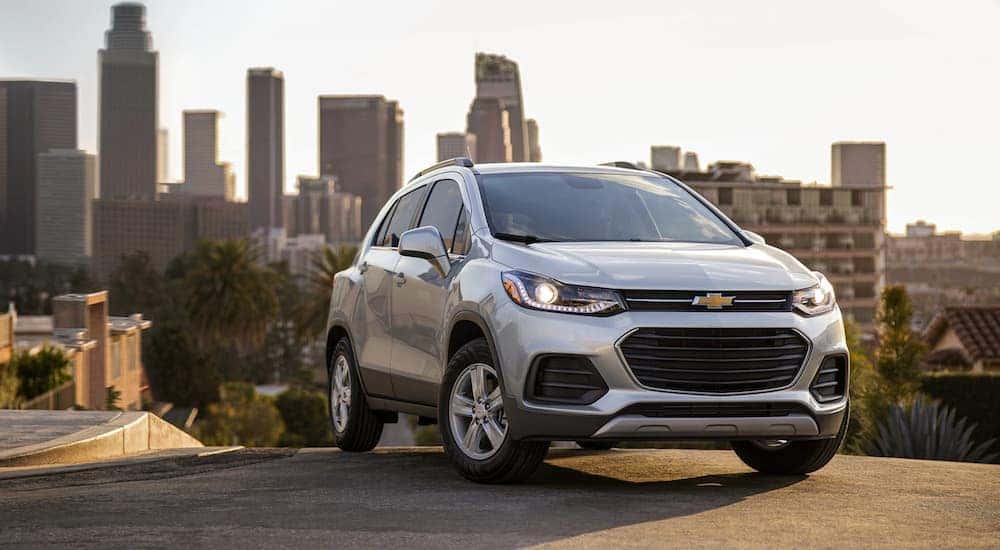 Commuter Friendly Driving in the Fuel-Sipping Trax
What's not to love about the adorable 2022 Chevy Trax? This subcompact crossover is designed for first-time buyers and commuters looking to save money without compromising style. The Trax hits a sweet spot for its value and curb appeal, easily besting other utes in the category on looks alone. Even better, the Trax is a fuel sipper, offering 24 MPG in the city and 32 MPG on the highway.
It may look small, but your passengers won't think so, especially since you'll get a roomy cabin and 48.4 cubic feet of max cargo volume. Road trippers will have plenty of space for all their gear, plus the available roof racks provide a spot for snowboards and kayaks. Be prepared for your friends to ask you to drive! The Trax comes available with all-wheel drive, so you can tackle wet, slippery roads with confidence.
Chevy's simple two-trim Trax lineup includes the LS and the LT. The LS includes a 7-inch touchscreen, cloth seats, and remote keyless entry. Upgrading to the LT gets you leatherette seating and a convenient remote start feature that comes in handy on chilly winter mornings. Both trims are available with all-wheel drive, and buyers can select from a handful of appearance packages for even more customization options.
The Trax is powered by an efficient 1.4-liter turbocharged four-cylinder engine. It makes an impressive 155 horsepower and 177 lb-ft of torque. Loosely translated, that's plenty of power for accelerating confidently to highway speeds and zipping through urban streets. A set of 16-inch wheels is standard, as is a smooth-shifting 6-speed automatic transmission. Enjoy low ownership costs and a fun driving experience with the 2022 Trax.
The Camaro Combined Beastly Performance and Classic Coupe Styling
You may have heard that the sports coupe is on its way out. Apparently, Chevy thinks otherwise since the 2022 Camaro remains a flagship vehicle in the lineup. This iconic sports car comes available with four different powertrains for the 2022 model year, including configurations capable of up to 650 horsepower and a zero-to-sixty time of just 3.5 seconds. Still, even with all that raw power, Chevy offers an affordable and surprisingly fuel-efficient Camaro trim in the mid-$20,000 range for commuters.
At the heart of the 2022 Camaro's appeal is the ZL1, a track-ready trim featuring Chevy's supercharged 6.2-liter V8 that delivers not only 650 ponies but 650 lb-ft of torque, too. Combined, this power plant delivers on acceleration and top-end speed. The Extreme Track Performance Package takes it a step further, adding Brembo brakes, a 6-speed manual or 10-speed automatic transmission, and 19-inch wheels.
You can even go old school and option your 2022 Camaro with a ragtop for open-air driving enjoyment. In total, buyers can choose from six trims, including the iconic Camaro SS. See why Car and Driver gives the Camaro ZL1 a 9.5/10 rating and calls it "fire-breathing" and "ferocious." One test drive is all it takes to realize the sports coupe is still among us and better than ever in the 2022 Camaro.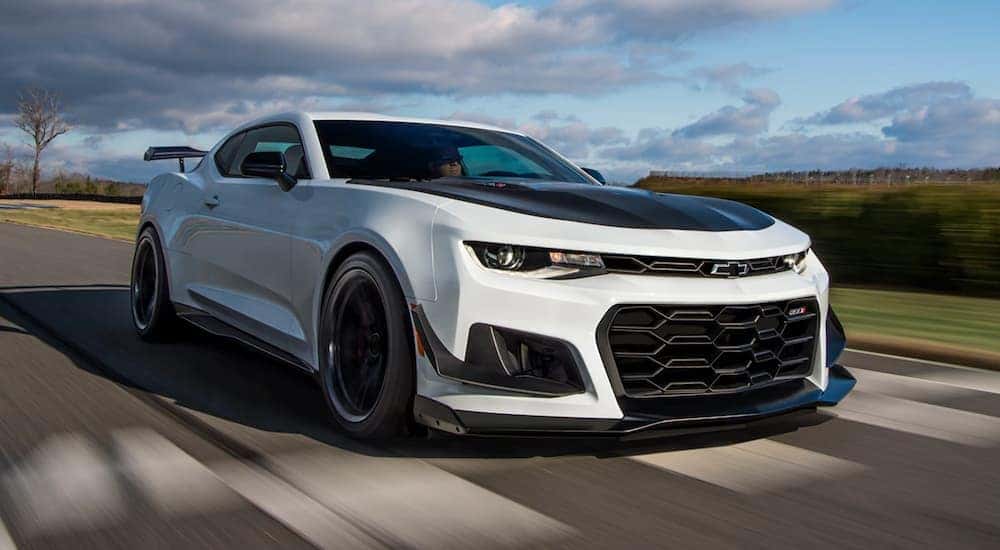 It's Time to Love What You Drive
Saratoga Springs residents know they have a choice in what they drive. Sometimes it boils down to your stage of life since family buyers need space and the reassurance of great safety ratings. First-timers want value and affordability, while commuters demand fuel-sipping MPG ratings. Still, others simply want to love what they drive.
Whether you're heading to the Adirondacks for a drive in the fresh air or hauling the bowrider out to your cabin at Lake George, getting there is more fun behind the wheel of a Chevy. Even moms and dads heading out for a busy Saturday of soccer games and errands will appreciate the family-friendly features found in Chevy's crossover and SUV lineup.
Reimagine your commute with a brand new Chevy car, truck, or SUV. From next-generation infotainment technology to category-leading safety and fuel economy, the 2022 Chevy lineup has something for every Saratoga Springs driver.