Is the 2020 Chevy Corvette a Supercar?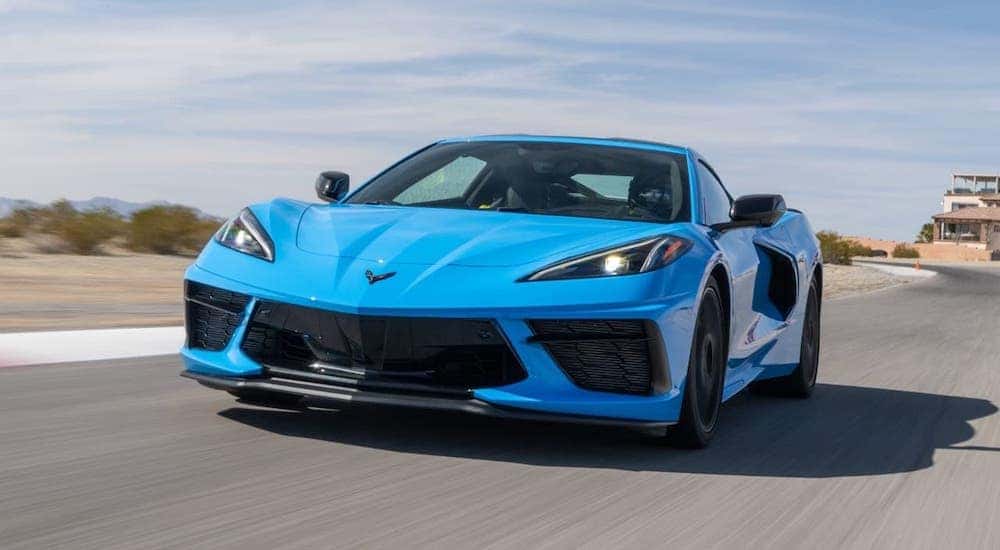 What makes a supercar? Plenty of customers that visit our Chevy dealership near Clifton Park, NY, ask us that question, and more often than not, they mean it in relation to the 2020 Chevy Corvette. At DePaula Chevy, we pride ourselves in our wealth of auto-related knowledge that we bring to the table. From the information we share to the services and vehicles that we offer, there is a reason why we're considered one of Albany's leading auto providers. So, let's get down to it, what makes up the 2020 Chevy Corvette Stingray and is it a Supercar?
What is a Sports Car?
Chances are you may be able to point out a sports car on the road. The sports car body styling is broad, varying dramatically between automakers. Although, while there is plenty of variation amongst these sleek vehicles, each one attempts to be graceful on the road, giving you the speed and nimble maneuverability that can't so easily be found in larger less performance-tuned vehicles.
Sports cars can also have an incredibly diverse powertrain selection ranging from small four-cylinders to race-worthy engines that put out a tremendous 500 horsepower. A sports car can utilize several different drivetrain options as well, sending power to the front, rear, or all four wheels. Low to the ground, eye-popping, and lighting fast, it can be easy to confuse a sports car with a supercar, but these two vehicle types are quite different.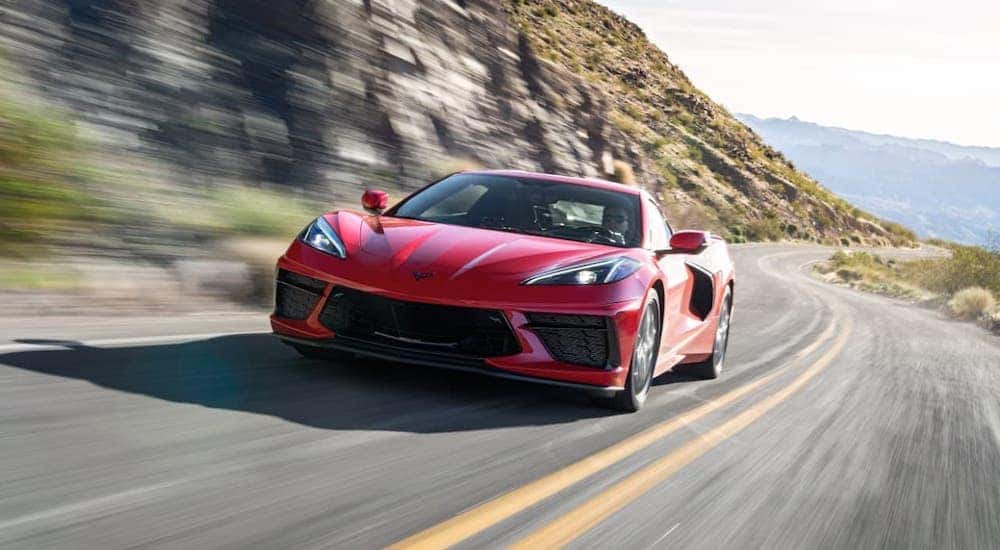 What is a Supercar?
So, we've defined what a sports car is, but what is a supercar? Well, imagine your top of the line sports car and amp it up to the next level. Supercars are packed with some serious technology and machinery, making them far more powerful than even the most tweaked sports car.
While sports cars have more practical daily use, a supercar is all about performance, and the thrill felt behind the wheel. Typically seating two, and equipped with engines that are rated at least over 450 horsepower, supercars are the next stage in speed and can blow almost any sports car out of the water. Supercars tend to come with rear-wheel drive to increase performance, and only a few come with all-wheel drive.
Not only does the gear define a supercar, so does the styling. Supercars tend to be low to the ground and angular, creating the least amount of drag possible, and granting the kind of leaping power and energy that drivers should expect from a top of the line supercar. Supercars are also guaranteed to have a higher sticker price than your standard sports car, and that is due in fact to the amount of performance value that you can expect to get out of your typical supercar.
So, that brings us back to our original question, is the 2020 Chevy Corvette a supercar? Well, before we answer that question in full, we should give the Chevy Corvette a thorough examination from top to bottom.
Is the 2020 Chevy Corvette Supercar Material?
If you spot the 2020 Chevy Corvette out on the road in the wild, you'll likely agree that, yes, this is what it means to be a supercar. The Chevy Corvette is a remarkable sight with its sharp lines and clear focus towards performance. The low profile, broad front grille, and racer styling, all play a role in the overall power of the Chevy Corvette; however, these aren't the only characteristics that we should be keeping an eye on.
You can purchase the 2020 Chevy Corvette Stingray in one of a few different trim options, including the 1LT, 2LT, and 3LT, with each trim model getting a convertible option. The entry-level MSRP for the Chevy Corvette is $58,900, and every dollar you spend is directly translated into sheer performance.
That brings us to the essential part of answering the supercar question, the Chevy Corvette's engine. All models of the all-new 2020 Chevy Corvette get a roaring 6.2-liter V8 engine that can pump out 490 horsepower and 465 lb-ft of torque. Purchase the Z51 package, and you get a dual-performance exhaust that bumps horsepower ratings up to 495 and torque up to 470 lb-ft. Also packed in the Z51 performance package are additions like summer tires, more race-worthy brakes, and an electronic limited-slip rear differential.
Although, a highlight of this performance package is Magnetic Ride Control 4.0. Magnetic Ride Control 4.0 is an incredible damping system that can read the road and will adapt with a zippy turn around time of 10-15 milliseconds. With Magnetic Ride Control 4.0 you can take to the pavement with complete confidence that you can push your car to the limits and remain firmly planted on the road. The manual transmission of the past has been scrapped in replacement for a single eight-speed dual-clutch automatic transmission. That said, even without a manual transmission, the 2020 Chevy Corvette can launch from 0 to 60 in as little as 2.8 seconds, which is simply insane.
With a top speed of 194 mph, a rear set engine, and a lack of handles and hatches to provide as little air friction as possible, the 2020 Chevy Corvette is the best example of a supercar yet. Supporting the Chevy Corvette's supercar status is a set of 19-inch front and 20-inch rear tires, that can handle the amount of pressure applied when pushed to the limits. No matter what aspect of the 2020 Chevy Corvette that you look at, it is easy to see why we'd consider this sleek styled piece of machinery a true supercar. The interior itself doubles down on the supercar feel, with each of the two seats feeling more closely related to the pilot's chairs of a jet airplane. So, to answer the question, yes, we'd consider the 2020 Chevy Corvette to be one of the best supercars on the road today.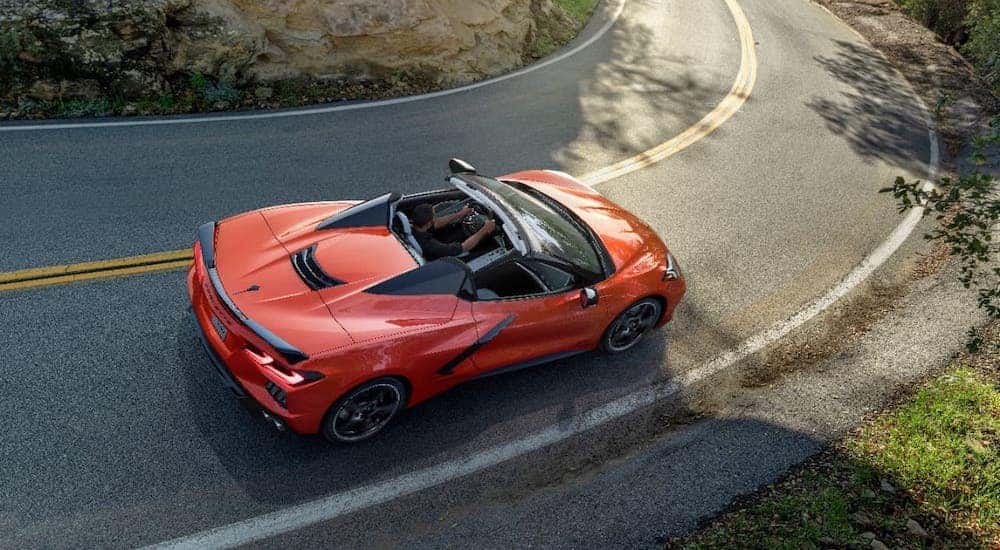 Test Driving the Chevy Supercar at DePaula Chevy
The 2020 Chevy Corvette is a top-performer, and you can experience it first hand when you visit our showroom. We'll give you a full rundown of what this supercar has to deliver and can show you how you can take one of these incredible vehicles home with you. The 2020 Chevy Corvette isn't subtle, and you can experience every dollar spent when you stamp on that accelerator. While DePaula Chevy is home to vehicles like the 2020 Chevy Corvette, we're also proud to offer a wide selection of other sports cars, SUVs, and trucks that are bound to pique your interest. Cars may be our specialty, but we take ultimate pride in giving each of our customers the best in service. We're pretty passionate about giving you the best dealership experience possible, and will go above and beyond expectation to ensure that the car you head home in is something that you simply love to drive.