Keyless is Key: Learn More About Keyless Entry

"Features" – a term used to describe amenities, technology, and just about every aspect of the driving experience. Sometimes, these features change how we interact with our vehicles daily, sometimes almost stemming from science fiction. They can be found in all different kinds of vehicles, including new, CPO, or used, and when you're shopping around for Albany used cars, you can find models with all the best features here at DePaula Chevy.
If there's one thing that you can always count on in the automotive industry, it's that features are never-ending, and manufacturers are always pushing the bar on what vehicles can offer. One feature that we've grown to love is keyless entry, and this is a revolutionary concept that you may have already seen in another vehicle.
Keyless entry is not exactly a new feature, and it's not difficult to find a used vehicle with this included. Why would you want this feature? It's one of those features that you may not realize its value until you encounter a use-case scenario where it becomes apparent how much of a quality-of-life improvement it is. Before we begin discussing used models that include this feature, let's explain what keyless entry is.
What is Keyless Entry?
Keyless entry is exactly how it sounds. Without this feature, you have two ways of entering your vehicle, one of which is by unlocking the door on the driver's side by turning the key in the hole. The other way that you're likely used to entering your vehicle includes a fob attached to your key, and on this device, you'd have buttons such as lock, unlock, and panic. To simplify things, think of keyless entry as the next generation of this.
Vehicles that support keyless entry may offer it in a few different ways. Firstly, there's the keyfob that will come with your vehicle. Unlike the aforementioned remote entry key fob, these are designed to automatically unlock your vehicle when you're approaching it, as long as you have that fob on you. The second form of keyless entry that has become more popular over time is through an app that you download on your phone.
These apps are typically activated through subscription services, but it's quickly becoming a popular and simple way to get into your vehicle. The last way that keyless entry can be implemented into a vehicle is through a digital number pad that the driver can set a password on, requiring it each time the door needs to be unlocked. This is one of the oldest methods of the feature.
Models To Consider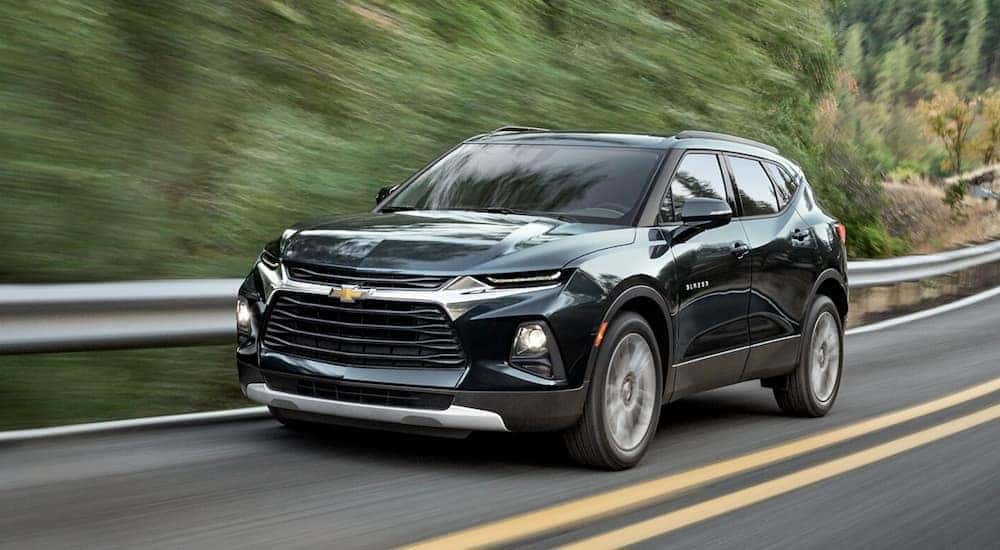 Chevy Blazer
The first used model that we'd like to recommend is the Blazer. This vehicle made its return in 2019, so when shopping on the used market, you won't have to worry about losing out on any modern features. Every Blazer model from that year onwards will feature a form of keyless entry, specifically the digital keypad that we mentioned earlier. This is a highly secure way of locking your vehicle, so long as you don't make an easily guessable password. Looking at a 2019 Blazer, in particular, this SUV is a fantastic choice for many reasons, keyless entry only being one of these reasons. This SUV also grants drivers a decent amount of cargo space at 64.2 cubic feet.
Since the latest generation of the Blazer is only a few years old, each model is fitted with some of the best technology that the industry has to offer. For example, the Blazer is a fully connected machine, and what we mean by this is that the integrated infotainment center with its large 8-inch screen is chock-full of notable highlights. The most notable inclusions are Apple CarPlay and Android Auto, both of which didn't start appearing in vehicles until a few years ago, so this means that the Blazer included them in its return to glory.
Apple CarPlay and Android Auto allow you to link your smartphone to your vehicle, and in the case of Apple CarPlay, your infotainment center will resemble an easy-to-navigate iPhone layout. There are all of the apps that you'll expect to see, such as music, audiobooks, podcasts, and you can even utilize turn-by-turn directions and access communication features from your phone with only your voice.
The 2019 Blazer also had considerable amounts of power for its size and class. There are three available powertrains for this model, with the first one being a 2.5L 4-cylinder that comes paired with a 9-speed automatic transmission. This engine will make 193 hp and 188 lb-ft of torque, and it's impressively fuel-efficient at 21 MPG city and 27 MPG highway. The top available powertrain configuration retains the same transmission but links it to a powerful 3.6L V6 engine instead, this time producing 308 hp and 270 lb-ft of torque. Finally, there is a middle-of-the-road option – a 2.0L Turbo offering 227 hp and 258 lb-ft of torque along with excellent gas mileage.
Toyota Corolla
We recommend the Toyota Corolla for several reasons, far beyond just keyless entry. However, Toyota's Smart Key system is one of the best around, and this system can be found in Corolla models from the past few years. The Smart Key is designed to allow the driver to unlock either their door or every door by simply holding their door handle. When doing so, the sensor on the back of the handle is what will control the locks on the vehicle, and locking it is as simple as touching the indicated corner of the handle.
The Toyota Smart Key, as seen in the Corolla, is also multi-functional. According to Toyota, features can be added that allow the windows to open when pressing a specific button on the fob long enough. One of our most favorite features that the Smart Key system has to offer is the ability to recognize when it's within the vehicle and will prevent the driver from locking the fob within the vehicle. This easily solves the age-old problem of accidentally locking your keys in your vehicle, prompting a roadside assistance service to help you. Toyota has ultimately thought of everything as a physical key is lodged within the fob. This is for emergency use, or more commonly, if the battery on the fob needs replacing and won't operate.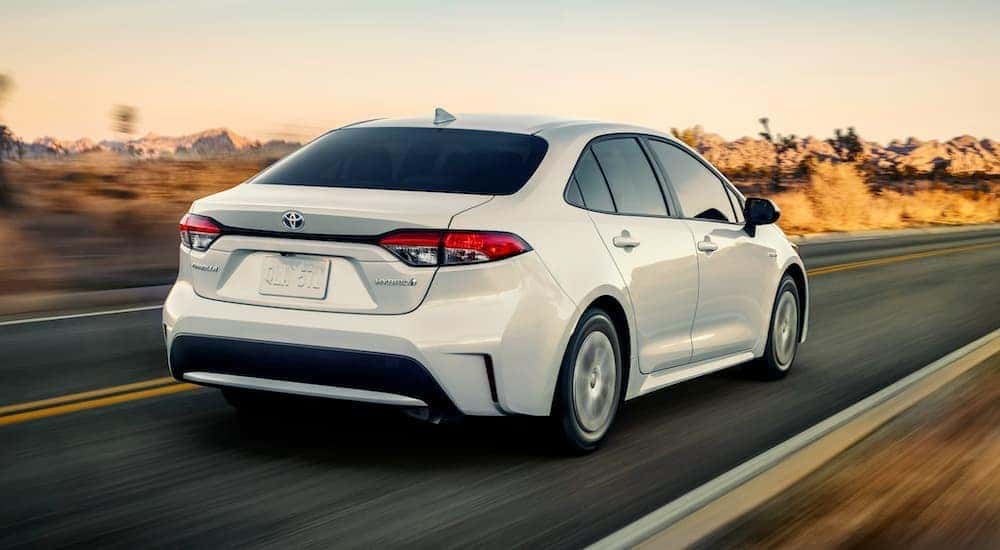 Keyless is Key
The future of automobiles may be found in more efficient powertrains, electric vehicles, and the sort, but it's features like keyless entry that make our vehicles feel as if they're from the future. Although a simple feature on the surface, there's something to be said for the automotive industry as it's always evolving, never fearing to question the possibilities of technology. Sure, it's just a key fob, but it's a prime example of how automobiles are still pushing to give us the best quality-of-life improvements possible.
Keyless entry is quite common nowadays, and there isn't one specific manufacturer who specializes in it. Most big-name manufacturers have a form of this technology, some older than others. This is an important thing to recognize during the shopping process, to understand the latest features that have everybody talking. To learn which used vehicle is the one for you and to check out all the modern features you can enjoy, come visit us at DePaula Chevy in Albany, New York.