Roar Into 2022 With an All-New Chevy COPO Camaro
Life can be kind of a drag at times, but that's not such a bad thing if you're into drag racing. If this is the kind of thing that excites you, then you might want to muscle in on Chevy's latest drag racing version of its 2022 Camaro muscle car, the 2022 COPO Camaro. This one features a choice of three engines, one bigger than the others, that are sure to burn up the quarter-mile when you go to open these babies up. COPO stands for Central Office Production Order and harkens back to the time where you had to have your Chevy dealers in NY order special non-standard colors and features for your Camaro.
Those first COPO Camaro muscle cars were introduced in 1969 and have gone on to become coveted among muscle car collectors. So, the only thing that should move faster than these great new Camaros is you, as the COPO Camaro is a limited edition that won't last long. Head on over to DePaula Chevrolet to find out how you can get your hands on one of these 2022 Chevy COPO Camaros. We are your choice if you are looking for a Chevy dealer in NY, with an extensive inventory of new, used, and Certified Pre-Owned Chevy cars, trucks, and SUVs, including the Camaro, a great sports car that helped launch the great American muscle car movement.
A Chip Off the Big Block
That loud roar you hear is probably from a 2022 COPO Camaro with the brand new 572 Naturally Aspirated V-8 gas engine. That's 572 cubic inches of 8 cylinder power in the Tall Deck Bowtie Sportsman Big-Block. The news that Chevy was equipping the 2022 COPO Camaro with this engine option also sent a loud roar through drag racing enthusiasts. For those playing with the metric system, that would be an enormous 9.7-liters. The National Hot Rod Association (NHRA) has given this huge engine a horsepower rating of 430 hp, as shown on the COPO Camaro order form.
Chevrolet recommends that you keep the COPO Camaro with this big-block engine maxed out at 6750 rpm. That may have something to do with a compression ratio of 12.0:1 nominal on this 572 engine. The crankshaft is a Callies 4340 with Manley H-beam forged steel rods. The pistons are JE forged 2618 alloy. As you can imagine, this is going to be one Camaro that will get you from 0 to Infinity in no time.
Supercharging Into 2022
If the Big-Block V-8 isn't what you are looking for in your 2022 Chevy COPO Camaro, you can opt for one of two LSX small-block engines instead. The first is a 350 Supercharged V-8. This features a Chevrolet Performance LSX cast-iron engine block with steel main caps. It has a compression ratio of 10.9:1 for maximum efficiency and has a Callies 4340 "Dragonslayer" double-keyed snout crankshaft, Callies 4340 H-beam "Ultra" forged steel rods, and Mahle forged 2618 alloy pistons.
While this is the smallest of the three engines on the 2022 COPO Camaro, it is actually quite powerful. Those 350 cubic inches convert to 5.7-liters in the metric system. According to the NHRA, whether you are talking 350 cubic inches or 5.7-liters, this engine will give you a powerful 580 horsepower at 8000 RPM. That is plenty of power to make this one an exceptional road racer.
The third engine is a 427 Naturally Aspirated V-8. Those 427 cubic inches are also 7.0-liters, which is good for 470 horsepower at 8000 RPM, according to the NHRA. This engine has a Chevrolet Performance LSX cast-iron engine block with steel main caps, a Callies 4340 "Dragonslayer" crankshaft, Callies 4340 H-beam "Compstar" forged steel rods, and Mahle forged 2618 alloy pistons. The compression ratio on this engine is the highest of the three at 13.0:1. Still, this is no slouch and will easily outduel most other muscle cars you're likely to come across on the drag strip or just cruising down the Thruway.
Efficient Sports Tuned Transmission
The 2022 Chevy COPO Camaro is rear-wheel drive only to maximize performance. All three engines are paired with an ATI Racing Products TH400 three-speed automatic transmission. This is wedded with a Hurst "Quarterback" shifter for ease of use, including a built-in neutral safety switch.
It should be noted that the transmission on the 350 Supercharged engine also has a Vasco intermediate shaft, heavy-duty steel forward clutch drum, heavy-duty center support, a Vasco input shaft with aluminum forward drum, and a severe-duty aluminum direct drum. This is a slight difference from the transmission on the 572 and 427 V-8 engines, which feature a 4340 input shaft with an aluminum forward drum and an aluminum direct drum with 34 element sprag. All three engines do feature an ATI Racing Products "Treemaster MRT" Series torque convertor to better transfer engine torque to your rear wheels to maximize acceleration and neutral takeoff. This will make it easier for you to beat your opponent off the mark.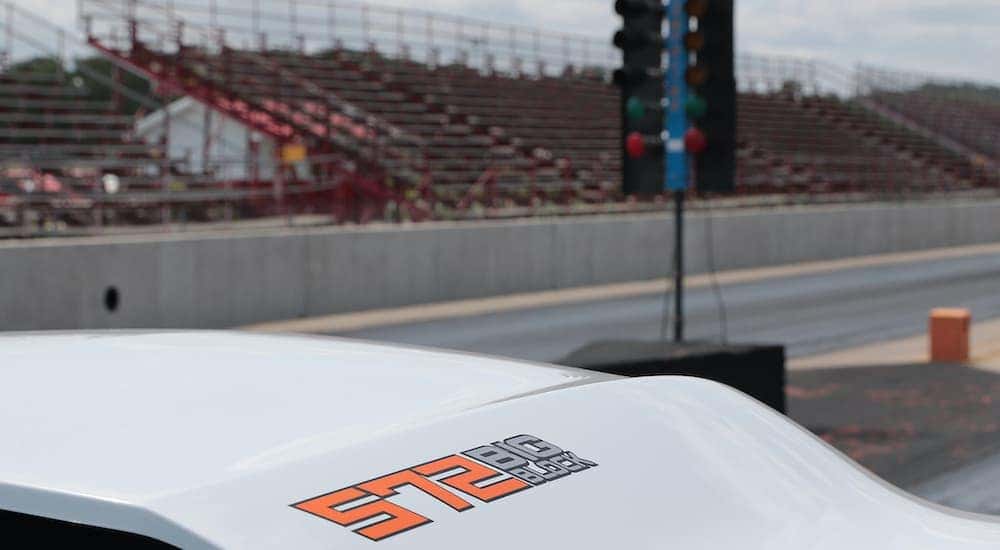 Other Amazing Features
In keeping with the tradition started with those 1969 COPO Camaro sports cars, Chevrolet is pulling out all the stops on the 2022 model. It starts with a set of Bogart race wheels fitted with Hoosier drag tires. This will give you the road grip you need to keep you tight to the drag strip. Each COPO Camaro model also comes with wheelie bars. The two-piece carbon-fiber hood sports an aggressive hood scoop, while the clear side markers and smoked taillights help complete the package. There is also an external battery charger hookup that is sure to come in handy when you go to race your 2022 COPO Camaro. You can get your car in a choice of Summit White, Satin Steel Gray, Red Hot, or Black. However, you can opt for a Silver color with 572 graphics if you get that engine upgrade.
Chevy also offers the 2022 COPO Camaro with a number of optional gear, including a trunk-mounted weight box for added stability, dual batteries, and even a parachute to help slow you down when you are pushing this to the limits on the local drag strip. Actually, the parachute comes standard on the COPO Camaro with the 350 Supercharged V-8, so you can only imagine the potential of that engine. Every model of the 2022 Chevy COPO Camaro is qualified to race in NHRA Stock and Super Stock eliminator races.
Race Over to Your New York Chevy Dealer for the 2022 Camaro
The 2022 COPO Camaro shows you the ability of what this great muscle car can do. With a choice of three different powerful V-8 gas engines, a sports-tuned transmission, classic muscle-car looks, and plenty of great features, the 2022 COPO Camaro is one car that is ready to take the drag racing world by storm. Completely customizable, so you know you are going to get the powerful muscle car you want; the 2022 Chevy COPO Camaro really has no competition. Race on to our Chevy dealership to find out how you can get one of these powerful muscle cars for yourself. If you are really in a rush, that optional parachute may come in handy.