Seven Fun Features in the 2020 Chevy Equinox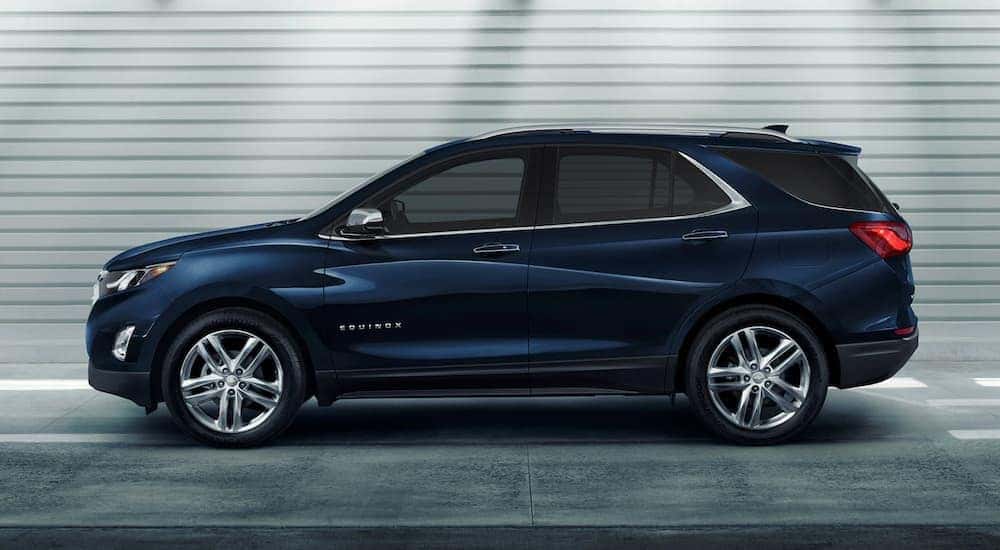 If you're in the market for a new family-car and are hoping to purchase from a 'Chevy dealer near you' that you can trust, DePaula Chevy is the place to be. Not only are we home to dealers and auto experts who put your interests first, but we're highly knowledgeable about what makes a great family car. When you visit our showroom, you'll find quite the selection to choose from; however, our top favorite is the 2020 Chevy Equinox. The 2020 Chevy Equinox is a well-rounded SUV that is more than just a pretty face. This handsome SUV sports more than enough room for five passengers and is equipped with some of the latest safety features making it one of the safest cars in the Chevy family-lineup. To show you why we suggest the ever-remarkable 2020 Chevy Equinox as your next family-car, we've put together a list of seven of our top favorite features.
Fun to Drive
SUVs are quite common nowadays, taking up a majority of auto-industry trends. However, far too many SUV models sport some rather uninspiring performance. In an attempt to blend fuel economy with large cargo and passenger space, automakers have downsized engines, providing an experience behind the wheel that is rather subpar at best. Fortunately, the 2020 Chevy Equinox is the polar opposite, equipped with two powertrains that don't just get you from point A to point B but help you do so with a thrill that is hard to step away from.
Packed beneath the hood of the 2020 Chevy Equinox is a 1.5-liter turbo-4 engine that is rated for 170 horsepower and 203 lb-ft worth of torque. Paired with this base engine is a 6-speed automatic transmission and front-wheel drive. However, performance can be boosted far past these entry-level limits. Upgrade the Chevy Equinox, and you'll be put in charge of a 2.0-liter turbo-4 engine that puts out 252 horsepower and 260 lb-ft of torque, you'll also get a 9-speed automatic transmission and the option of all-wheel drive. And with base models getting a remarkable fuel economy of 26 MPG in the city and 31 MPG on the highway, it's simply impressive the kind of power-delivery the 2020 Chevy Equinox brings to the table.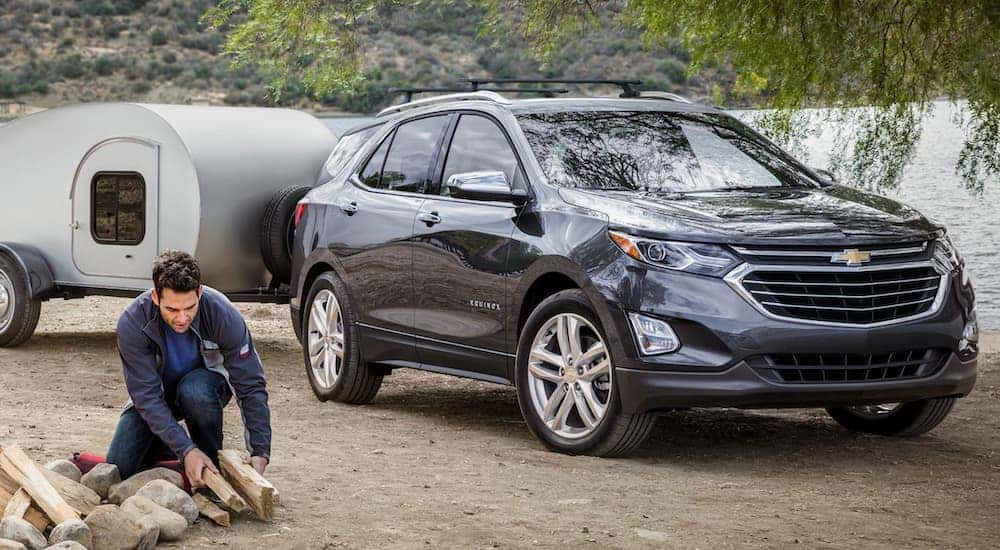 Room for Everyone
The 2020 Chevy Equinox is an incredibly well-rounded car, especially when it comes to the space and comfort department. Inside the Chevy Equinox, you'll find space enough for five passengers, but also a whopping 30 cubic feet of cargo space tucked behind the rear seats. With all that extra cargo room, you should have little stress in packing the SUV full of luggage. However, if you fold that rear seat down, things expand to 63.5 cubic feet, a truly stunning amount of cargo space considering the overall size of the vehicle. And, as to be expected of any Chevy brand vehicle, the 2020 Chevy Equinox comes standard with a dressing of comfy cloth upholstery. However, should you want something a little more luxurious, you can find by upgrading the seats to leather. These premium materials combined with a roomy interior make for a riding and driving experience that is simply superb in every way.
A Variety of Options
Far too often, automakers design their SUVs with a rather limited level of selection. Although, on the other hand, some decide to pack in too much, leaving potential buyers overwhelmed and rather confused as to what trim level to go for. The 2020 Chevy Equinox offers the best of both worlds in many ways with its simple four-different trim levels, which include the L, LS, LT, and Premier. These four trim levels range in things like engine power, interior amenities, and safety features, however, it is a manageable variety that still provides a trim level for every driver.
A Safe Ride No Matter What
If you're a parent, then you already know that you need a car with great safety ratings and an even better spread of active safety features. Fortunately, the 2020 Chevy Equinox has all of the above, one of the many safety features popular amongst our staff and customers is automatic emergency braking, which comes standard on all models. Automatic emergency braking is a feature that essentially protects auto occupants preemptively by using sensors and cameras to detect the flow of traffic. Should someone stop in front of you suddenly, the automatic emergency braking feature will activate your brakes and slow you down, potentially helping you avoid a collision.
Another key safety feature praised by both our drivers and our dealers is active lane control. Active lane control is a feature that gives the car the ability to read the lane lines in the road and to automatically keep the vehicle within those lane lines. As a result, this feature makes it so lane drift can be made a thing of the past, and can give you far greater peace of mind when behind the wheel.
A Dazzling Display
What really pulls together the entire interior of the 2020 Chevy Equinox is the dazzling infotainment display located in the center console. While base models get a decently portioned 7.0-inch touchscreen infotainment system, the higher-end version expands that screen real estate to 8.0-inches. This bigger screen makes access to audio and navigations software a breeze, and considering the touch functionality, you'll never have a problem with access. Not only that, but these infotainment systems come integrated with the latest in Apple CarPlay and Android Auto. Both Apple CarPlay and Android Auto allow you to seamlessly connect your phone to your car, giving you easy access to your favorite smartphone apps.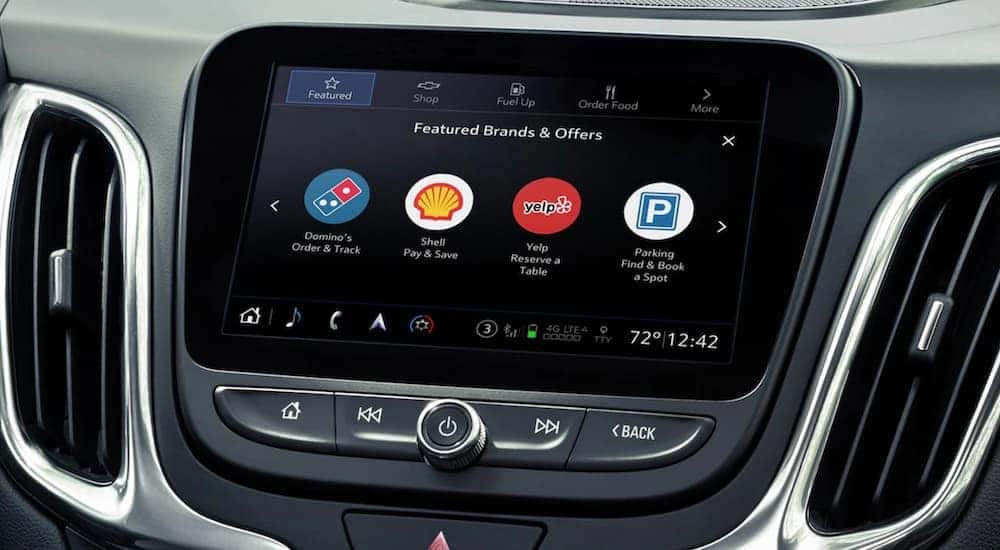 A View from Every Angle
Another huge plus when driving the 2020 Chevy Equinox is the surround-view camera system found in higher-end models. The surround-view camera can give you a multiple-angle perspective of the parking lot, street, or neighborhood, allowing you to have greater awareness than you would otherwise. While this feature is only optional on higher-end models of the Chevy Equinox, it is certainly a worthwhile investment.
Bose Quality Sound
Some drivers can't get behind the wheel without at least some tunes bumping. Fortunately, in the Chevy Equinox Premier, you can equip your SUV with an incredible Bose designed audio system. With Bose audio, you can experience the highest-quality sound possible, all while behind the wheel of a car that is designed to provide as little road noise as possible. As a result, you can enjoy your favorite songs with little to no outside interference.
Getting Behind the Wheel of the 2020 Chevy Equinox at DePaula Chevy
As you can tell, the 2020 Chevy Equinox is quite an impressive SUV with its wide variety of safety features, diversity of powertrains, and seriously large cabin. For these reasons and many others, the Chevy Equinox is probably one of the most popular vehicles in our showroom, and our team is excited to help you test drive a model today. Our sales team at DePaula Chevy is all about the customer experience, and work tirelessly to ensure that your every automotive need is met from start to finish. While there may be a few Chevy dealerships in and around Albany, NY, there is only one DePaula Chevy.