The 2020 Chevy Bolt – An Underappreciated Electric Vehicle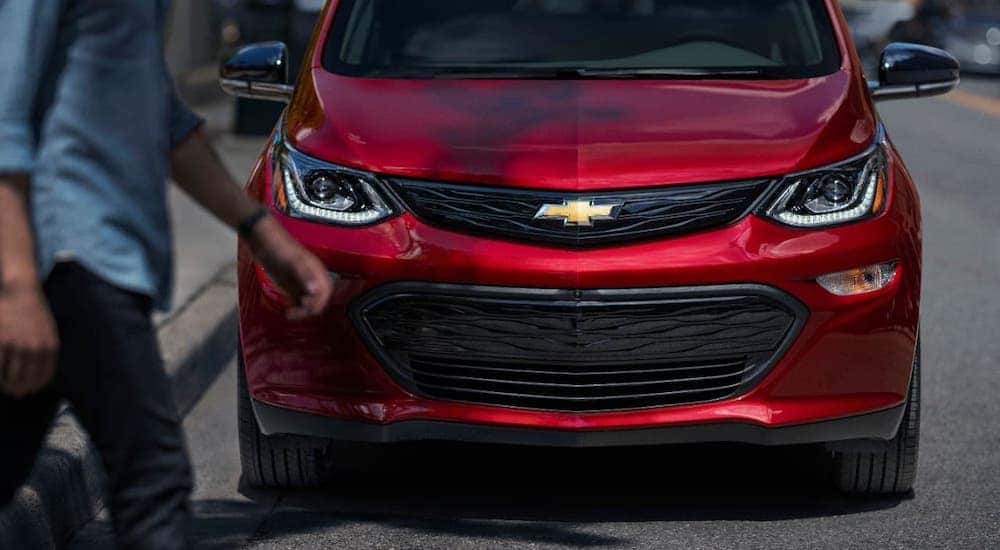 Today electric vehicles or "EVs" are becoming increasingly popular. More and more manufacturers are coming out with amazing new concepts like electric pickup trucks and electric sports cars. But while these flashy new vehicles get all the headlines, there is one manufacturer that has been quietly producing affordable and capable EVs for years – Chevrolet. So if you are interested in joining the EV revolution while still buying from a proven American manufacturer, swing by our Chevy dealership. Clifton Park, NY residents, may think that an EV is not the right car for northern New York, but a look at the 2020 Chevy Bolt will convince you otherwise. If you do not believe us, keep reading to see some of the advantages of Chevrolet's EV.
Long Range
The first question nearly everybody has when it comes to EVs is whether they will run out of power and leave them stranded. We are here to tell you that with the 2020 Chevy Bolt, this is not a concern. Able to travel 259 miles on a single charge, the Chevy Bolt actually has more range than the famed Tesla Model 3. To put 259 miles of range into perspective, that is enough to drive a 2020 Chevy Bolt from our Chevy dealership near Clifton Park, NY, all the way across the state to Rochester, NY, without recharging. And if you want to make a day trip down to New York City, then you would reach your destination with around 100 miles of charge left. Plug the Bolt in for half an hour while you are shopping or seeing the sights, and you will get back home before the day is over with plenty of charge left.
While some people are concerned that EV charging stations are much harder to find than gas stations and that it takes much longer to charge an EV battery than to fill a gas tank, these are not really problems. While both points are valid, EVs do not follow the same rules as gasoline cars because you can recharge them at home. This means that as long as you plug them in at the end of the day, you will never have to visit a public charging station unless you are on a long road trip. And if you are on a trip, then you will be able to charge the car in about an hour and a half – charge when you need to stop for meals, and you will not even notice the difference.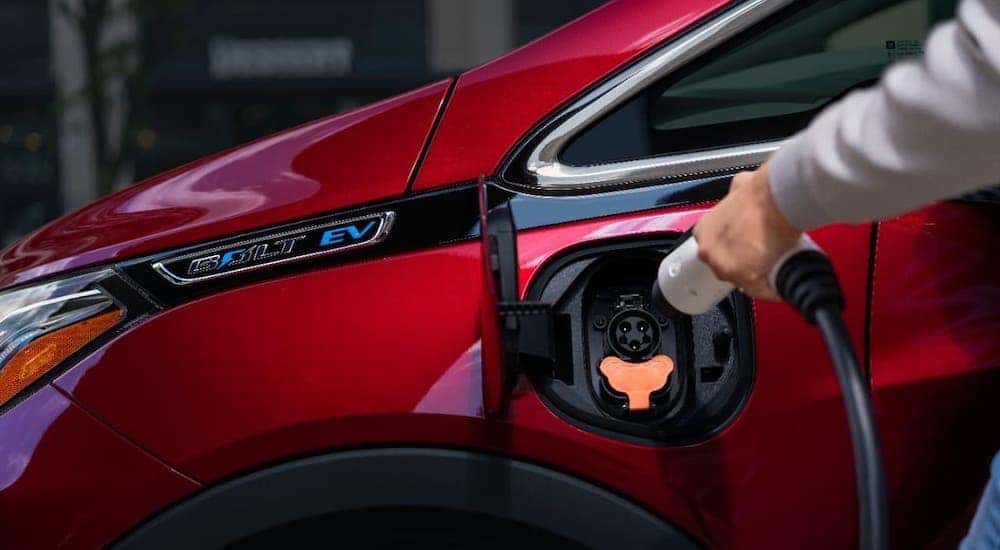 Solid Performance
The second question many people ask about EVs is their performance. After all, an eco-friendly electric vehicle cannot possibly offer a driving experience that will match that of a gasoline car, right? While that might be true for some smaller and older EVs, it is not true for the 2020 Chevy Bolt. With 200 hp and 266 lb-ft of torque, it will handily outperform many of the gasoline vehicles on the road. And because all of that torque is instant instead of needing to rev up to it like in a gasoline car, acceleration is even better than the raw number would imply. Indeed, the zero to sixty time of the 2020 Chevy Bolt is not far behind that of a top-trim Chevy Malibu with its 250-horsepower 2.0L turbocharged engine. If you still have concerns that an EV cannot keep up with your driving, stop by our Chevy dealership near Clifton Park, NY, and take a Chevy Bolt for a test drive. We are sure that you will have a different opinion when it is over.
A Perfect New York Car?
However, just because an EV has a good range and performance equivalent to a gasoline car, does not necessarily make it a good buy. Fortunately, the rest of the 2020 Chevy Bolt also lives up to the standard set by its electric drivetrain. As a well-designed vehicle, it combines a roomy interior and plenty of features at an affordable price point. Indeed, with its 39.7" of headroom and an incredible 56.6 cubic feet of cargo volume when its 60/40 split rear seats are folded, the 2020 Chevy Bolt offers more interior space than the Chevy Trax SUV. But perhaps even more surprising in that comparison, the 7.4" of ground clearance on Chevy Bolt also beats that of the Trax. So while the Chevy Bolt may not have all-wheel drive, it is more than capable of handling the bad weather and sometimes bad roads that we New Yorkers are familiar with.
In fact, the 2020 Chevy Bolt seems to be designed for the needs of our state. Among its available interior features, you will find heated front and rear seats, as well as a heated leather-wrapped steering wheel. These features are usually only found in much more expensive luxury vehicles and will help make driving in our cold New York winters far more bearable. Further, the 2020 Chevy Bolt comes standard with a remote start system so that you will never again need to climb into a cold car. And because it is an EV, you can even start it in your garage and leave it running without any risk of dangerous fumes.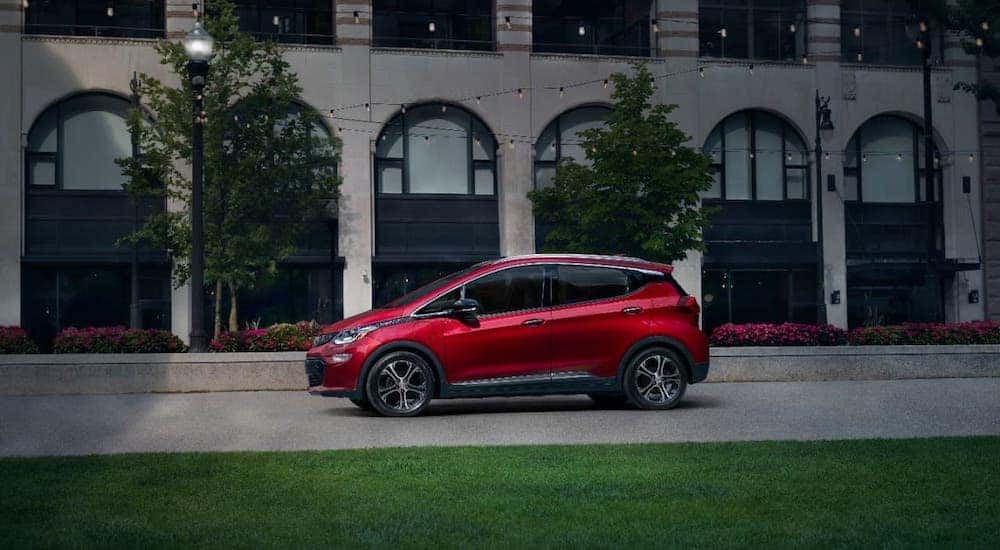 Infotainment and Technology
The infotainment system on the 2020 Chevy Bolt also shines. Equipped with Chevrolet's excellent Infotainment 3, the Bolt is compatible with both Apple CarPlay and Android Auto. It also offers SiriusXM satellite radio and a 4G LTE wireless hotspot so that you will never run out of entertainment. However, the 2020 Chevy Bolt comes with a much larger than standard 10.2" touchscreen, which is supplemented by a second reconfigurable 8" screen in the instrument cluster. On top of their normal functions, these screens can also be used to display information related to battery usage and remaining charge, ensuring that you will never risk running out of power. And while the car comes standard with an acceptable six-speaker sound system, a superior seven-speaker Bose setup is also available as an upgrade. Finally, the 2020 Chevy Bolt offers up to four USB ports and wireless charging to keep all of your electronic devices ready to go.
The 2020 Chevy Bolt is also available with a full range of modern safety technologies. Its advanced driver's aids include automatic emergency braking, side blind zone and rear cross-traffic alert, lane-keep assist, rear park assist, and HD surround vision. These systems, together with the car's excellent crash test performance, allowed the Chevy Bolt to be named as one of the IIHS's Top Safety Picks – something that the gasoline-powered Chevy Trax failed to achieve.
Chevy Bolt – It Will Be a Household Name
While the Chevy Bolt may not yet be a household name, it is a proven EV that offers performance equal or superior to comparable gasoline vehicles. With enough range to make long trips without worrying, sporty performance, a practical and well-designed interior, and plenty of technology, the Bolt is proof that an EV can and should be considered alongside gasoline vehicles. If we've convinced you, or if you simply want to judge for yourself, please swing by DePaula Chevy in the Clifton Park, NY area and see if a Chevy Bolt is the right choice for your next car.