The Chevy Colorado ZR2 and Trail Boss Have Off-Road Enthusiasts Crying Tears of Joy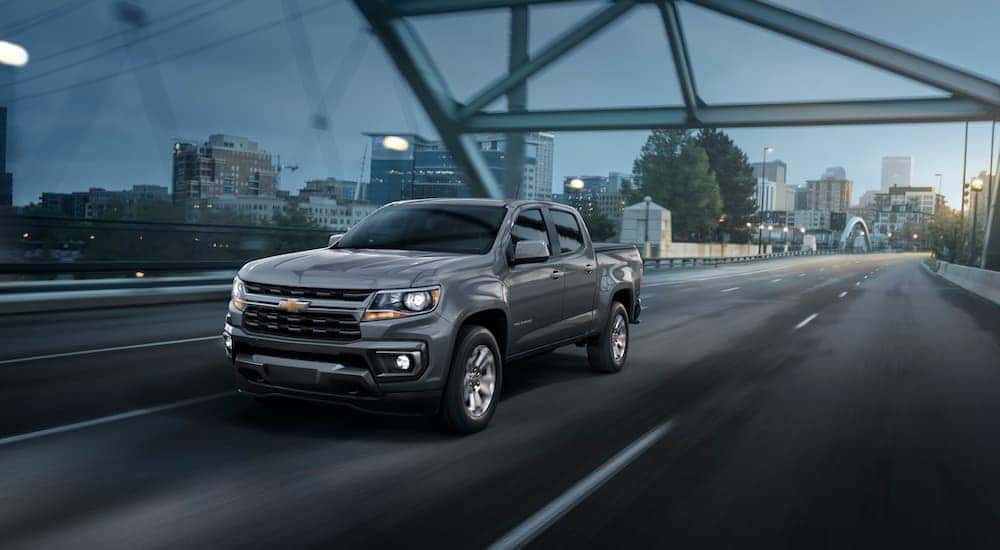 The 2022 Chevy Colorado is a midsize truck designed to take on any adventure you have in mind. It offers powerful engine options that give you the horsepower and torque you need to tow a boat or climb a treacherous mountain trail. In addition, it provides a quiet and comfortable cab with all of the latest tech and convenience features. In fact, it isn't easy to paint a picture of the Colorado that is anything less than rosy. There are drivers out there who are quite confident that when the 2022 Chevy Colorado hits the dealerships, they will want to have one in their garage. The biggest problem for many of these Colorado enthusiasts will be deciding which trim to choose; the Colorado ZR2 is a fine choice, while the Trail Boss package brings both capability and affordability. This does present quite the dilemma. So before you rush to your Chevrolet truck dealership, you should know a little more about the trim levels and package deals.
Colorado WT
The WT trim will be the top choice for budget-minded truck lovers. The WT comes standard with the 2.5-liter engine but can be upgraded to the 3.6-liter V6. Owners of the WT will also enjoy all of the basics, including a 7-inch touchscreen, the Chevrolet Infotainment 3 System, two USB ports, and Bluetooth. What is really nice is that Apple CarPlay and Android Auto are also included, which is rare with a base model these days. There are also a few convenience and safety features to enjoy, including a rearview camera and the Teen Driver monitoring system.
Colorado LT
The LT trim level is sure to appeal to a wide range of drivers. You can choose the standard 2.5-liter engine, or you can opt for the 3.6-liter V6 or the 2.8-liter diesel. You can also opt for 4×4 for improved off-road traction. There are plenty of standard goodies with the LT; drivers are sure to enjoy the 6-way power-adjustable driver's seat and the leather-wrapped steering wheel. These are a few features that will add comfort to your ride.
Drivers who opt for the LT also enjoy an available 8-inch touchscreen, which is slightly larger than the standard screen on the WT and LT. The larger screen also comes with additional USB ports, and the rearview camera is high-definition, which is a bonus, and remote keyless entry is standard in this model. As far as the exterior, the wheels are upgraded to 17-inch aluminum.
Colorado Z71
The Z71 is considered the top trim level as far as luxury mainly because the ZR2 trim is hyper-focused on off-roading features and capabilities. Still, the Z71 offers off-road suspension as standard equipment as well as all-terrain tires on 17-inch painted wheels. As with the LT, the Z71 comes standard with the 2.5-liter engine but has the 3.6-liter V6 and 2.8-liter diesel as options.
Since the Z71 is considered the luxury model, there are plenty of convenience and tech features for the Colorado enthusiast. Drivers will stay cool and comfortable in the cabin of the Z71 in the summer and warm and cozy in the winter thanks to the automatic climate control. The heated seats and heated steering wheel makes driving in the cold days of winter much more pleasant. Regardless of the temperature outdoors, the synthetic leather upholstery is soothing to the touch. There is also wireless charging, which is great as we all know what a pain it is, having to remember to plug your smartphone in to keep it charged.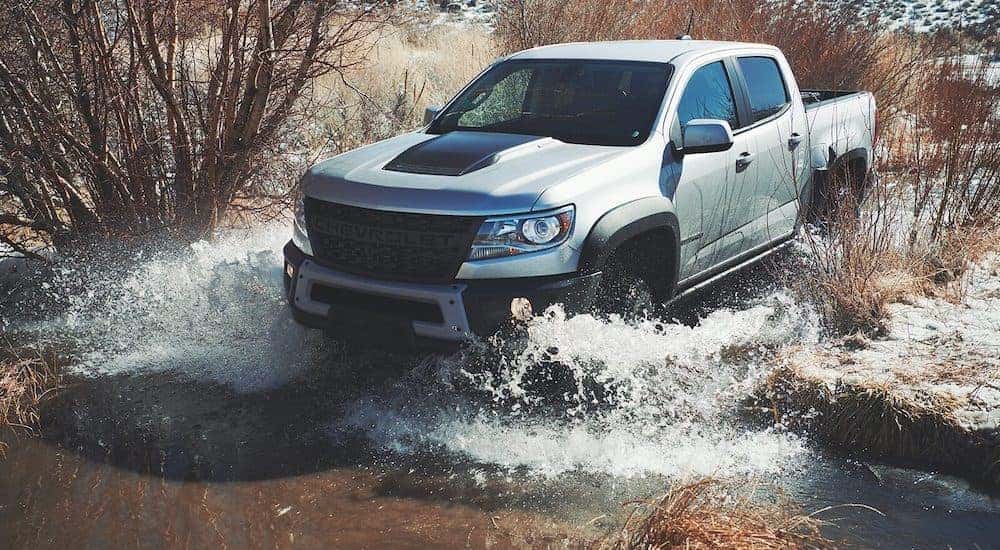 Colorado ZR2
While it is true that you will spend the most money on this trim level, you aren't getting a whole lot in terms of luxury and comfort features. However, it probably doesn't make a whole lot of sense to deck out the interior of a truck that is built for off-road performance. If you are serious about your off-road adventures, you will find the ZR2 is a truck with the features and equipment you need to climb that mountain trail successfully. Still, that is not to say the ZR2 is a bare-bones model when it comes to creature comforts. Just so you know, this off-road beast does come with heated seats and a heated steering wheel because not many drivers spend all their time on the trail; they love to drive their Colorado to and from work and enjoy the finer things in life.
Let's get right to the off-road goodies. The Colorado ZR2 is built for rock crawling and desert running, so Chevy gave it two more inches of ground clearance compared to the other Colorado models. The track is also wider than the standard models, 3.5-inches wider to be precise. Hard-core off-roaders will be happy to know the ZR2 comes with front and rear electronic locking differentials, which force the wheels to turn in unison for better traction in the most extreme situations.
The ZR2 comes with a trailer hitch and integrated trailer brake controller standard because if you are going to spend the weekend off-roading, you may want to tow your camper or other toys with you. On the outside, the ZR2 features a unique style hood and grille, and it looks fantastic with the front and rear wheel flares. Even if you are all alone at the top of that mountain trail, you still have to look good.
The Trail Boss
Chevy Colorado fans will rejoice at the addition of a Trail Boss package that is available for the LT and Z71 trims. The package includes several goodies that will enhance your off-road experience, consisting of skid plates, a lifted suspension, and red tow hooks, which really class up the looks of the Colorado. In addition, the black 17-inch wheels add to the rugged style.
The 2022 Trail Boss package can be had with any of the three engine choices. Should you choose the Trail Boss package for your Z71, you also get to enjoy Goodyear Duratrac tires and an automatic locking rear differential. An earlier Trail Boss package was first introduced for the 2015 Colorado but was only offered for two years before being discontinued.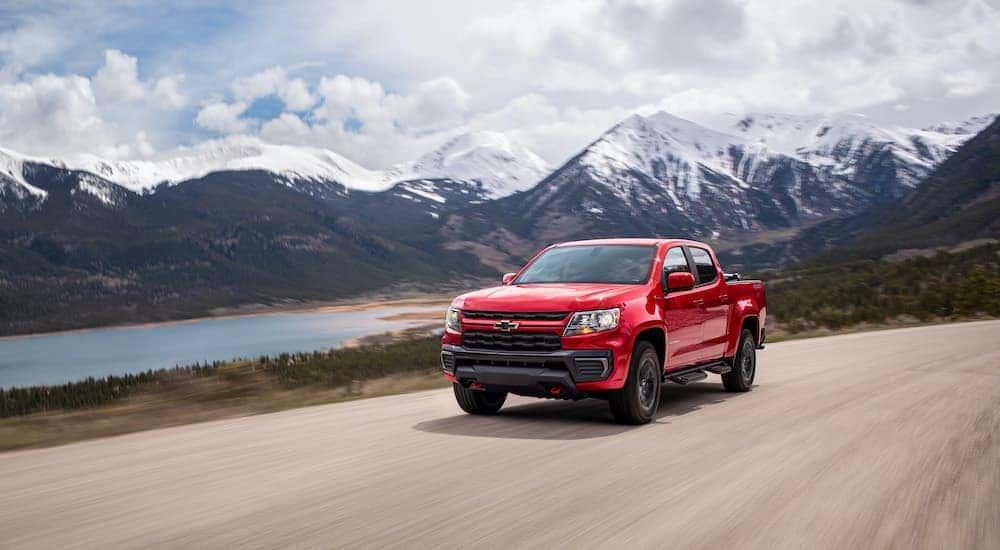 Where to Get the 2022 Colorado
DePaula Chevy is your home for the 2022 Chevy Colorado, and for everything Chevrolet, for that matter. Our team of dedicated specialists and staff are here to assist you in any way we can. We strive to ensure that each experience for every customer is more than good; we aim for extraordinary. We offer an impressive collection of both new and used models, so you can rest assured that we have just what you are searching for. If you are shopping on a budget, we can ensure you are getting the best price around.
We also staff a remarkable financial team who work diligently to get you the best possible financing. And if you are looking for parts and service, we handle those as well. Our service department enjoys a staff of well-trained, knowledgeable technicians who will diagnose your problem and fix it correctly the first time. We understand that we cannot exist as a dealership without our repeat customers, which is why we work so hard to make sure all of your needs are met. Stop on in and see what DePaula Chevy has to offer; it's a drive that you will be glad you made.