These Prime Steakhouses In Albany Offer Plenty Of Choice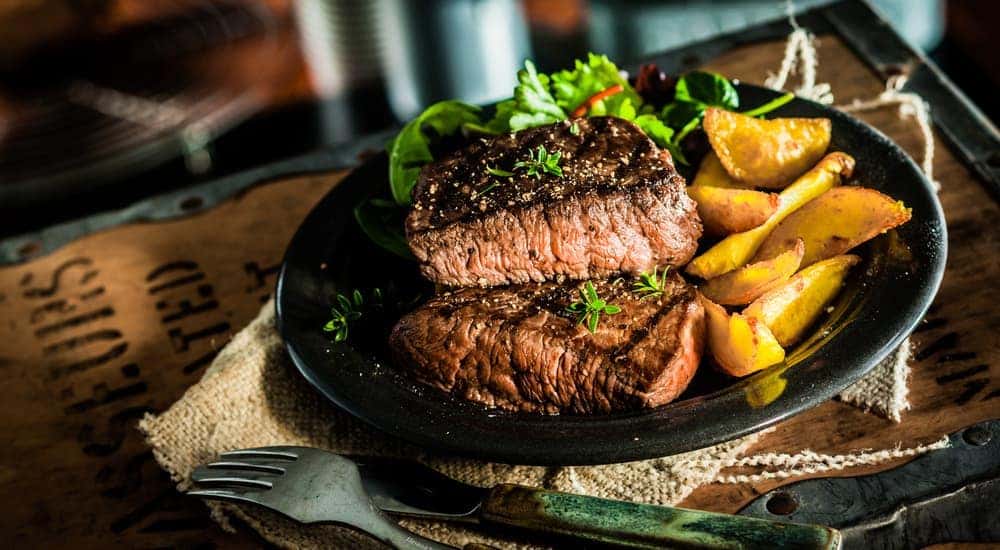 Please be aware that events and locations may be closed due to growing health concerns. Please consider take-out dining, purchasing a gift card for the time being, or visiting for future events.
When you think of the word "steakhouse," images of red leather, martinis, and dark wood interiors may come to mind, or perhaps a sprawling room full of cowboy hats. No matter your vision of what a steakhouse might look like, they all have one thing in common — they are are all designed around the experience of eating quality meat. America has a plethora of great steakhouses, but what about here in the Capital Region? As the state capital, Albany has something for everyone when it comes to food, and steakhouses are no exception. In this article, we will take a closer look at some of the best steakhouses in Albany, NY, for 2020.
Steakhouses are among some of the oldest types of restaurants in America, beginning in the late 19th century thanks to a number of events. The boom in railroad building at the time allowed for fresh beef to be shipped around the country more easily than ever. Chicago served as the livestock hub of the US during this era, and for the first time, freight carriers were able to get beef out to customers all across the Great Plains. At this same time, owners of inns and bars who were looking to serve food along with drink found beef steaks to be the obvious choice.
Today, aficionados of fine eating are fortunate to live in a country that has more varieties of restaurants – including steakhouses – than previous generations could have imagined. And they range in scope and style from wild-west-style eateries and upscale luxury restaurants where the power brokers meet to places that more resemble a local neighborhood bar. Today's steakhouses are devoted to one thing — to honor the relatively simple art of a well-cooked steak. To that end, we've compiled some of the greater Albany area's best eateries to get your beef on.
Barnsider Restaurant
480 Sand Creek Rd., Albany, NY 12205
Dining out should be a truly memorable and relaxing experience where special moments are captured and remembered, and for steak lovers, Barnsider fulfills all expectations. They strive to offer the finest and most extensive variety of exceptional cuts of beef, including filet mignon with bearnaise sauce and NY Sirloin. The beef is carefully aged a minimum of 28 days in a strictly-controlled environment in which both temperature and humidity are closely regulated. Their chefs cut and trim every steak to rigid standards within their on-site butcher shop, which results in a lean, tender, and incredibly flavorful steak.
In addition to fine beef, Barnsider also caters to other tastes by offering fresh cuts of swordfish and salmon, as well as a lobster casserole or herb-crusted rack of lamb. Daily seasonal specials are also available. If the entrees weren't enough, their dessert favorites such as white chocolate crème brulee or their signature deep fried ice cream with homemade caramel rum sauce will be sure to satisfy the sweetest of sweet teeth.
Fresh fish is delivered daily, and their salad dressings are made right at the restaurant, as are their delicious sauces. All dishes are prepared with the freshest ingredients by the Barnsider's award-winning chefs, assuring diners receive the most delicious food experience.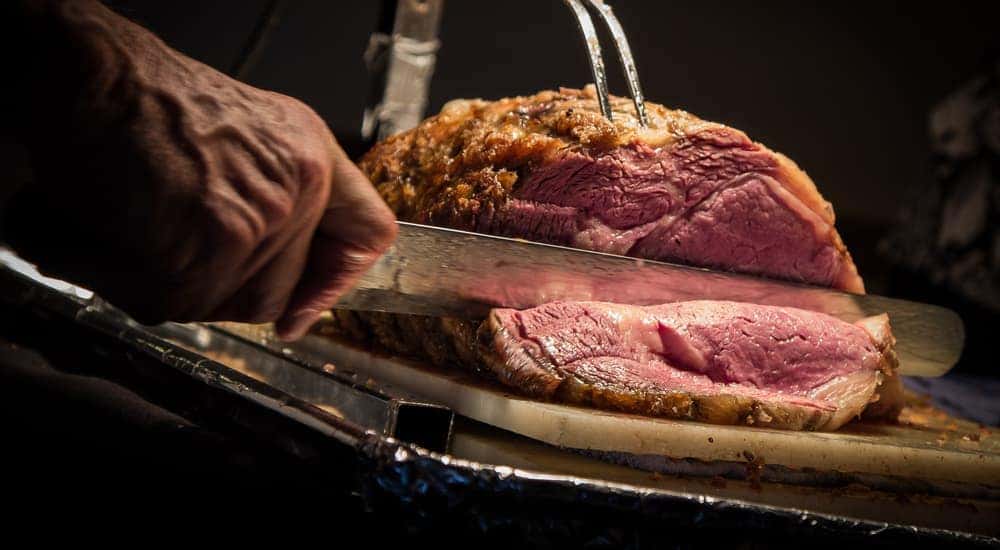 Texas de Brazil
1 Crossgates Mall Rd., Space E-111, Albany, NY 12203
With locations around the country, Texas de Brazil is an authentic Brazilian steakhouse combined with the flavor of Texas, with all of their meats cooked the gaucho way, over an open flame with natural wood charcoal. Meats are slow-roasted and are presented with an impressive display of seasonal greens, regional delicacies, and select vegetable dishes. Per tradition, the meats are brought to each table and carved in a show of skill.
Texas de Brazil continues this tradition today while also offering a wide selection of salads, roasted vegetables, imported cheeses and charcuterie, house-baked cheese bread, garlic mashed potatoes, and fried bananas. Expert carvers serve up sizzling beef, lamb, pork, chicken, and Brazilian sausage, all of which are cooked to perfection.
Angelo's 677 Prime
677 Broadway, Albany, NY 12207
Angelo's 677 Prime prides itself on being on par with some of the best steakhouses in New York City, providing exceptional service and the freshest meals made with the highest-quality ingredients. Located in the business district, diners can expect chef-driven cuisine, a world-class wine program, and unparalleled hospitality.
General Manager and Owner Jaime Ortiz and Executive Chef Ken Kehn lead the culinary team and menu creation to provide meals that you will want to savor. While USDA prime steaks are the star attraction, 677 Prime offers innovative seafood dishes, including their famous raw bar. Traditional steakhouse classics get a fresh modern take, and their dessert menu leans toward being whimsical and fun.
Their menu is paired with a comprehensive wine list that features over 500 selections. A house Sommelier is on hand to help narrow down the choices to just the right wine to go with your particular dish. If wine isn't your preferred drink of choice, a fully-stocked bar offers specialty cocktails, martinis, and an extensive collection of whiskeys and single malt scotches.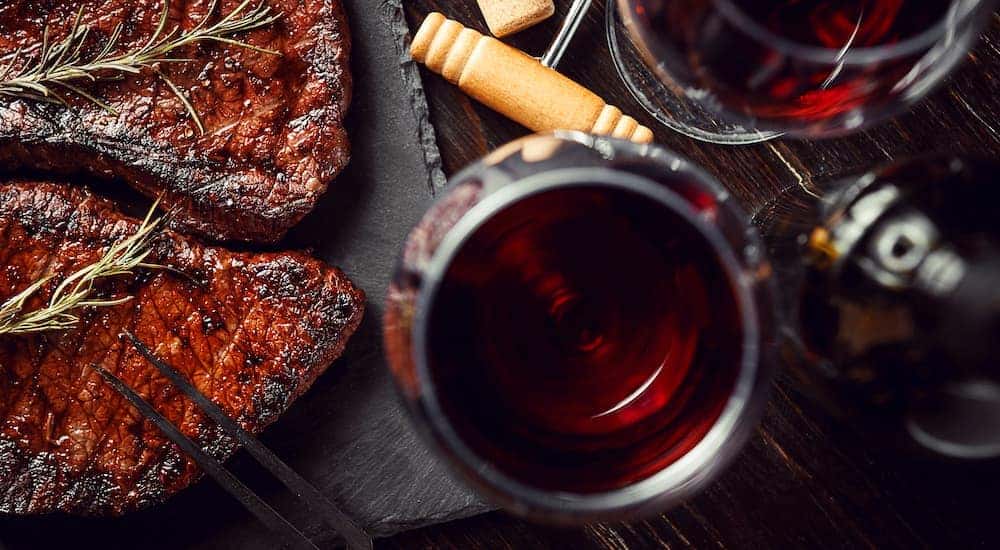 Provence Restaurant
1475 Western Ave., Albany, NY 12203
Provence Restaurant provides exceptional food inspired by the Mediterranean Region of Europe, serving lunch, dinner, and daily specials from the chef in an elegant atmosphere. Diners can enjoy traditional favorites, as well as new and exciting cuisine with the tastes of southern France. Chef and owner Daniel Darves-Bornoz, who has trained in Paris and Brittany to learn the surprising secrets of fine French cooking, serves handcrafted dishes suited to taste. In addition to only the finest steaks, Provence also has a fine seafood selection.
Provence hosts live music every Friday and Saturday evening from 6 pm to 9 pm, featuring an eclectic lineup of blues, jazz, and other music. Sit back, relax, and enjoy one of the restaurant's fine wines as you listen to some of the region's best musical artists.
For more upscale and elegant occasions such as wedding receptions, cocktail parties, or corporate dinners, Provence offers the Bordeaux Room, an exquisite space that can accommodate up to 65-70 people for a comfortable and private event.
DePaula Chevy Offers a Car-Buying Experience That's "Well Done"
Drivers in the greater Albany area know that DePaula Chevy is the leading Chevy dealer in the area, thanks in part to our extensive selection of new and used vehicles. Our professional sales staff can help get you into any of our cars, trucks, or SUVs, whether it's helping with the initial research, arranging financing, or service after the sale.
Please give us a call or come on down to visit our showroom in person on Central Avenue in Albany and talk to our sales team to learn more about how we here at DePaula Chevy can get you into the perfect new or used Chevy vehicle. We here at DePaula Chevy hope to see you soon. If you'd like to celebrate after your purchase, just scroll back up through the list of excellent steakhouses and make a reservation!