Trucks With the Best Tailgates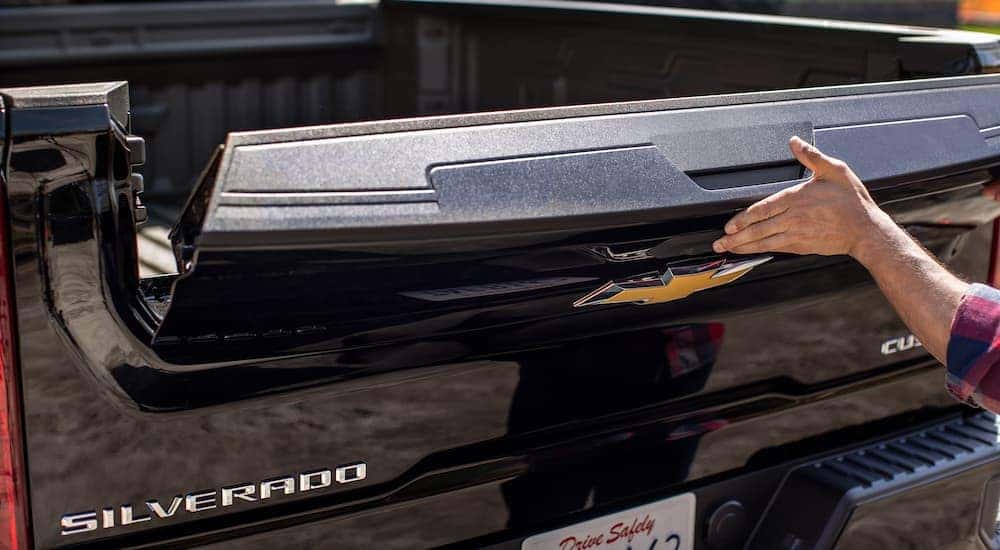 Let's talk about tailgates. Something every truck has, but is not always considered important or noteworthy. It's just a tailgate right? What else is there to think about? It opens, it closes, or at least it's supposed to. It's a feature you don't realize is important until either it wears out, breaks or you upgrade to a truck with a tailgate that offers more than the standard open/close. If you are searching for a used truck dealer in Albany for a new vehicle, this is a feature worth noting as you navigate your way through the used market.
So you might be thinking, "I'm on a budget and don't want to spend a lot on extras I might not even need." Well, sometimes you don't know what you need until it's absolutely necessary. The best way to answer your questions would probably be to stop by DePaula Chevy, your premier local used truck dealer in Albany and take a look for yourself. From barely used to several years old, there is a truck to fit every lifestyle, with features that even if you aren't aware of yet, might make your day a little easier and a little more comfortable.
So if a tailgate isn't just a tailgate anymore, what are some of the best options out there besides the conventional open/close gate? To make your truck search a little easier we've found some of the coolest, most helpful, or just plain fun tailgate features offered on trucks today. After all, it's the little things, so if you can make a job a little easier and a little quicker, then why not?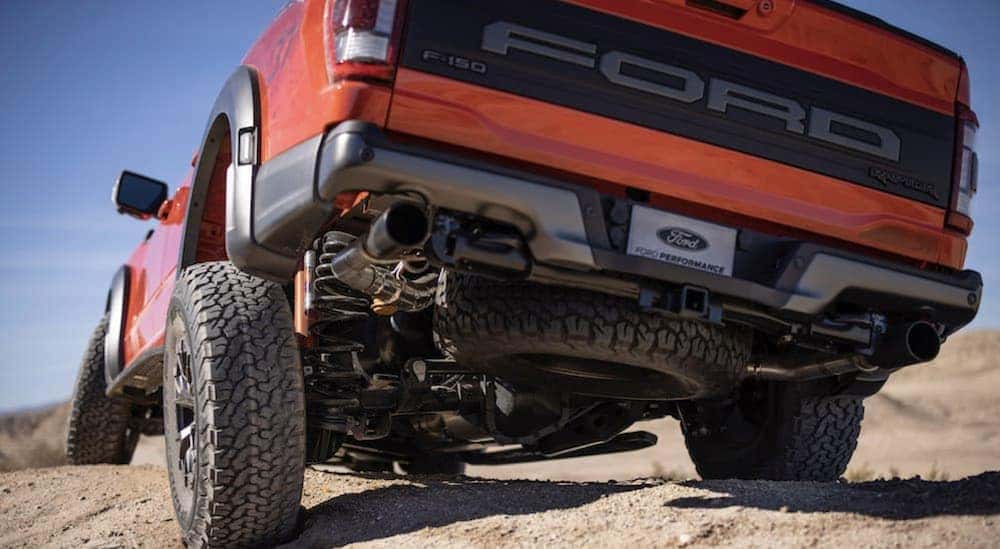 Multi-Tools
One of the most recent tailgate updates you can buy on a used truck would be the 2021 Chevy Silverado upgrade to the impressive and inventive Multi-Flex tailgate. This new feature is more than just a cosmetic upgrade. It was designed to make working and using your Silverado 1500 easier and more efficient than ever before. The technology put into the Multi-Flex tailgate delivers six different functions, making it perfect for any task you have on hand. Composed of the primary and inner tailgate to make loading, unloading, and access to the cargo box more convenient than in the past. Plus all it takes is the push of a button. You can either use the button located on the tailgate itself, or simply open the primary gate using a button on your truck's keyfob, or using the button located inside the cabin of the truck.
Beginning with the inner gate, this feature allows you to stand and use it as a flat work space for writing, paperwork, laptop, whatever the job might call for. Plus it makes it easier to load an additional second layer of items if you're loading extra materials for a project. Then there is the inner gate load stop which helps secure cargo from sliding out the back of the truck bed. So you know that your timber, boxes, and whatever you have stacked back there will be there when you get home.
When it comes to accessing the bed of the truck, the inner gate can fold down into a step that supports up to 375lbs. This makes quick and easy work of loading things up into the bed. With the Multi-Flex trailgate everything has been designed to fit and fold into place, making it as efficient and user-friendly as possible. And if you don't need the step, but want to access the bed, then the inner gate folds down allowing you to easily load or unload your cargo.
When it comes to the primary gate, there is also a load stop feature to keep stacked cargo like boards, boxes, etc from sliding out. And if you just want to keep it simple, the primary gate can fold down, like a traditional truck tailgate, no fuss no muss.
It's also worth noting that while the Multi-Flex tailgate was introduced for the Silverado 1500, it was modeled after and nearly identical to the MultiPro tailgate GMC designed in 2019 for the Sierra 1500 truck. The MultiPro tailgate has the same six functions, plus a primary and secondary gate. It's also accessible using an interior button or button located on the truck's keyfob.
This information is good to know because if you're looking at the Multi-Flex tailgate but would like it on a slightly older model than the available 2021 Silverado 1500, look into GMC's 2019 Sierra 1500, and you might find a great deal on all the features you want, with maybe a slightly lower price tag.
Work-Site Ready
Introduced on the 2021 Ford F-150 full size truck is the Ford Power tailgate. This impressive new feature was designed to make your job easier than ever before, only adding to the F-150's well known reputation as being The Truck to have when it comes to job sites that might not always be the easiest to work at. The Ford F-150 and its Power tailgate make quick work of taking your office right along with you, with the tailgate offering drivers small, unique features that make all the difference like pen/pencil holders, a ruler, plus holders for everything from cups to phones. So whatever your activity you know you'll be able to get it done right the first time.
The new Ford Power tailgate available on 2021 F-150 models, begins by offering convenience at the push of a button with its Power Up and Power Down function. This allows you to easily access your truck bed using your key fob or the interior cabin control panel. If you're loading or unloading materials or cargo the Power tailgate's step makes it convenient. The step then folds up and is out of the way when not in use. Also for added safety, a guide bar is available for extra stability when stepping on or off the vehicle.
When your office is a job site one of the most valuable features a truck can offer is workspace. The Power tailgate offers that, making it so you can get your work done as efficiently as possible no matter where you're located. The flat work surface not only provides small storage for items like pens, but also whatever you might need from phone to drafting tools or blueprints, there's space for everything. Plus a ruler to make quick work of measurements. The surface, created from a composite construction, is durable and long lasting, with a textured surface that keeps items from rolling off or sliding around.
And when you're ready to load or haul materials for any project, fold down the tailgate and use the available tie-downs conveniently placed on either side to safely tie down larger items like pipes or timber.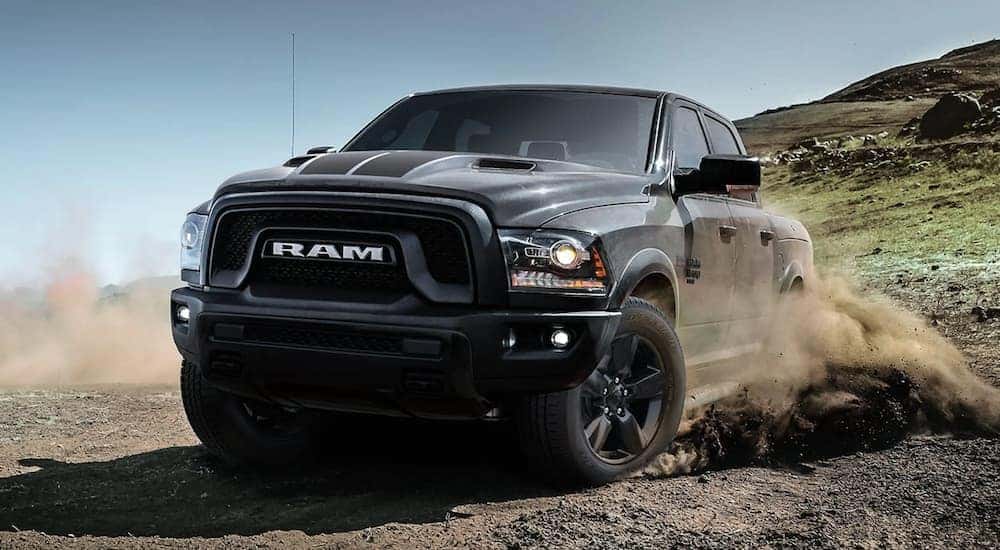 Multifunctional
One last noteworthy contender when it comes to cool tailgates, is available on the 2019 Ram 1500 truck—the Ram Multifunctional tailgate. This tailgate stands out in more ways than one. With a 60/40 split, the tailgate with swing-away doors offers drivers more than one way to load and unload the truck. The design makes it possible to load with a forklift if the job calls for it, making it convenient and easy no matter how heavy the job is.
But what if you don't need the two split doors? No problem, the gate folds down traditional style as well, giving you plenty of options to access the truck bed. Like the other specialization tailgates, the Ram Multifunction tailgate also offers a step, making it convenient to check on your cargo, load or unload whatever you need. Also like the other tailgates offered, it's simple to open and close the gate with the press of a button.
All in One
Who knew tailgates could not only be useful but also kinda fun? Whether you're on a job site, moving, or taking a camping trip with the family, there is a truck and tailgate to enhance your experience. From flat work surfaces that make drafting quick and easy, to fold down steps and split doors that make it simple to access the truck bed, there's no doubt that truck companies are thinking outside the box when it comes to rethinking what a tailgate can be.