Your Guide to Chevy Electric and Hybrid Cars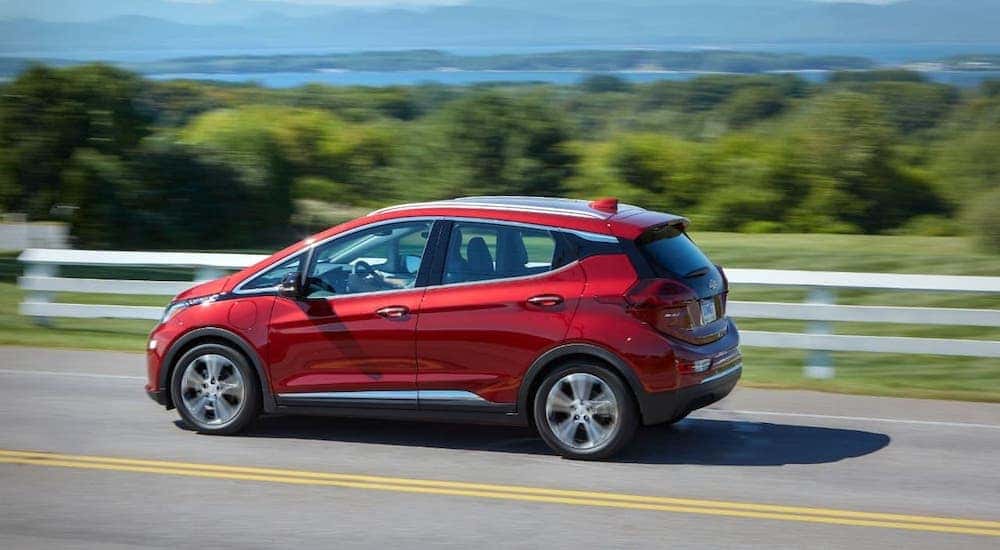 Buying a hybrid vehicle doesn't just help the environment- it can be a great benefit to your wallet, as well. Besides offering lower emissions, hybrid vehicles generally provide a higher fuel economy as well. Amongst Chevy cars, you'll find a few models built over the years that are powerful electric or hybrid models. But what is hybrid or electric performance like? Do the cars go slower? Is there less acceleration? And do you have to stop every few miles to plug-in and recharge?
While understanding precisely how hybrids and electric cars work requires a certain amount of engineering know-how, actually operating one doesn't require a special degree. In fact, Chevy takes all of the guesswork out of owning a hybrid with practical and simple instructions. While only one electric model is available in 2020––the Chevy Bolt––the 2019 electric Volt is still extremely popular and offered across the country. Take a look at some of the details surrounding Chevy's "greener" cars and their overall performance.
Pure Electricity: The 2020 Chevy Bolt
The 2020 Chevy Bolt is powered by a 66-kWh lithium-ion battery, which powers the electric motor. Gasoline and diesel enthusiasts might be surprised to learn that this set up offers 200 horsepower and 266 lb-ft to torque, making the output similar to that of a standard engine in a vehicle this size.
On a full charge, drivers can travel 259 miles, which is plenty for many daily drivers. Furthermore, the Bolt is designed to conserve its energy. One Pedal Driving allows drivers to decelerate and slow to a stop by removing pressure from the accelerator pedal. This helps save energy that might otherwise be used by hitting the brakes quickly and often. Regen on Demand is another way to slow down without losing energy. Operated by a paddle on the steering wheel, this allows for gradual slowing, which helps regenerate energy within the battery.
A display screen inside the vehicle offers several reports to keep drivers aware of charge status, including an Energy Detail, which shows the percentage of energy used when driving. The Range Impacts lets drivers know how terrain, interior climate settings, outside weather factors, and driving style affect the overall performance and range, as well.
So what happens when you need to charge? There are three different methods of charging, some of which do require special equipment, which can be installed by a certified electrician.
The first is via a 120V charging plug. This is a standard three-prong set up that can plug into a household outlet. While convenient, since you can charge anywhere you find a three-prong outlet, this method does take a bit longer. The general charging rate is four miles per hour of charge, so leaving your 2020 Bolt on the charging cord overnight may only gain you 48 miles of charge.
The second level of charging includes a 240V charging unit, which must be professionally installed. Many areas offer incentives for choosing this method, and the capability is standard in all Bolt models. By charging with this method, you'll gain about 25 miles per hour of charge, and have the option to charge at home or a public station.
The last method is the super-fast DC charging. The DC Fast Charging Port is optional equipment, so there will be a charge to add it to your Bolt. Though this method only works at public charge stations, it requires only about 30 minutes to give you a range of up to 100 miles.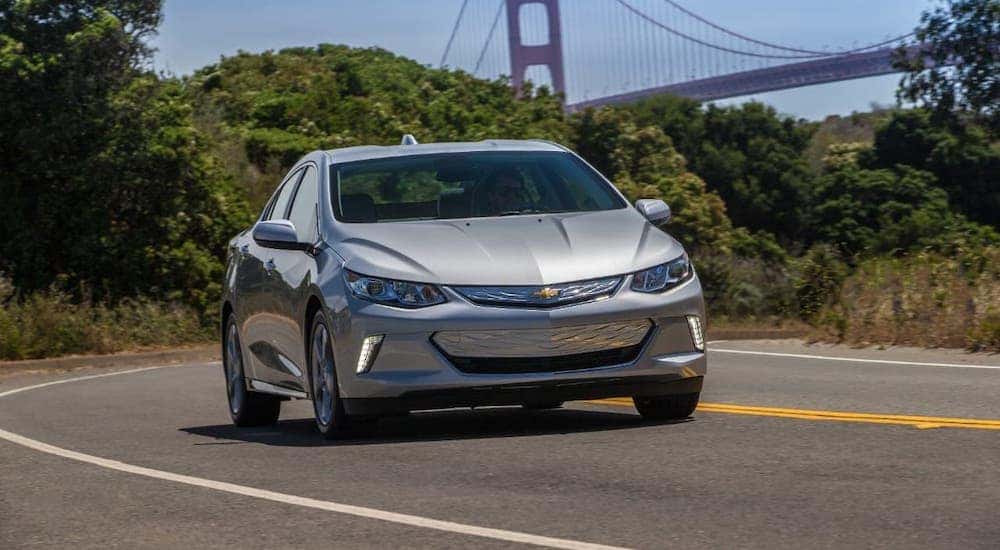 The Plug-In Hybrid: The 2019 Chevy Volt
The Chevy Volt was produced from 2011 through 2019 and features both electric capability and a standard gasoline engine. While this may sound confusing, the operation is all automatically handled by the Volt itself. Drivers just need to pay attention to charge and gasoline levels.
The 2019 Volt is powered by two electric motors, a 18.4-kWh lithium-ion battery, and a 1.5-liter gasoline engine. All told, this set up provides 149 horsepower and 294 lb-ft of torque. The battery offers up to 53 miles of range on electricity only. Overall, this provides drivers the most comprehensive electric-only range on the market today. But don't worry- you don't have to limit your trip to just 53 miles. Once the battery starts to run low, the gasoline engine picks up, allowing drivers a range of up to 420 miles.
With this type of range, many drivers will find themselves making fewer and fewer trips to the gas station. Regenerative braking is here to assist with on-the-go recharging as well. When drivers remove pressure from the accelerator pedal, the battery will regenerate power. Using the Regen on Demand paddle on the steering wheel will also allow for regenerative braking, while drivers will enjoy smoothly slowing to a stop.
Additionally, the 2019 Volt increases all-electric use by dropping the temperature on the automatic engine-assisted heating system. That means that the engine will be putting less effort towards heating the cabin and more effort towards taking you towards your destination. This doesn't mean drivers have to freeze; this feature is fully controllable from the cabin.
Much like the Bolt, the Volt adds an Energy App to the 8-inch color Infotainment touchscreen to help guide drivers on changes they can make to get every bit of electric range out of the Volt. This app provides data on how the route, weather, cabin climate, and driving technique are actively impacting electric range. These factors are interpreted in terms of miles on the 2019 models, whereas previous models received a numerical score that indicated overall impact level.
There are two charging methods for the Volt. The standard method is a 3.6-kWh charger, which requires about 4.5 hours when using a 240V charger, or 13 hours with a standard 120V household outlet. An upgraded 7.2-kWh charger is available on the LT trim and standard on the Premier trim and cuts the charging time in half. In just over two hours of charge time, drivers will have a full charge with this equipment.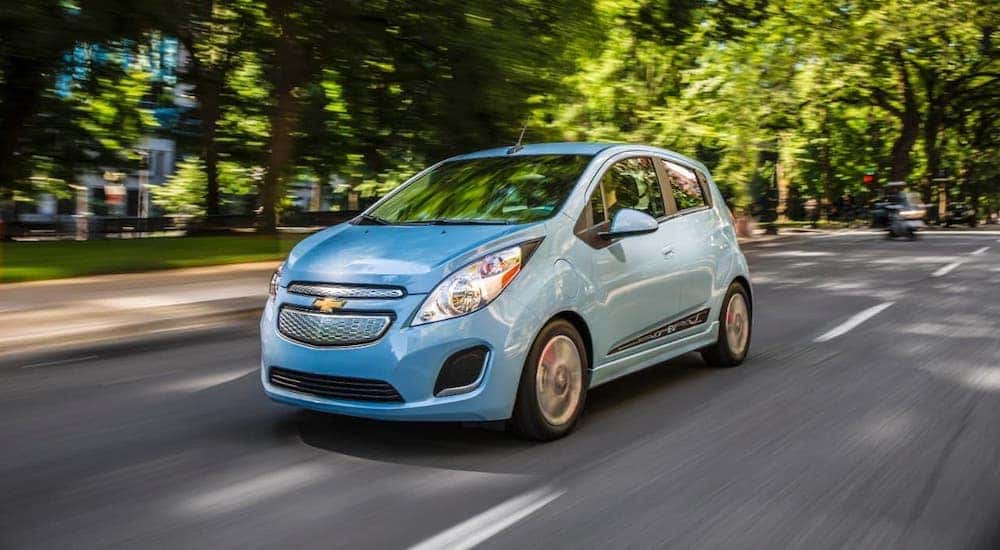 Other "Greener" Options
Some may also recall the 2014-2016 Chevy Spark EV, which was limited to sales in Oregon, California, and Maryland. This all-electric subcompact hatchback might have arrived ahead of its time. While its performance was exceptional, requiring just 7.5 seconds to go from 0-60, and its charge range took it an acceptable 82 miles at a time.
When using a standard 110V household charge, the Spark EV needed 20 hours to return to full charge. The 240V converter shortened this to a 7-hour window, which is perfect for overnight charging, but not necessarily advisable when charging on the road, where drivers have to pay per hour to charge vehicles. The DC Fast Charge option was available on the Spark EV, providing a full charge in less than an hour, but finding charge ports with this adaptor was difficult at the time.
Though the Malibu continues production with a gasoline engine, from 2016 to 2019, Chevy also offered a hybrid selection on the Malibu. This model included an 80-cell 1.5-kWh lithium-ion battery pack, though it was somewhat limited in range. Electric power is used for speeds up to 55 miles per hour, at which point the gasoline engine kicks in to provide additional power.
The Malibu includes regenerative braking technology, which stores energy during braking in the battery system, allowing the charge to maintain longer during periods of active driving. The hybrid Malibu also includes Exhaust Gas Heat Recovery, which uses the heat naturally put off through exhaust to warm the engine and the cabin. This technology lowers fuel mileage. All told, the Malibu Hybrid has a fuel economy of 49 MPG in the city and 43 MPG on the highway.
The Perfect Chevy Car for You
While understanding how the electric and hybrid systems offered by Chevy work in detail might involve a learning curve, mastering hybrid performance stats is very simple. Sure, you might need help remembering to plug in an electric car when it's new, but the myChevy app is happy to assist in that regard. Furthermore, intuitive in-cabin displays help feed drivers the facts regarding range availability. Of course, with built-in automatic features like Regen on Demand, it might seem that the car is already taking care of that for you. When you are ready to talk about your next vehicle, visit us at DePaula Chevy in Albany, NY. We'd love to help you find the car that fits your needs.