5 Of The Best New Chevy Models For Leasing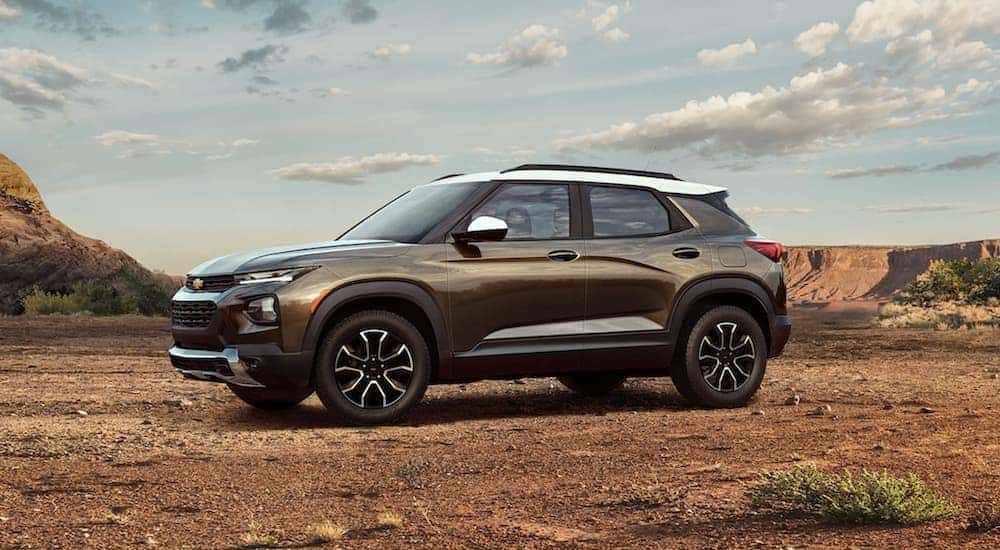 Are you looking for some new Chevy lease deals? We've got some models for you to check out. While specific lease incentives are ever-changing, one thing that doesn't change is a vehicle's affordability. When you go with a base or mid-level model and trim, you're sure to save tons of money. But leasing, in general, is more affordable, even when you prefer higher trim levels. Today, we've got details on 5 different Chevrolet models you'll want to consider leasing today. Luckily for you, cost-friendliness is Chevy's forte. Leasing is definitely more affordable than buying in general, but these models will have such a low monthly lease payment that whoever's in charge of your budget will sigh in relief.
5. Crossover: The 2022 Chevy Trailblazer
Crossovers are ideal for those who need a little more space than what a sedan can offer, but not a ridiculous amount of towing capacity or power. That's where the 2022 Chevy Trailblazer comes in. The Trailblazer, formally known as the "TrailBlazer," has made a recent comeback after being on hiatus. Rather than using a classic body-on-frame design, the new Trailblazer is a unibody, acting more like a crossover than an SUV. One perk of this? Killer gas mileage. When you want to not only save money on your monthly lease payments but also on fuel, this model is a great option.
This small SUV is incredibly customizable, coming in up to 9 exterior colors, with one solid white color option. The rest are two-tone colors that include a roof color and a body color. Some of these combinations include a blue body with a white roof and even a black body with a brown roof. Despite its small size, the 2022 Trailblazer has the best legroom space in its class, and it even comes in an ACTIV trim for off-roading drivers. If you want a handy, fuel-efficient crossover with a small lease payment, check out the 2022 Chevy Trailblazer.
4. Truck: The 2021 Chevy Colorado
Let's be honest here; new trucks are expensive. It doesn't really matter any way you spin it. However, you can get an affordable Chevy Colorado right off the floor when you choose the base-level trims. This is especially true when you're leasing rather than buying!
The Colorado is the perfect truck for any casual truck driver. Most average truck lovers won't need to tow more than this model's maximum 7,700-pound towing capacity. Whether you need to tow a bass boat or you're hauling motorcycles, this model has you covered. Unless you're planning on hauling a giant trailer full of horses, you won't necessarily need more power than the 2021 Colorado can offer.
The best part about the 2021 Chevy Colorado is that if it's within your budget, you can upgrade to the ZR2 Bison model for heading off the pavement. Finding the perfect, new off-roading model is typically expensive, but Chevy's lease option makes this dream a reality. Whether you prefer the base-level Colorado or you want to hit the trails, you can catch a great Chevy lease deal on the 2021 Colorado.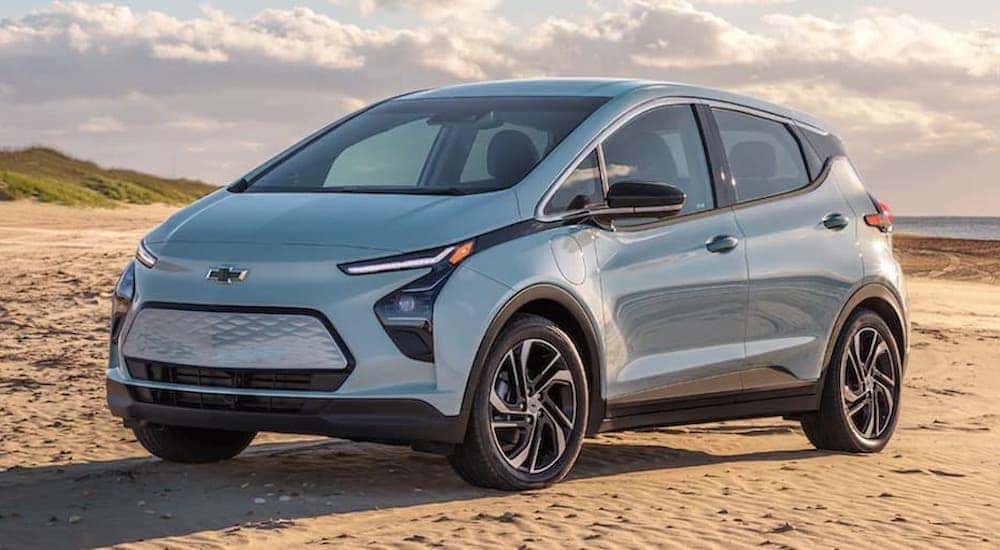 3. Electric: The 2022 Chevy Bolt EV
Eco-friendly drivers out there will be happy to know that leasing a new Chevy Bolt EV is definitely on the table. Not only will you save on monthly payments, but fuel won't even be a factor when you purchase this model.
You definitely get a bang for your buck with this model. For example, the 2022 Chevy Bolt EV comes with standard Chevy Safety Assist, which includes seven standard safety features. Some of these important features include Lane Departure Warning and Lane Keep Assist, which keep you centered in your lane and alert you when you start to drift. You'll also get Front Pedestrian Braking, which automatically stops your vehicle when a pedestrian is detected, along with a Forward Collision Alert, which notifies you when a potential crash is detected.
Despite its electric "engine," this model still produces 200 horsepower, and it can go from 0 to 60 in 6.5 seconds. While power used to be a concern when it came to electric vehicles, the 2022 Chevy Bolt EV exceeds expectations. It'll even throw an extra pep in its step when you bump it into Sport Mode, which vamps up your acceleration and provides a much peppier feel. When you're looking into Chevy lease deal options, definitely ask about the 2022 Chevy Bolt EV.
2. Sedan: The 2021 Chevy Malibu
The Chevy Malibu unfortunately won't be around forever, so if you want to lease this Chevy sedan, you may want to act fast. It seems like Chevy will be discontinuing the model as it is currently in the coming years. While they'll likely replace it with something similar, the Malibu is an affordable, spacious, and fuel-efficient model that's difficult to outdo.
You'll get up to 250 horsepower while still maintaining as much as 36 MPG on the highway. It includes all the tech features you'll ever need, including wireless charging, Apple CarPlay and Android Auto, and even a Wi-Fi hotspot. When you've got young, learning drivers in the family, you'll also be able to rely on the 2021 Malibu's Teen Driver Mode to help keep kids safe when they first head out on the road alone. This mode comes with a weekly "report card" that lets you know how safe your teen has been driving. It also allows you to set curfews and volume limits, creating a safer driving atmosphere.
In addition to Teen Driver Mode, you can also add on any driver assist feature you could ever need, including Lane Change Alert with Side Blind Zone Alert and Front Pedestrian Braking, to name just a few. If the classic sedan body style with an aesthetically appealing twist is your thing, check out the 2021 Chevy Malibu.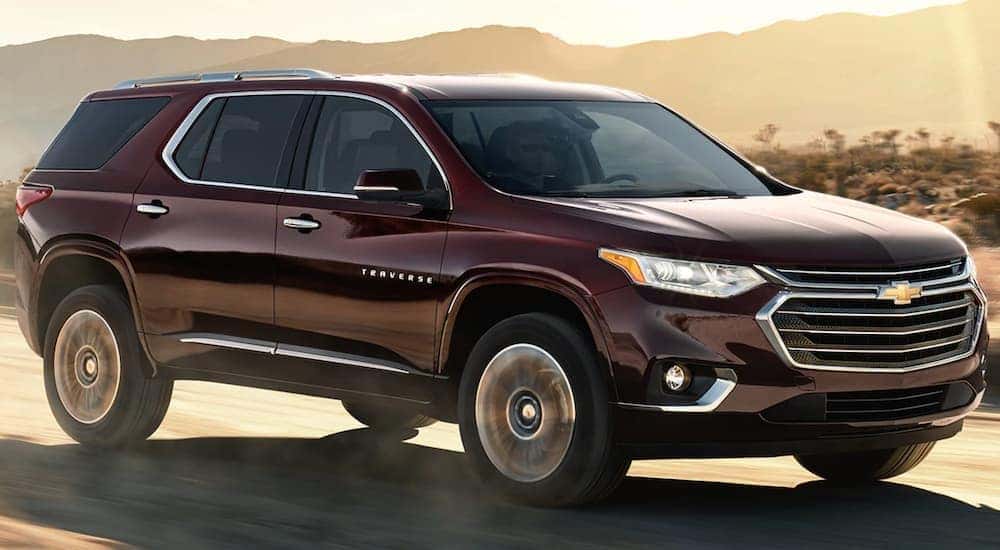 #1. SUV: The 2021 Chevy Traverse
While crossovers are nice, midsize SUVs are more desirable when you've got a large family or if you travel with equipment of any kind. You'll need the extra space, but you also don't want to be leasing something for over $60,000 if you're on a budget. So, this is where the 2021 Chevy Traverse comes in.
This model provides 98.2 cubic feet of cargo space, with seating for up to 8 people. It can also tow up to 5,000 pounds, all while getting up to 27 miles per gallon on the highway. So, when you're traveling on the interstate or other popular highways, you can rely on very reasonable fuel economy despite this large SUV's size and weight.
Speaking of power, the Traverse comes with several different drive modes for any occasion. You can put it in standard Front-Wheel Drive when fuel efficiency and casual travel are most important. All-Wheel Drive is there for those snowy, icy work commutes and muddy or graveled backroads. When you really hit a rutted-out, mud-covered roadway, kick it into Off-Road Mode for the best driving experience. Finally, Tow/Haul mode is there for when you've hooked up the boat and need to take some of the pressure off your transmission. We highway recommend asking about Chevy lease deals for the 2021 Traverse if you want a model that can do a little bit of everything.
Which Will You Choose?
We've listed our most recommended Chevy lease deals for car, truck, electric, crossover, and SUV drivers. While the incentives will change off and on, you can rely on one of these five models to be affordable no matter when you're leasing them. When you're ready to start your next lease, visit DePaula Chevrolet to get the best deal.