How to Flat Tow the 2020 Chevy Equinox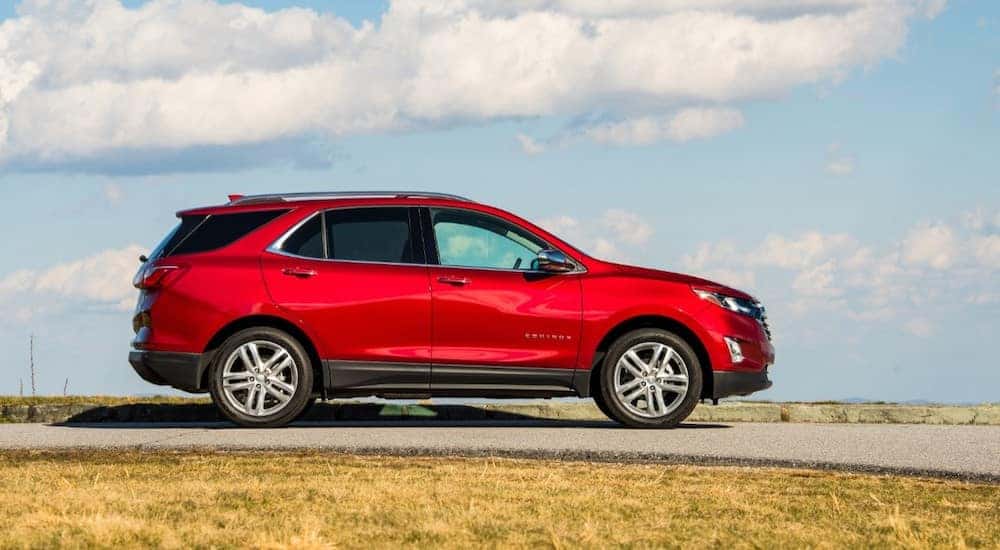 Although it might not be the most common question we're asked, we do have several customers ask us if they can flat tow the 2020 Chevy Equinox. The answer is "yes," you can safely flat tow the Equinox as long as you have the right equipment for it and follow the proper steps to do so. As your Chevy dealer in Albany, NY, we at DePaula Chevy are always happy to answer any questions you might have about Chevrolet vehicles, and we thought we would provide a little information about how to flat tow the Equinox.
Flat Towing Basics
First things first, let's take a moment to discuss exactly what flat towing is and how it works. Also called "dinghy towing" or "four wheels down towing," flat towing simply means that you are pulling the 2020 Chevy Equinox (or any other vehicle) behind another car with all four of the Equinox's tires on the road. This is typically done when pulling the Equinox behind a Recreational Vehicle (RV) that has the power to pull it behind it.
This is in contrast with something like a large flatbed tow truck pulling a vehicle up onto the bed and then towing it without the Equinox coming into contact with the road at all. While that might seem like a minor distinction, it is actually very important because flat towing makes the wheels of a vehicle turn, and that can impact the drivetrain and transmission of the vehicle if not done correctly. There's also another kind of towing where only two wheels are on the road, called "dolly towing," but we'll get to that later.
Never Flat Tow a Disabled Vehicle
One of the most important things to remember when it comes to flat towing the 2020 Chevy Equinox, or pretty much any other vehicle, is that you should never flat tow a vehicle that is damaged or disabled. That is when you need to call a tow truck and have them load your vehicle onto a flatbed and tow it somewhere for you. If the transmission or any other system on a car is disabled or damaged, then engaging it through flat towing can cause additional severe damage to the vehicle.
It's also worth mentioning that flat towing a vehicle that is damaged or disabled in any way could void your warranty coverage on it. This includes not only a damaged transmission but something like a spare tire, which is not designed for long-term use and should not be on a vehicle that is being flat towed. Ultimately, you only want to use flat towing if the car you are pulling can just as easily drive the distance you are towing it.
Before Flat Towing
There are a few things you should keep in mind and consider before flat towing your 2020 Chevy Equinox (or any other vehicle, honestly) in order to stay safe and avoid possible problems. These include:
Know the flat towing laws in your area. Wherever you are going to be flat towing your Equinox, be sure you know that flat towing is legal in that area. In particular, look for laws regarding RV towing, as these usually cover flat towing.
Check your towing capacity. You'll need to know how much your Equinox weighs – including anything you've loaded up inside it. Make sure your RV can pull that much weight safely and over a long distance.
Have proper towing equipment. Make sure you have the right kind of tow hitch or other equipment for your RV to be able to flat tow the Equinox behind it safely. If you are unsure, then contact us to discuss what you have and what you need.
Once you have these things figured out, then you should be ready to flat tow your vehicle safely.
How to Flat Tow the 2020 Chevy Equinox
Although flat towing the 2020 Chevy Equinox is quite simple, there are some very important steps you need to follow to do so correctly. Failing to complete any of these steps can cause severe damage to your Equinox. This is only a guide: check your Equinox owner's manual to ensure you have completed everything you need to do for safe flat towing.
To flat tow the 2020 Chevy Equinox, you need to:
Properly position your Equinox behind your RV and securely connect it for towing.
Start the Equinox.
If you have a 2020 Chevy Equinox with AWD, then you need to engage the AWD system by pressing the AWD switch on the center console. The AWD light will flash briefly and then stay lit to indicate that the system is activated correctly.
Shift your Equinox into Neutral.
Put your Equinox into Accessory or ACC mode. Do this by pressing the engine stop/start button without applying the brake pedal. If you do this correctly, an amber light will appear on the button to indicate that it is in accessory mode. You'll also notice a chime that will ring for 30 minutes to alert you that the vehicle is in accessory mode, this is entirely normal. Be sure to leave your car in neutral.
Turn off all accessories you do not need, such as the air conditioning or radio. This will help prolong your battery life during flat towing.
You can now safely get on the road. Be sure to drive no faster than 65mph while flat towing your 2020 Chevy Equinox, as doing so can damage your vehicle. You also need to check the battery of your Equinox, and you may need to run it during stops to keep it adequately charged. Finally, run your Equinox for about five minutes at the start of each day when flat towing it and also each time you stop to fuel your RV. This will ensure the transmission and other systems are properly lubricated and not damaged while towing behind your RV.
When you reach your destination or want to use your Equinox:
Set the parking brake on your Chevy Equinox.
Shift your transmission from neutral to park.
Turn the vehicle off.
Then start the engine and let your Equinox sit idle for at least three minutes before you drive it anywhere.
What about Dolly Towing?
You can also use dolly towing with some models of the 2020 Chevy Equinox; this is towing in which only two of the wheels are on the ground. This is very important, however: you cannot dolly tow an Equinox that has AWD, only models with front-wheel drive can be dolly towed. Also, you can only pull a front-wheel drive Equinox model from the front, never from the rear, which can cause damage to your vehicle.
To safely dolly tow your Equinox:
Put the front wheels of the Equinox on your dolly.
Shift the vehicle into park.
Set the parking brake.
Secure your Equinox to the dolly.
Follow the manufacturer instructions for the dolly you are using to prepare and use it for RV towing properly.
Release the parking brake before towing.
As your Chevy dealer in Albany, NY, we are ready to answer all of your Chevy questions and make sure you get the perfect vehicle for your needs. Call or visit us at DePaula Chevy today!