Let's Get To Know The New 2021 Chevy Tahoe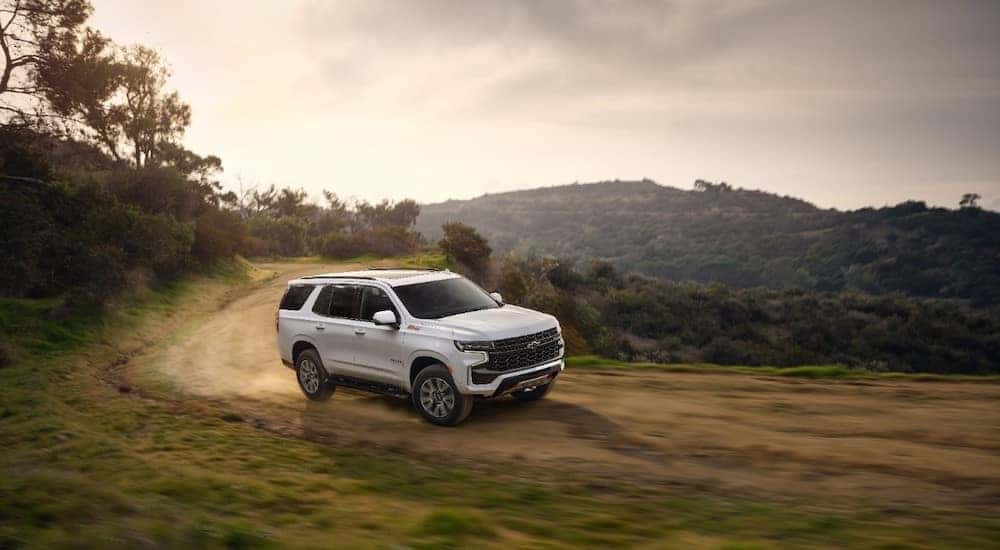 With all the SUVs out there, we at DePaula Chevy always have our eyes on a select few. Some sports utility vehicles are just built differently. The Tahoe is one of those SUVs. We've always loved it because it offers so many similar features as the Suburban, only with a slightly smaller size. It's beefy, powerful, and can tow more than some trucks out there. And now, we're right on the cusp of a brand new edition coming our way. Slated to come out sometime this summer, the 2021 Chevy Tahoe will join the recently released new Chevy vehicles. And here is what we know about the upcoming 2021 model release.
Expected Price
We're currently eyeballing an expected MSRP of $50,295. That price point could change a bit, but we're pretty confident this is where it will start. That's slightly more than what the current 2020 edition runs. So, while we don't know how the trim prices will break down, we're confident that we can look at the various 2020 trims and then go off of those price points. Don't worry; when we find this information out, we'll pass it along to you.
Like the previous model year, there will be LS, LT, and Premier trim options. However, you'll also be able to go for an RST, Z71, and a High Country trim. The High Country will be the top-tier trim. And because Chevy did not have a High Country Tahoe previously, we can only speculate as to the possible price point. We're assuming it will be around the $74,000 mark, but again, we'll let you know officially when we have these numbers.
Changes And Improvements
There's going to be a bunch of new features on the 2021 Tahoe. This is because it kicks off a brand new generation, so you'll find new features both inside and out. Naturally, we'll want to start with the exterior look. It has a new grille and face. You'll notice the lighting is slightly different, taking modeling notes from the most recent Silverado releases (such as the running lights that point in toward the Chevy branding).
The 2021 Tahoe is also longer. Now, it's not Suburban length, but you will have additional cargo space and passenger room. If you're planning on driving the Tahoe with adults in the third row, this added legroom will be a breath of fresh air. It will be a smoother ride as well, thanks in part to the independent rear suspension. The 2021 Tahoe will be the first Tahoe with this feature.
New Engine Configurations
A V8 has always powered the Chevy Tahoe, and that isn't changing anytime soon. The 2020 edition used both a 5.3L V8 that produced 355 horsepower and a 6.2L V8 that produced 420 horsepower. We expect both of those engines to be back (although the exact performance specs are not known, though we'd assume the numbers will likely increase slightly). However, on top of the two V8 engines, there will be a third option to choose from: an EcoDiesel.
EcoDiesel has been making great strides in the U.S., especially with heavy torque options such as pickups and larger SUVs. After all, when you want to tow, and you want a stable fuel economy, it's hard to beat a diesel engine. In the Chevy Tahoe, this will be a 3.0L V6 EcoDiesel. The horsepower will take a hit (which is usually the case as it takes diesel longer to fire up and burn), but it will see a jump in torque. The EcoDiesel engine will be pegged at 460 lb-ft of torque.
Last year's model could tow up to 8,600 pounds. We'd expect this to be the minimum threshold for max numbers. The diesel engine does offer more torque, so the engine performance allows for more weight, but we'll need to wait and see on the frame. On non-truck designs, sometimes it is the frame of the vehicle that limits some towing, which is why an SUV can have the same or larger engine but not haul as much as a pickup, although in this case, the Tahoe can tow more than almost any light-duty compact pickup.
Cargo Numbers
With the larger build, you will have even more space inside of the Tahoe for your cargo. In fact, fold down both the second and third-row, and you'll have a full 28 more cubic feet of volume than the 2020 edition (in total, the 2021 Chevy Tahoe will have 123 total cubic feet of storage space when all of the seats are folded down). We'll have to wait on exact legroom configurations (the word is the third row will have an extra 10 inches of space). Still, with this kind of added cargo space, you better believe everyone inside of the vehicle will have more space to move about freely, which is great when you're giving a ride to your kid's friend that loves to kick the back of your seat.
Entertainment Features
We don't know the splits of the entertainment features and what will be available in the individual trims. However, we have a good idea as to the kind of tech that will, at the very least, be made available. First, as is the case with all other vehicles on the road built by Chevy, it will come with 4G LTE WiFi (activation and data package required). We are confident that every vehicle will come with, at minimum, a 10-inch touchscreen that supports Android Auto and Apple CarPlay. There will also likely be a rear entertainment system available, which will come with twin 12.6-inch displays that are mounted into the headrests. There will also be a Bose audio system available. And when it comes to audio performance, there is nothing else like Bose.
Behind the steering wheel, there will be a sizeable digital cluster you can adapt and customize to display the information you want at your disposal. There will also be a head-up display that provides you with even more information. Plus, wireless charging will be available, so if you have a mobile device that accepts wireless charging, you'll be able to take advantage of this. This is an excellent feature because instead of fumbling around with wires, you can instantly charge your phone. And with the battery life of most smartphones seemingly declining with every release, the ability to charge the phone whenever you drive is a fantastic feature that you'll likely use on a daily basis.
The 2021 Chevy Tahoe Is Right Around The Corner
There isn't much longer to wait for the all-new 2021 Chevy Tahoe. Slated for an anticipated summer release, the 2021 Tahoe will be the perfect family road trip vehicle. Capable of towing your boat to the lake or a camper out West, the Tahoe is entirely new and improved with this next-generation release. We aimed to provide you with all the latest specs and information currently available on the Chevy Tahoe, so we will keep this updated as new information comes out. To stay abreast of the official release date and when we can expect to see it on the lot here at DePaula Chevy, in Albany, NY, make sure to keep it right here and check back often. After all, the all-new 2021 Chevy Tahoe is right around the corner.