Why You Need to Drive a Chevy EV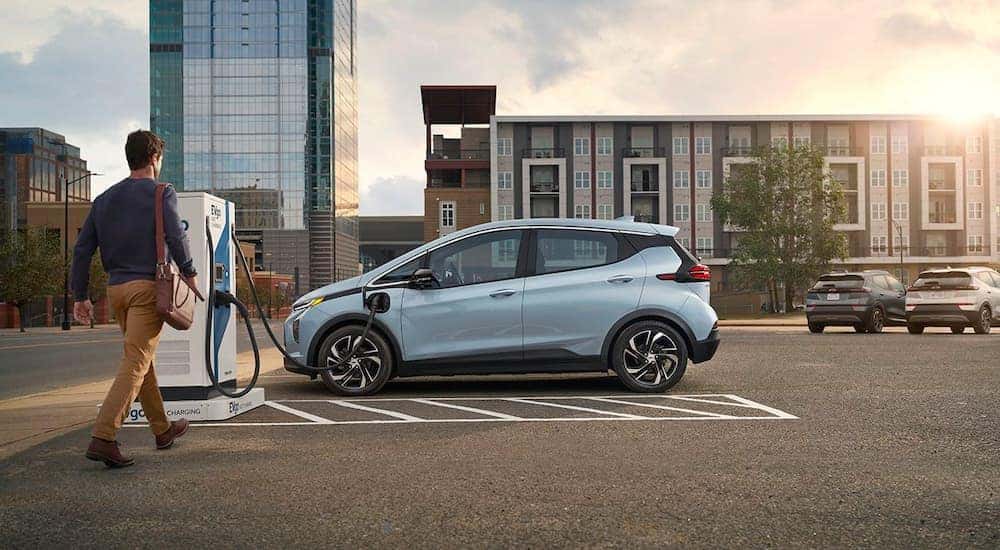 Electric vehicles (EVs) are something any discerning car buyer should consider these days, and a Chevy EV is definitely worth a second look. Remember, when you drive an EV, you get access to the HOV lanes so you can navigate traffic so much easier during rush hour. You also know you're doing right by the environment because an EV yields zero tailpipe emissions. But let's look closer at the Chevy Bolt EV so we can see why it should be your next vehicle. We'll show you a few things that we enjoy about this model and that we think you will appreciate as well.
Reasons to Love the 2022 Bolt EV
Takeaway #1 – The Price is Right
The base price for a 2022 Chevy Bolt EV is $31,000.* That is $5,500 dollars cheaper than the 2021 Bolt EV. Yet, in the 2022 Bolt EV, you have a roomier car that's been newly designed for a more stylish look and has well-appointed materials in the cabin for added comfort. However, if you are buying an EV, just don't set your budget based on sticker price. You have to add up your incentives. For example, in New York State, there is the Drive Clean Rebate program, and you might be eligible for up to $2,000 in savings, plus there are other tax incentives you can get when you drive an EV over a gas-powered vehicle.
Let's also consider other factors that price this EV right. You'll never have to go to a gas station again because it is 100% electric. Just plug your car in at home, and you'll be ready to go next time you leave the house. Depending on how much you drive, that is hundreds of dollars in savings alone. Next, there is the cost of maintenance. You don't need to change the oil or replace the spark plugs because the EV doesn't have those parts. Again, several hundred dollars saved per year.
Finally, Chevy has partnered with Qmerit to cover the cost of installing a Level 2 charger in your home for faster charging. This type of charging will not only power up your Chevy EV while you sleep, but with Chevy taking care of the tab, it saves you several hundred if not a few thousand dollars you'd have to pay out of pocket otherwise.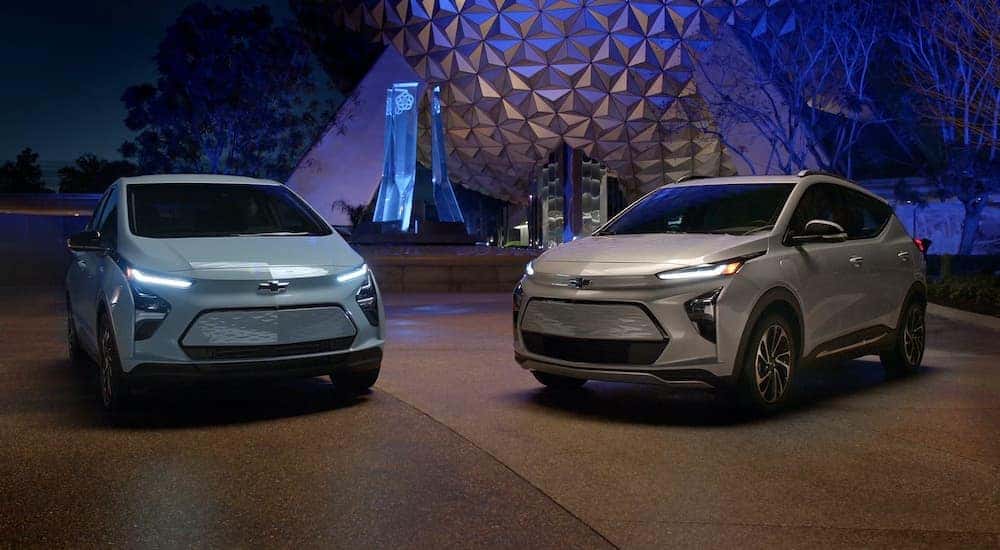 Takeaway #2 – Home on the Range
The 2022 Chevy Bolt EV gets an estimated maximum of 259 miles on a full charge. That is more range than Hyundai, Kia, and Nissan EVs of a similar class. With EVs, the range really does matter, so this must be factored into a buyer's decision-making process.
The Chevy EV is also peppy. It goes from 0 to 60 in 6.5 seconds using its 65 kWh lithium-ion battery backed by 200 horsepower and 266 lb-ft of torque. So this car performs powerfully by being quick in acceleration, especially when you shift it into sport mode for responsive driving.
Speaking of home on the range, the Chevy EV charges quite nicely at your residence. You can fully charge this car while you sleep, as it takes 7-10 hours to completely replenish the battery with the 240V outlet. In fact, you can charge 26 miles of range per hour using the Level 2 charging outlets.
In addition, there are over 40,000 public charging stations waiting for your Bolt EV when you're on the road, and the number of available charging stations just keeps going up. The Bolt EV can easily charge in any Level 1 or Level 2 outlet, but when you are on the road, you might want something a little faster. That's where the available DC Fast Charging capability comes into play. Simply plug into a DC Fast Charge station, and your EV will get up to 100 miles of range in just 30 minutes.
You also need not worry about the Chevy EV batteries. Chevy has an impressive warranty to give you peace of mind that they'll last for miles. In fact, the battery has an 8-year or 100,000-mile warranty, and Chevy also throws in 24-hour roadside assistance. So drive stress-free when it comes to your Chevy EV battery.
Another cool concept in the Chevy EV that helps maximize battery power and range with One Pedal Driving. Press down on the accelerator pedal, and you smoothly accelerate, but ease off the pedal, and you actually begin braking and will come to a complete stop. While decelerating, you are actually capturing the energy you would have just lost while braking and can use that to add a little bit more charge to your battery, pretty innovative.
Your attention to battery range is front and center by using the myChevrolet Mobile App. It will allow you to control charging settings and check battery status over your smartphone. You can also leverage this nifty app to help you gauge the amount of charge you need to go to a particular destination. Other tools such as the charging station finder feature will definitely come in handy on long road trips.
Takeaway #3 – So Many Creature Comforts
The Chevy Bolt EV is not only priced right and provides an excellent range, but it also has some nifty features to make your drive calm and comfortable. First, the exterior was upgraded in 2022 for a more stylish look, and you can choose from 7 colors ranging from Ice Blue to Cherry Red so you can find the right paint job to match your personality.
Inside the vehicle, you're immediately drawn to the 10.2-inch infotainment system. It is user-friendly and puts everything at your fingertips. The 8-inch digital dashboard has all the diagnostics you need to see, such as charge range, energy flow, and usage history, so you can drive based on the data.
Other technology that is a must-have in any vehicle is good safety features, and the Chevy Bolt EV has an amazing standard safety package that includes features like IntelliBeam, Automatic Emergency Braking, Lane Keep Assist with Lane Departure Warning, and a Following Distance Indicator. This will ensure yourself and your passengers a ride that avoids danger.
Of course, the cabin is roomy and uses nice materials for comfortability. It is smartphone integrated, Wi-Fi connected, and has some USB ports in the backseats to keep the passengers' devices charged too. Overall the Chevy Bolt EV is a joy to drive, spacious, and convenient to be a passenger in.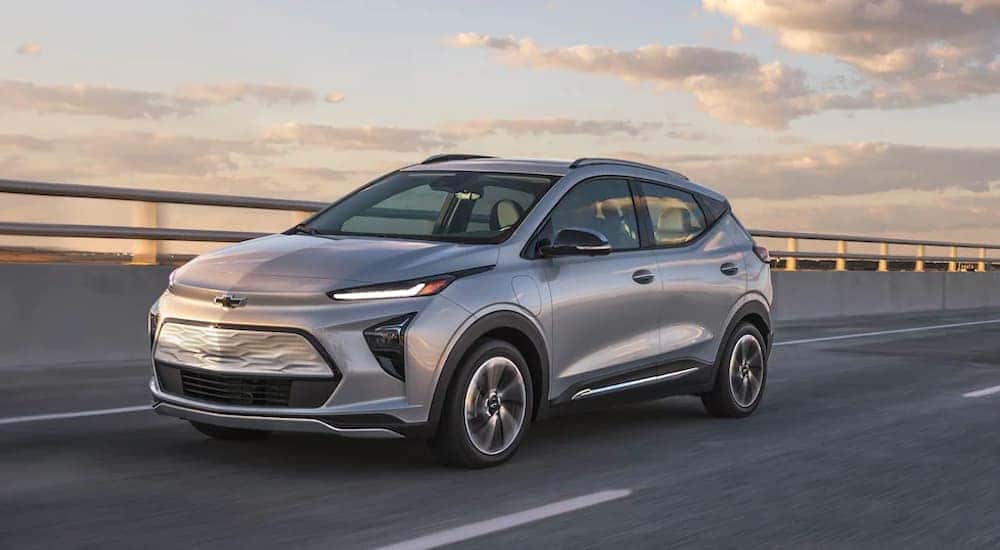 Don't Overlook Bolt EUV
New for 2022 is the Bolt EUV. This differs from the EV hatchback by really having a crossover/compact SUV body style. So it will be a longer, wider, and taller body than the EV. In fact, it is 6 inches longer. The wheelbase itself is lengthier, too, so you'll get a nice smooth and steady ride as a result. The Bolt EUV has a more rugged sense of styling when compared to the EV and offers a more spacious interior as well as a panoramic power sunroof. One cool feature only on the Bolt EUV is the semi-autonomous driving system known as Super Cruise, which allows you to let your car drive for you on over 200,000 miles of pre-mapped highways.
The EV is Definitely in ChEVy
As you can see, a Chevy EV gives you an amazing range wrapped in a comfortable cabin at an affordable cost. If you are in the Albany, NY area, visit DePaula Chevrolet to learn more about which Chevy EV will be perfect for you. Our knowledgeable, friendly staff will answer all of your questions, so you know you will be driving away in an EV that meets all of your driving needs.
---
*MSRP may change without notice. See dealer for complete details.